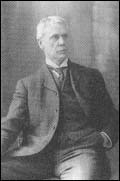 Peleg Franklin Brownell
1857 - 1946
CAC OSA RCA

Franklin Brownell was born in New Bedford, Massachusetts. He studied in Boston at the Museum of Fine Arts, and later in Paris at the Académie Julian and the Atelier of Léon-Joseph-Florentin Bonnat, where he absorbed French academic influences. He painted in an academic realist manner in his figurative work, then after 1900 his landscapes were inspired by Impressionism. He exhibited at the Paris World's Fair in 1900, winning a bronze medal for his Royal Canadian Academy diploma work The Photographer.

After time spent in Montreal, he moved to Ottawa in 1886 to take a position as Headmaster of the Ottawa School of Art, which he kept until its temporary close in 1899. He taught with the Women's Art Association of Ottawa (later named the Art Association of Ottawa) from 1898 to 1921. When the Ottawa School of Art reopened in 1925, he was appointed principal, and he remained there until 1937.

Brownell became a full member of the Royal Canadian Academy in 1895, exhibiting regularly in their shows. In 1907 he resigned from the Ontario Society of Artists to become a founding member of the Canadian Art Club. Club membership included the important painters of the time such as James Wilson Morrice, Horatio Walker, Homer Watson and William Brymner. Their shows included other important artists of the time, and were considered to have done much to arouse a national spirit among artists. He was a close friend of Eric Brown, the founding director of the National Gallery, who accompanied Brownell on painting trips to the West Indies in 1913 and 1914. Brownell's experience of light and colour there brought a brighter aesthetic into his painting.

He exhibited regularly at the RCA shows and with the Art Association of Montreal. Ottawa art dealer James Wilson and Company held exhibitions for him throughout the 1920s and 1930s. In 1922 he was honoured with a retrospective at the National Gallery of Canada, and in 1924 he exhibited at the important British Empire Exhibition in England. The Art Gallery of Toronto included his work in an exhibition of prominent painters such as Maurice Cullen and Marc-Aurèle Suzor-Coté in 1937.

Brownell died in Ottawa in 1946.