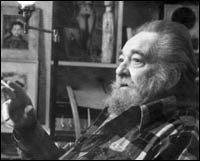 Paul Vanier Beaulieu
1910 - 1996
RCA

Paul Vanier Beaulieu was born in 1910 in Montreal, the eldest of seven children. His father was a lawyer who painted as a hobby, his mother was a painter, and both had an interest in books and art. Beaulieu attended the École des beaux-arts in Montreal from 1927 to 1930 and became friends with fellow students Jean-Paul Lemieux and Stanley Cosgrove. He worked as a waiter and co-owned a commercial art shop for six years in order to earn enough money to travel to Paris in 1938, joining his brother Claude and renting a studio in Montparnasse, while studying at the École des beaux-arts in Paris. The two brothers, as well as 160 other Canadian citizens, were interned in France during the Nazi occupation from 1940 to 1944. After the war, Beaulieu went back to his studio to continue working, and in 1944 he had his first solo show at Henriette Vallot's gallery on rue Vaugirard in Paris.
Beaulieu returned to Montreal from 1945 to 1947, where he had two exhibitions in his family home, then returned to Paris where he had a solo exhibition in 1949 at La Gentilhommière Gallery. The National Museum of Modern Art in Paris acquired Beaulieu's Still Life with Yellow Bottle in 1951, the first work by a Canadian contemporary artist to be purchased by the museum. By this time Beaulieu was producing works in oil, watercolour, engraving, etching, lithograph, monotype and decalcomania, using diverse subject matter such as landscapes, portraits and still lifes.
From 1954 to 1965 he was represented exclusively by Dominion Gallery in Montreal; his first solo exhibition there was in 1957. In 1958 he had two major exhibitions: Three Canadian Painters, at the Musée national d'art moderne de Paris with Alfred Pellan and Jean Paul Riopelle, and an exhibition with Jean-Philippe Dallaire at the Montreal Museum of Fine Arts.

Beaulieu returned to Quebec in 1973, settling in Saint-Sauveur-des-Monts in the Laurentians, and continued to paint and exhibit regularly. His work is held in the collections of the National Gallery, Ottawa, the Musée du Quebec, the Montreal Museum of Fine Arts, and the Museum of Modern Art, Paris, among many more. Beaulieu died in 1996 in Quebec.