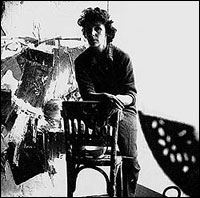 Marcelle Ferron
1924 - 2001
AANFM AUTO CAS QMG RCA SAAVQ SAPQ

Marcelle Ferron studied at the École des beaux-arts under Jean Paul Lemieux and Simone Hudon, leaving in 1944 to experiment with abstraction. Shortly after, she met Paul-Émile Borduas and was greatly influenced by his non-figurative expressions, as well as Surrealism. Consequently, she joined the Automatists in 1946 and was a signatory of the manifesto Refus global in 1948.

In 1953, she moved to Paris where she learned to work in stained glass, and spent 13 years there before returning to Montreal.

Her work has been shown internationally in such prestigious museums as the Louvre and the Musée d'art moderne in Paris. In 1961 she won the silver medal at the Bienal de São Paulo in Brazil, and in 1970 she was honoured with a retrospective exhibition at the Musée d'art contemporain in Montreal.