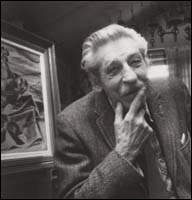 Carl Fellman Schaefer
1903 - 1995
CGP CSGA CSPWC OC OSA PDCC RCA RSA

Carl Schaefer was born in Hanover, Ontario in 1903. He studied at the Ontario College of Art from 1921 to 1924, receiving instruction and support from Group of Seven members Arthur Lismer and J.E.H. MacDonald. Fireman's Hall in Hanover held his first solo exhibition in 1924, which was received favourably. He began freelancing as a commercial artist, doing whatever kind of work was necessary - painting church interiors, making stage sets for theatres, sign painting and designing.

In 1927 he married and settled in Toronto, and was included in an exhibition at the Art Gallery of Toronto with the Group of Seven the following year. He spent his summers from 1932 to 1942 in Hanover, painting the landscape there that he knew and loved. Franklin Carmichael suggested he try painting in watercolour in 1933, and in 1935 the National Gallery of Canada purchased two watercolour paintings by Schaefer for their collection. He was awarded a Guggenheim Fellowship in 1940 which allowed him to spend a year in New England, fully devoted to painting. Nearby Dartmouth College permitted him to use their printing press, and over the course of his career he made 45 prints, including linocuts, wood engravings, dry point etchings and lithographs.

In 1943 he became an official war artist with the Royal Canadian Air Force, traveling to England, Ireland and Iceland to document the war. Since 1930, Schaefer held various part-time teaching positions, but in 1948 he obtained a full-time position at the Ontario College of Art, where he would remain until 1970. He was a member of numerous art societies - the Canadian Society of Graphic Art, the Canadian Society of Painters in Water Colour, the Royal Society of Arts in England, the Royal Canadian Academy and the Canadian Group of Painters.

Throughout his career, Carl Schaefer had 12 solo exhibitions at the Picture Loan Society in Toronto and three major public exhibitions were held - at the McCord Museum Montreal in 1967, the Robert McLaughlin Gallery in 1976, and the Edmonton Art Gallery in 1980. His work can be found in the collections of the National Gallery of Canada, the Art Gallery of Ontario, the Art Gallery of Vancouver, the Canadian War Museum, and numerous corporate and private collections. Among other honours, he was appointed an Officer of the Order of Canada. Schaefer passed away in Toronto in 1995.