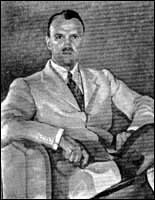 Albert Henry Robinson
1881 - 1956
CGP RCA

Albert Henry Robinson was born in 1881 in Hamilton, Ontario. Initially self-taught, he worked as an illustrator for The Hamilton Times from 1901 - 1903. He then attended the Hamilton Art School, where he was taught by the important teacher and impressionist painter John Sloan Gordon. Gordon had trained at the Académie Julian in Paris, and was considered a pioneer teacher in Canadian art education. Robinson would follow his lead and travel to Paris to attend the Académie Julian, where he would train under William Bouguereau in 1903. This was followed by further training at the École des beaux-arts. Robinson then traveled in Normandy and Corsica, painting with the British painter Thomas William Marshall and meeting the famed Canadian painter W. Blair Bruce. He suffered a bought of typhoid in 1905, which forced his return to Canada, where he was given a position at the Hamilton Art School with his old teacher, John Gordon. It was near Hamilton that he began to paint the landscape of Canada in oil, but his move to Montreal in 1908 and his subsequent fascination with the life of the people of the province of Quebec would define his work. In Quebec he met William Brymner and Maurice Cullen, and in 1909 would begin to show with the Royal Canadian Academy, being elected to associate membership in 1911 and full member in 1920. He met A.Y. Jackson in 1910, and traveled to France with him in 1911. He contributed to the Canadian War Memorials, painting scenes of shipbuilding and wartime activity in harbours. Jackson and Robinson painted together frequently after World War I, visiting the sketching locations now made famous by their works: St-Tite-des-Caps, Baie-St-Paul, various regions of the St. Lawrence River and the Laurentians. They were lifelong sketching companions. Robinson is also associated with other Quebec painters such as Clarence Gagnon, Randolph Hewton and Edwin Holgate, with whom he sketched and exhibited. Robinson's work is defined by a particular affection for snow, hence white is a predominate colour in his palette. His works lean towards impressionism and are idyllic and pastoral, reflecting his deep love of Quebec and its people. He was an exceedingly fine colourist, and his methods include a characteristic square brush-stroke, almost pointillist in application, with which he was able to convey a sense of dappled light and joyousness.

Robinson was invited to exhibit as a guest, along with Robert Pilot and Randolph Hewton, at the 1920 Group of Seven exhibition. While a contemporary of the Group, he did not seek attention through his associations with them, preferring instead a quiet life where he could paint according to his own desires. He has often been called "a painter's painter" who worked for the pure joy of it. He was a founding member of the Canadian Group of Painters in 1933, won numerous awards during his lifetime and participated in many exhibitions in Canada, Europe and the United States.

He suffered a heart attack in 1930 after which the arthritis in his hands became severe, which tragically forced him to stop painting. He died in Montreal in 1956.

A retrospective of his work was held at both the Art Gallery of Hamilton and the National Gallery of Canada in 1955, and his work can be found in the permanent collections of the Luxembourg Museum, the National Gallery of Canada, the Montreal Museum of Fine Arts, the Art Gallery of Ontario, the Musée National des Beaux-Arts de Quebec and Canada House in London, England.