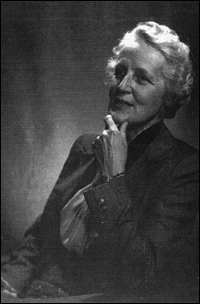 Anne Douglas Savage
1896 - 1971
BHG CGP

Anne Savage was born into a prominent family in Montreal that included the Scottish novelist John Galt and Sir Alexander Galt, a father of Confederation.

After attending the Art Association of Montreal and studying with Maurice Cullen and William Brymner, she became a founding member of the Beaver Hall Group in Montreal in 1920, a lively English-speaking group of artists. Savage had a strong friendship with Group of Seven artist A.Y. Jackson, sharing critiques, encouragement and a mutual interest in landscape painting.

Savage grew up on a farm near Dorval and spent summers at Lake Wonish in the Laurentians. She built a studio there in 1933, and her landscape subjects were drawn from the Laurentians and the Eastern Townships.

In 1927, Savage traveled with ethnologist Marius Barbeau and artists Florence Wyle and Pegi Nicol MacLeod to the Skeena River of British Columbia, painting as part of an effort to record aboriginal culture there.

A respected art educator, Savage taught art at Baron Byng School in Montreal from 1922 to 1948, was the Art Supervisor for the Montreal Protestant School Board and also taught at McGill University. She was a pillar of the art community – she helped found Atelier, a school of modern art in Montreal. A founding member of the Canadian Group of Painters, she was elected its Montreal president in 1949.

Her work was regularly included in exhibitions at the National Gallery of Canada, the Royal Canadian Academy and the Art Association of Montreal (later the Montreal Museum of Fine Arts). She was included in the 1926 Group of Seven show, and exhibited internationally at the Royal Institute Galleries and the Tate Gallery in London, the New York World's Fair, the Corcoran Gallery in Washington and the Musée du Jeu de Paume in Paris, amongst others. In 1969 she was given a retrospective at Sir George Williams University in Montreal. Savage's work embodied the spirit of modernism, and was known for its strength and clarity.