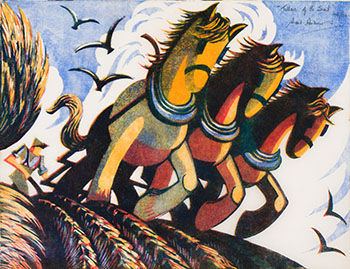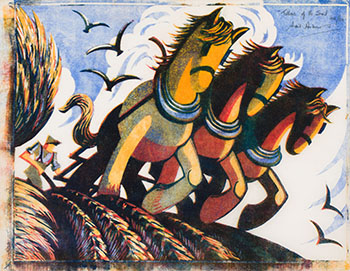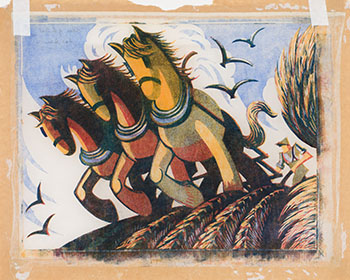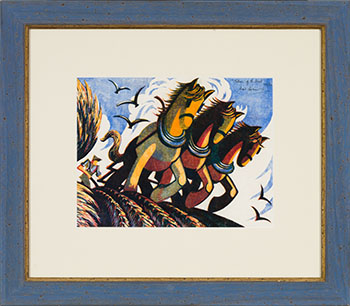 Lot # 401
Fine Canadian & International Art Online auction

Sybil Andrews
CPE 1898 - 1992 Canadian

Tillers of the Soil
linocut in 4 colours
signed, titled and editioned 44/60
10 1/4 x 13 1/4 in 26 x 33.7cm

Provenance:
Collection of Donald Cameron, director of the Banff School of Fine Arts from 1936 - 1969
By descent to the present Private Collection, British Columbia

Literature:
Peter White, Sybil Andrews, Glenbow Museum, 1982, reproduced pages 27 and 57
Lora S. Urbanelli, The Grosvenor School, British Linocuts Between the Wars, Museum of Art, Rhode Island School of Design, 1988, reproduced page 46
Stephen Coppel, Linocuts of the Machine Age, 1995, reproduced page 115, catalogue #SA31

Exhibited:
Glenbow Museum, Calgary, Sybil Andrews, 1982, same image, catalogue #31
Rhode Island School of Design Museum, The Grosvenor School: British Linocuts Between the Wars, January 22 - March 20, 1988, traveling in 1988 to the Cleveland Museum of Art and the Santa Barbara Museum of Art, same image, catalogue #10

Sybil Andrews was part of the Grosvenor School in England, a group of artists working in linocut who were influenced by the exciting modernist movements of Futurism, Vorticism and Cubism. In the 1930s, harsh economic realities brought a new appreciation for the working class, both rural and urban, who emerged as a subject for art, and their energy and productivity was seen in a heroic light. Tillers of the Soil is from a group of linocuts in Andrews's oeuvre that embodies this subject. Seen at a distance, the figure of the farmer is small, but his stance at the plough is self-assured as he controls the team of massive draft horses. Andrews emphasized their power through her unusual use of perspective, showing the horses looming over the top of the hill with the stylized furrows of the field plunging downward below them. A pervasive and dynamic sense of movement, strong colour, and the bright light of the open farmland make Tillers of the Soil a powerful image.



Please note the Condition Report for this work.

Estimate:

$12,000 ~ $16,000 CAD

Final Bid:

$11,000 CAD

Bidding History

Paddle #

Date

Amount $

18045

08/07/2019 1:20:01 PM

$11,000

26415

06/07/2019 7:20:44 AM

$10,000
All prices are in Canadian Dollars.
Although great care has been taken to ensure the accuracy of the information posted, errors and omissions may occur. All bids are subject to our Terms and Conditions of Business.