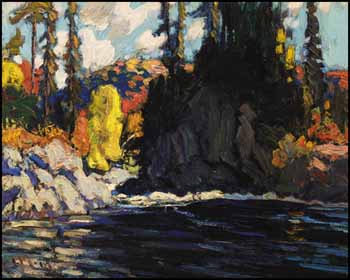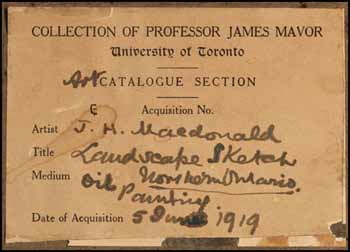 Lot # 105

James Edward Hervey (J.E.H.) MacDonald
ALC CGP G7 OSA RCA 1873 - 1932 Canadian

Landscape Sketch, Northern Ontario
oil on board
initialed and dated 1918 and on verso titled on the label of the Collection of Professor James Mavor, University of Toronto and inscribed "Craufurd Martin 23.6.28" in graphite
8 1/2 x 10 1/2 in 21.6 x 26.7cm

Provenance:
Acquired directly from the Artist in 1919 by Professor James Mavor, Toronto
A wedding gift from James Mavor to Mr. & Mrs Craufurd Martin, Toronto
By descent to the present Private Collection, Nashville

James Mavor was a respected and sometimes controversial professor of Political Science at the University of Toronto. From 1892 until 1923 when he was the department's chair, he radically re-worked the department's operating structure. Mavor was an early figure in the emerging field of Canadian Urban and Economic Studies. He had close ties with government, and was the namesake for the James Mavor Morell character in George Bernard Shaw's play Candida. Mavor considered himself an aesthete in the broadest sense, and was a patron, supporter, connoisseur and promoter of both performing and visual arts. He was a critical figure in the establishment of the Art Gallery of Toronto (now the Art Gallery of Ontario) and the Royal Ontario Museum, and promoted the work of artists such as Homer Watson and Horatio Walker. He published many books and wrote for periodicals such as The Yearbook of Canadian Art. A member of the Royal Society of Canada, he died in 1925.

Mavor acquired this beautiful early J.E.H. MacDonald sketch directly from the artist in 1919, the year after it was painted. It is a wonderful example of MacDonald's work during a period when the Impressionist influence can still be seen in his brush-strokes, when Tom Thomson's memory was strong in his heart and mind, and when he was beginning to see Canada through fresh eyes. At the same time, MacDonald's talents as a designer were sharply honed and right at hand. Each of these influences can be seen in this energetic work.

MacDonald had seen work by the Impressionists in London, and was aware of both Canadian and American artists who painted in this manner. He explored Impressionistic techniques in the early years of his career, and the lessons he learned then, particularly those to do with colour, would underpin his work for the rest of his life. In Landscape Sketch, Northern Ontario, the mixing of paint directly on the work's surface, the thickness of the paint and the dazzling effects of light and dark are indicative of this interest. In addition, MacDonald had been sketching with Thomson until Thomson's untimely death in 1917. We can see similarities between the two painters in both the brushwork and palette of this work, and the energetic, almost frantic manner in which the work has been executed. Particularly notable is the use of black and very dark blues and greens, highlighted with brilliant oranges and yellows in electric touches here and there. Even the simple title, Landscape Sketch, Northern Ontario, evokes Thomson. It was painted the year after Thomson died, after which MacDonald's style would change somewhat to explore design and rhythmic movement. Evidence of MacDonald's skill as a designer is apparent in the uppermost tree limbs of the distant conifers. These are rendered with swift and simple brush-strokes that tell us much about colour and light, season and tree-forms in very simple terms. As well, the tree trunks of these same pines are depicted as a deft combination of dark and light paint. Thus Landscape Sketch, Northern Ontario marks a transition from one chapter to the next in MacDonald's remarkable career.

Despite the technical elements of Impressionism that we can identify in this work – compositionally, and certainly in terms of subject matter – this work is dramatically different. It is a choice example of a fusion between the influence of the beloved art movement of Impressionism and a homage of sorts to the way Thomson and the artists who would become the Group of Seven saw the wild Canadian landscape. This was the fertile artistic ground from which the Group of Seven would grow, and this gem of a sketch is one of its early flowers.

Sold For: $187,200.00 CAD
Estimate: $60,000 ~ $80,000 CAD
Preview at:
Heffel – 13 Hazelton Ave Toronto