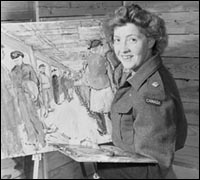 Molly Joan Lamb Bobak

1922 - 2014
BCSFA CGP CPE CSGA CSPWC RCA

As the daughter of art critic Harold Mortimer-Lamb, Molly Bobak was exposed to art as a young girl through children's classes at the Vancouver School of Art and through family associations with painters such as A.Y. Jackson and Emily Carr. Bobak had a rather unconventional, if privileged childhood - her mother Mary Williams was initially Mortimer-Lamb's housekeeper, and Mary and Molly would eventually move in with Mortimer-Lamb and his wife and their children, where they all lived together as an extended family. After the death of his wife, Mortimer-Lamb married Vera Weatherbie, who had been a student and lover of Frederick Varley. In this accepting environment, Molly was encouraged to pursue art, and at the completion of her secondary schooling, she enrolled in the Vancouver School of Art and studied for four years with Jack Shadbolt and Charles Hepburn Scott. After an additional year of graduate studies, she enlisted in the Canadian Women's Army Corps in 1942; A.Y. Jackson's service in World War I as a war artist had inspired her. She campaigned to be sent overseas for three years, but it was not until V-E Day was declared that she was sent to England as an Official War Artist - the first Canadian woman to do so. There, and in northwestern Europe, she worked to document the Communications Units, crowd scenes and celebrations of the end of the war. She was prolific; there are over 400 of her works in the Canadian War Memorials Collection, and she supported this aspect of the military enthusiastically throughout her life, encouraging younger artists in subsequent years to document Canadian involvement in international conflict zones.

Bobak was a master at depicting scenes of crowd-filled streets, and her work is unique in capturing the joyous celebration of the end of World War II. Upon her return to Vancouver, she took a teaching post at the Vancouver School of Art, where she taught painting until 1950. By this time she had married fellow war artist Bruno Bobak, and they had a son, Alexander. She continued to teach and paint in Vancouver, turning her attention to beaches and the city, and she was especially interested in parades, celebrations and scenes of joyous, shared city life. In 1960 the Bobaks, by then a family of four - moved to Fredericton, New Brunswick, where she continued to teach and explore animated cityscapes in her paintings. She taught at the University of New Brunswick and in many other institutions in Canada throughout her life as a sessional and guest instructor. She is fondly remembered by her students, who noted her respect for their ideas and their own personal manner of engaging with art. Bobak explored Fredericton by bus and on foot, feeling more engaged with people this way. She was especially fond of pubs, sporting events, parades and marches, where she found subjects who were happy to stay put for a time so that she could sketch their shared camaraderie. She produced lithographs, having mastered this technique during her time overseas in London, and is also known for her floral still lifes, delicate renditions of wildflowers and grasses that are sensitively handled, and which to her, have much in common with her depictions of large groups of people. "Poppies are like crowds," she told the CBC in 1943, "you don't organize them."

In addition to her many awards, memberships and achievements, Bobak's work is found in numerous public collections including the National Gallery of Canada, the Canadian War Museum, the Art Gallery of Greater Victoria, the Vancouver Art Gallery, the Glenbow Museum, the Beaverbrook Art Gallery, the Military Museums of Alberta and the Art Gallery of Alberta. She continued to paint and draw daily until she was 84, when poor eyesight curtailed her work. She died in Fredericton in 2014 at the age of 94.