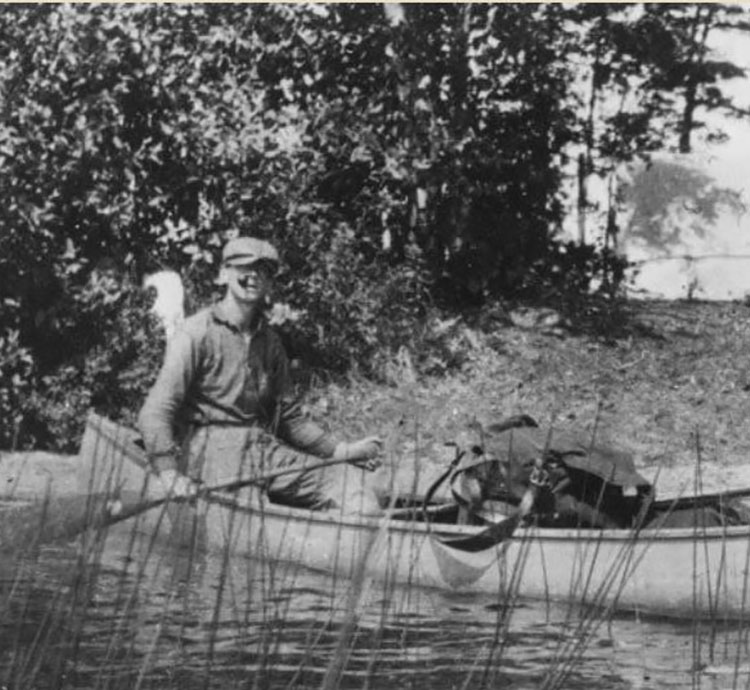 Thomas John (Tom) Thomson

1877 - 1917
OSA

Born in Claremont, Ontario in 1877, Thomson studied at the Chatham Commercial School from 1899 to 1901, and traveled to Seattle to study photoengraving from 1901 to 1904, returning to Toronto in 1905. He was otherwise a self-taught artist, but gained much knowledge through his association with the members of Group of Seven, who he met in Toronto through the Arts and Letters Club and while working at commercial art firms Grip Ltd. and Rous and Mann Ltd. He was not an official member of the Group, but likely would have been, had he not unexpectedly and mysteriously drowned in July of 1917 at Canoe Lake. Long after his death, his work left a lasting and significant impression on the Group, with whom he shared a deep appreciation for the rugged natural beauty of the wild landscape of the Ontario north.
Thomson's first trip to Algonquin Park was in spring of 1912, and it became his primary painting place. Adept at surviving in the woods, Thomson fished, explored its many lakes by canoe, and painted in all conditions, drawn to the drama of its open skies, wooded shores and mercurial weather. He depicted a striking variety of subjects - from serene spring days and summer sunsets to nocturnes with Northern lights, or wild storms lashing the land. Every year from 1912 on he would travel to Algonquin Park for prolonged periods of sketching, and then return to the Group's Studio Building in Toronto in the winter to produce larger paintings from the gem-like oil on board works he painted out of doors. Thomson's development was meteoric, and in the years following this first trip, his depictions of the northern landscape using broad, expressive brush-strokes and rich and varied colour became known for their raw passion and beauty. As art patron Dr. James MacCallum stated, "Thomson painted not merely to paint, but because his nature compelled him to paint - because he had a message. The north country gradually enthralled him, body and soul. He began to paint that he might express the emotions the country inspired in him; all the moods and passions, all the somberness and all the glory of colour, were so felt that they demanded from him pictorial expression." In the brief span of his mature career Thomson created an unforgettable body of work, and was viewed as embodying the spirit of the northland.
Canvases such as The Jack Pine, Northern River and The West Wind, icons of Canadian art, are in the collection of the National Gallery of Canada, and Thomson's works are in the collections of many other major museums. The most recent Thomson retrospective was held in 2002 by the National Gallery of Canada - a major exhibition that traveled to the Art Gallery of Ontario, the Musée du Québec, the Winnipeg Art Gallery and the Vancouver Art Gallery.