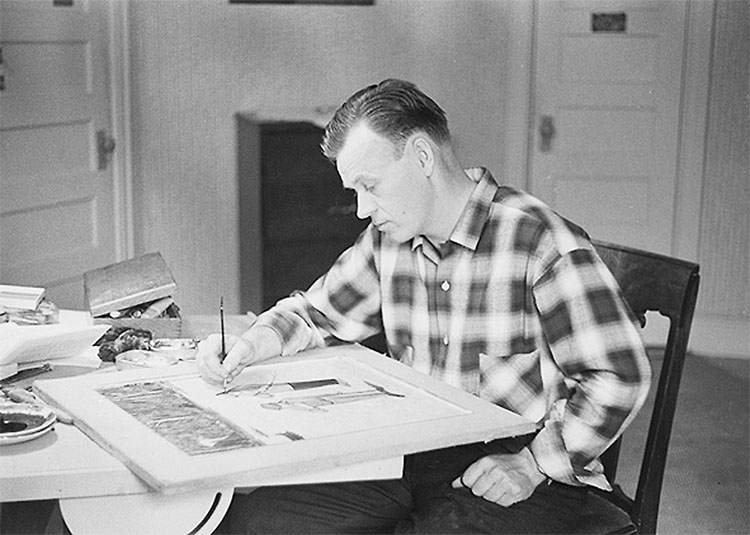 William Kurelek

1927 - 1977
ARCA OC OSA

Born in 1927 in northern Alberta, William Kurelek was the oldest of seven children in a Ukranian immigrant family. In 1934, the family moved to a farm in Manitoba, where Kurelek grew up. He was strongly advised by his parents to continue to work on the family farm, and his choice to pursue painting was harshly criticized by his father. The relationship between father and son was difficult for both and would strongly influence Kurelek's work. Against his parents' wishes, Kurelek studied at the Ontario College of Art in Toronto and the Institudo Allende in San Miguel, Mexico. He also taught himself through books such as Kimon Nicolaïdes's The Natural Way to Draw.

By his mid-twenties, Kurelek was living in England. In 1952 he checked himself in to the Maudsley Psychiatric Hospital in London for clinical depression, emotional issues and eye pain. In the midst of his internal suffering, Kurelek was looking for guidance, and in 1957 he found solace in the Roman Catholic faith. His conversion to Catholicism was a definitive turning point for Kurelek both emotionally and artistically. While in England, his career blossomed and he exhibited his trompe-l'oeil work at the Royal Academy Summer Exhibitions from 1956 - 1958. He also learned the trade of fine framing, including the art of gilding, becoming a master finisher, and incorporated some of the techniques he learned into his painting, as well as making frames for his own paintings.

Once Kurelek returned to Toronto in 1959, he was discovered by Av Isaacs of Isaacs Gallery, who also initially employed him as a framer. His first show there was in 1960, beginning an 18 year relationship, and by the late 1960s Kurelek was firmly established as a leading Canadian artist. Two documentary films were made about him – a National Film Board short entitled Kurelek in 1967, and in 1970, The Maze. While living in Toronto, he would make regular trips to Manitoba and Alberta to paint the areas he had lived in as a child. These would be the basis for his most celebrated works. During the 1970s, Kurelek began to write didactic text to accompany his paintings. The result was a number of popular children's books such as A Prairie Boy's Winter, Lumberjack, A Prairie Boy's Summer and A Northern Nativity. Altogether, he wrote about 15 books on various subjects, including Kurelek's Canada and his own biography entitled Someone With Me. In 1977, Kurelek briefly left Canada in search of his Ukrainian roots, journeying to the village where his father had grown up. Shortly after his return to Toronto, Kurelek died of cancer at the age of 50.

Kurelek was formed by his early life on the prairies, his Ukrainian heritage and Roman Catholicism. The body of Kurelek's work alternates between farm scenes of innocence and wonder, apocalyptic visions of the end of the world and biblical stories involving lessons of morality. Sometimes disturbing, sometimes naïve and joyous, his work is extremely personal and moving.