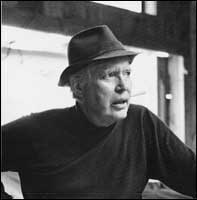 William Ronald (Bill) Reid

1920 - 1998

Bill Reid was born in Victoria in 1920; his mother was Haida, of the Raven moiety from Skidegate Mission, and his father a Scottish-German American. On his mother's side, he was descended from a line of Haida carvers - his grandfather was Charles Gladstone, a silversmith who studied with his uncle, the renowned artist Charles Edenshaw. Inspired by his grandfather, Reid began to visit Haida Gwaii, and to identify with his Haida heritage. He also began to closely study Edenshaw's extraordinary work.

In his early life, Reid became a radio announcer, and in 1948 began a ten year stint with the Canadian Broadcasting Corporation, first in Toronto, then in Vancouver. While in working in Toronto, Reid explored the Royal Ontario Museum's collection of Northwest Coast Art, and inspired by traditional Haida jewellery, trained in jewellery-making at Ryerson Polytechnical Institute. When he returned to the West Coast in 1951, he established a workshop in his home and began to produce both contemporary and traditional Haida jewellery. In 1968, he spent a year at the Central School of Design in London, England to work on his goldsmithing techniques. On his return to Canada in 1969, he spent three years in Montreal producing jewellery before returning to Vancouver in 1973.

During his lifetime Reid achieved international acclaim as both a jeweller and a sculptor, playing a pivotal role in rebuilding an understanding of Haida art and bringing it to world attention. In numerous works and mediums Reid sought to fuse the magic and power of Haida expressive forms with the conventions of western modernism, and he did so with exquisite skill. Pieces such as the 1970 boxwood carving The Raven Discovering Mankind in a Clamshell find inspiration in western sculptural traditions, as well as the more freely sculptural and narrative works created by late-nineteenth-century Haida argillite carvers. Major monumental works in his oeuvre include the six totem poles carved with Doug Cranmer at the University of British Columbia (1958 - 1962); the house frontal pole at the Skidegate band council office (1978); The Raven and the First Men, a yellow-cedar sculpture at the UBC Museum of Anthropology (1980); the bronze killer whale, Chief of the Undersea World, outside the Vancouver Aquarium (1984); Lootaas (Wave Eater), a 17 metre (50-foot) ocean-going canoe commissioned by the Bank of BC for Expo 86 and The Spirit of Haida Gwaii, a six-metre bronze sculpture at the Canadian embassy in Washington, DC (1991). The Jade Canoe, a second casting of the bronze, was completed for the Vancouver International Airport in 1996.

In 1974 Reid was given a retrospective at the Vancouver Art Gallery. His work was exhibited at Musée de l'Homme in Paris in 1989 (during which 15 Haida paddlers brought Lootas up the Seine River), in 1993 at the Néprajzi Múzeum in Budapest and in 1997 in the Canadian Embassy Gallery in Tokyo. He received many honours and awards, including honorary degrees from the University of British Columbia, the University of Victoria and the University of Toronto, the Order of British Columbia and France's Order of Arts and Letters. Reid died in Vancouver in 1998 - his memorial was held in the UBC Museum of Anthropology, and his ashes were taken aboard Lootaas to his maternal ancestral home in Haida Gwaii. The Bill Reid Gallery of Northwest Coast Art was established in 1999, which displays his work and perpetuates his legacy.