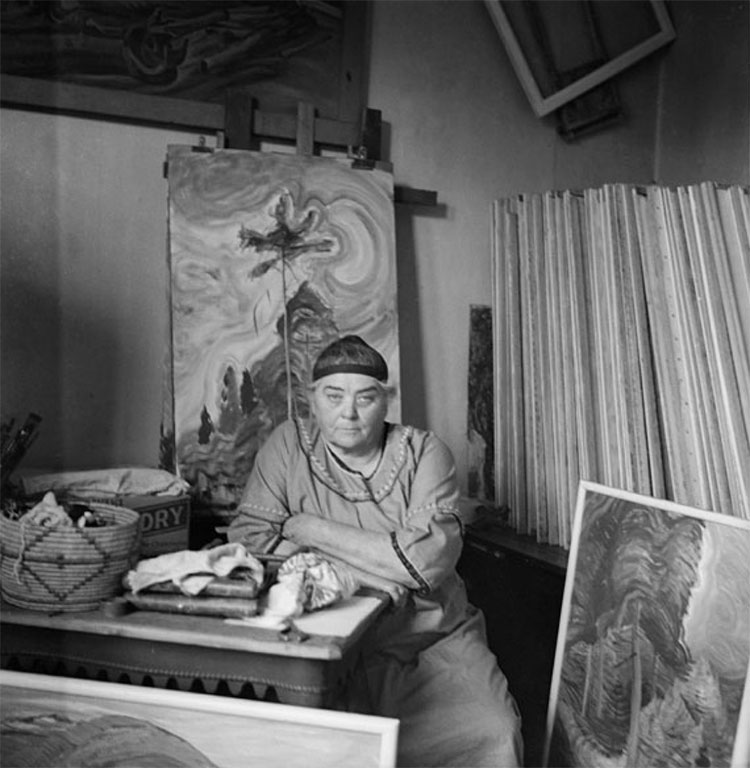 Emily Carr

1871 - 1945
BCSFA CGP

Emily Carr is one of Canada's greatest artists, best known for her paintings of west coast native villages and forest and seashore landscapes.

Born in Victoria in 1871, early studies took her to San Francisco and London.

Her interest in coastal villages began with a visit to a Nootka reserve at Ucluelet in 1899 and led to subsequent visits to native coastal villages in 1908, 1909 and 1910. In 1910, Carr travelled to France to study, and her exposure to the artistic milieu there opened up a new world of colour and light.

Back in British Columbia in 1912, Carr made an important sketching trip to native sites at Alert Bay, Skeena River and the Queen Charlotte Islands, deeply committed to capturing the native people and the villages with their powerful totem poles.

Carr was ahead of her time on the coast, and her struggle to survive resulted in very little painting from 1913 until the pivotal year of 1927, when she was visited by ethnologist Marius Barbeau and Eric Brown, director of the National Gallery. Her work was subsequently exhibited in an historic west coast show in Ottawa, and when she traveled to it, she met prominent fellow artists such as Lawren Harris, with whom she formed an inspiring friendship.

Carr visited native sites again in 1928 and 1930, and sketching expeditions into her beloved forest continued - to the west coast of Vancouver Island and Port Renfrew, as well as locations near Victoria. Carr's great inspiration captured the very essence of BC forest with its energy and mystery.

More public recognition came with a solo exhibition at the Art Gallery of Ontario in 1937, and the first of annual solo exhibits at the Vancouver Art Gallery began in 1938.

Also well known for her writing, Carr won a Governor General's award for her first book Klee Wyck.