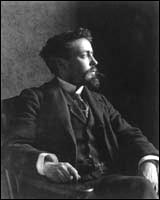 Maurice Galbraith Cullen

1866 - 1934
AAM RCA

Maurice Cullen was born in St. John's, Newfoundland in 1866 and moved with his family to Montreal in 1870, later taking art classes at the Monument National. By 1888, Cullen was in Paris, studied painting at the École des beaux-arts and the Académie Julian until 1892. He was strongly influenced by the work of the French Impressionists, and while in Paris met fellow Canadian Impressionist James Wilson Morrice. After exhibiting at the Paris Salon in 1894 and becoming an associate of the Société Nationale des beaux-arts, Cullen returned to Montreal in 1895. He would continue to visit Paris in 1896, 1900, 1901 and 1902.

Cullen's absorption of Impressionism rippled out into the Canadian art world, and he transmitted his knowledge to other artists, including Frederick Coburn and Robert Pilot, contributing to a breaking away from the dark landscapes influenced by European artists such as the Barbizon school. He painted en plein air in the Quebec countryside at such locations as Beaupré and Baie-Saint-Paul, capturing the moment in the landscape with its ephemeral effects of light and a fresh awareness of colour. He was also known for his fine city scenes of Montreal and Quebec City, a favourite theme being the view of Quebec City from Lévis.

From 1918 to 1920, he was commissioned as an official war artist, and his works from this time are in the collection of the Canadian War Museum.

After 1923, the Laurentians were Cullen's predominant theme. He built a cabin at Lac Tremblant on the Cache River in the early 1920s as a base for his Laurentian sketching trips, and scenes of this river were one of his great enduring subjects. Cullen loved winter, and felt that the forests became truly majestic when cloaked in snow.

In 1892 Cullen began to exhibit regularly with the Royal Canadian Academy, and in 1907 he was made a full member of this group. The year 1905 marked the first of many shows with the Art Association of Montreal. Beginning in 1911, he also taught outdoor art classes through the Art Association at various locations until 1923. In 1908, Watson Art Galleries in Montreal began to mount solo exhibitions of his work. Through their support, the patronage of Sir William Van Horne of the Canadian Pacific Railway and exhibitions with the Canadian Art Club in Toronto, Cullen found success. Considered a father of Impressionism in Canada, Cullen helped to change the perception of art in this country, clearing the way for the distinctly Canadian schools of landscape painting that would follow. Cullen passed away in 1934 at the age of 68.