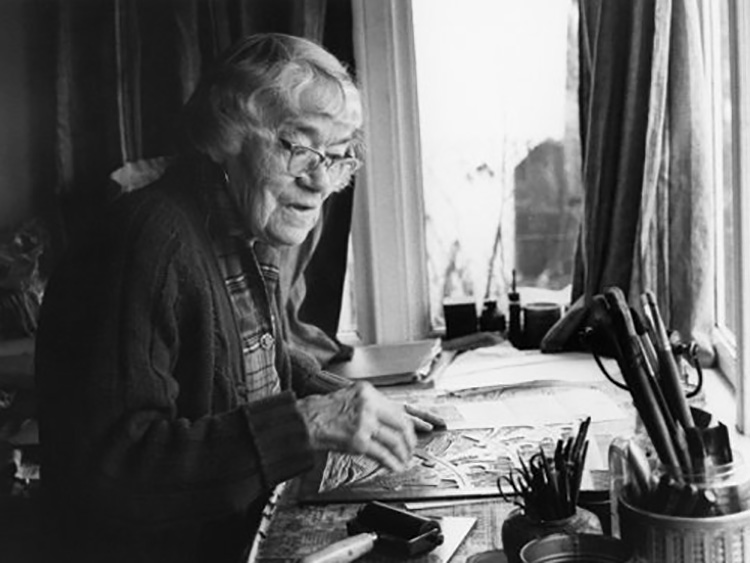 Sybil Andrews

1898 - 1992
CPE

Sybil Andrews was born in Bury St. Edmunds, England.

Although Andrews produced drawings, watercolours, monoprints and oil paintings, it is her linocuts for which she is most famous, achieving international acclaim for them.

During World War I she worked making airplane parts in Coventry, and after the war she returned to Bury St. Edmunds where she met architect Cyril Power. In 1922, at the age of 24, Andrews and left Bury St. Edmunds with Cyril Power to study art at the Heatherley School of Fine Art in London. Three years later Power and Andrews were appointed by Ian Macnab to staff his newly established Grosvenor School of Modern Art, with Andrews becoming the school secretary.

In 1926 while at the Grosvenor School, Andrews and Power met Claude Flight, who taught them how to cut and print from linoleum blocks (a new art form at the time). From 1930 to July 1938 Andrews and Power shared a small studio at 2 Brook Green in Hammersmith, and developed a common aesthetic in their work. This informal working partnership produced an extraordinary body of work – some of the finest prints of the 1930s. Andrews's themes were of the dynamism of the modern machine age and the movement of the human figure at work or sport, usually executed using only four linoleum blocks. Her work, as with all the Grosvenor School, was influenced by Futurism, Cubism and Vorticism.

In total, Andrews produced an incredibly consistent body of 76 linocuts, of which 43 were made from 1929 to 1939, considered her best period when she shared the studio with Power. Andrews's linocuts are acclaimed to have surpassed her teacher Claude Flight, and in fact many consider Andrews to be the most gifted of the Grosvenor School artists.

In 1938 Andrews and Power gave up their studio at Brook Green. Power returned to his wife, and although he continued making art, he never made another linocut.

During World War II Andrews worked in the Southampton shipyard, where she met her future husband Walter Morgan. After the war Andrews and Morgan immigrated to Canada, settling in Campbell River, which at that time was a remote logging town on Vancouver Island. In 1951 Andrews built a simple studio and resumed her printmaking, and also taught art and music classes.

Andrews's two most famous linocuts Speedway and Racing are in the collection of the Museum of Modern Art, New York, and were exhibited there in the summer of 2006. Her work was featured in the 2008 exhibition entitled Rhythms of Modern Life: British Prints 1914 - 1939, co-organized by the Museum of Fine Arts, Boston and the Metropolitan Museum of Art in New York.