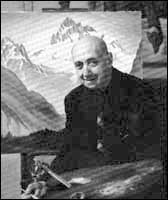 William Percival (W.P.) Weston

1879 - 1967
ARCA BCSFA CGP RBA

William Percival (W.P.) Weston was born in London and immigrated to Vancouver in 1909. Trained as a teacher (at the Battersea Pupil-Teacher Centre and the Borough Teacher Training College in London) and as an artist (at the Putney School of Art in London), he began to work and exhibit immediately, showing with the British Columbia Society of Fine Arts and teaching at King Edward School. He realized that the coastal landscape of British Columbia - his preferred subject - was very different from that of England, and began to hike and sail to explore the landscape, sketching out-of-doors constantly, working up his sketches in the studio in order to find a mode of expression that fit the landscape. He was taken by the immensity of things; the vastness of forests, the sheer size of coastal trees, their cycles of life - their growth and decay. He knew and admired the work of Emily Carr, and corresponded with her regarding ideas and concerns he had in his own work. His energy filled works are characterized by his masterful attention to line, pattern, balance and movement, and focus on mountains, trees, cloud patterns and the action of wind and weather on the landscape.
Weston was an influential educator, holding a succession of prominent positions and emphasizing the importance of drawing as a fundamental component of art training in his teaching. In 1910 he was appointed Drawing Supervisor at the Vancouver School Board after only one year of teaching in Canada, and in 1912 became Head of Night School programs. In 1914 he was appointed Art Master at King Edward, then known as the Provincial Normal School, and beginning in 1917, would teach for 22 terms at the summer school for teachers in Victoria. During this time, Weston co-authored an instructional drawing manual for teachers with Charles H. Scott and S.P. Judge that was published in 1924 as The Teacherís Manual of Drawing and Design. A Teacherís Manual of Drawing would be published in 1932 under Westonís sole authorship. Both of these volumes would become standard text in Manitoba and British Columbia, and Weston would also work to revise curriculum for the British Columbia Department of Education. In 1931, his art came to the attention of the National Gallery of Canada, who purchased Canadaís Western Ramparts. They would later add the drawing The Summit to their collections. Weston was elected President of the British Columbia Society of Fine Arts in 1931 and in 1933 became a charter member of the newly formed Canadian Group of Painters that grew out of the disbanded Group of Seven. The following year a one-man exhibition opened at the Vancouver Art Gallery. In 1936 Weston was elected an Associate of the Royal Canadian Academy. In 1938 he was appointed to the Royal Society of Artists, London, as well as being elected a life member of the British Columbia Society of Fine Arts. In 1945 a one-man show of his work toured the Prairie Provinces with the Western Canada Art Circuit. By the time of his retirement from the Provincial Normal School in 1946 he was the Art Master, and in 1948 he became a member of the Western Group of Painters. An exhibition of his work was held at the Vancouver Art Gallery in 1946 and a retrospective there in 1959, along with one-man shows at the Victoria Arts Centre, Coste House in Calgary, the Vancouver Arts Club and the Richmond Art Gallery. His work is found in numerous public collections such as the National Gallery of Canada, the Vancouver Art Gallery, Hart House, the University of Toronto and the University of British Columbia. He died in 1967 in New Westminster.