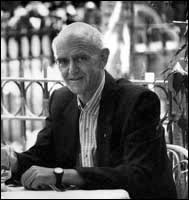 Christopher Pratt

1935 -
ARCA CSGA OC

Born in St. John's, Newfoundland, Christopher Pratt initially studied engineering at Memorial University in 1952 and in 1953 enrolled in pre-med at Mount Allison University in Sackville, New Brunswick, which also had a fine arts department. Concurrently, Pratt took art courses and met fellow artist Mary West, who he married in 1957. Lawren Phillips Harris, the director of the School of Fine and Applied Arts at Mount Allison, convinced of Pratt's talents, wrote to Pratt's father to convince him to allow his son to transfer faculties from medicine to art. Pratt's family instead persuaded Pratt to withdraw from his fine arts courses. Despite this, Pratt was determined to be an artist, entered Mount Allison's Faculty of Arts in 1954 and continued to paint, winning first prize in the Newfoundland Arts and Letters Competition numerous times.
In 1955, he returned to St. John's and painted full-time, focusing on coastal scenes and local architecture through the medium of watercolour. The following year, Pratt traveled to New York, visiting numerous institutions including the Whitney, the Museum of Modern Art, the Metropolitan Museum of Art and the Museum of Natural History. His experience exposed him to the works of many influential artists including Vincent van Gogh, Edward Hopper, Charles Sheeler, Mark Rothko and Winslow Homer.
Pratt attended the Glasgow School of Art in 1957, participating in a foundations course taught by Jessie Alix Dick. Under her guidance, Pratt was exposed to concepts of art that emphasized concept over emotion, the ideal over the real, and the linear over the painterly, providing the foundation for his work. The Pratts returned to Canada in 1959 and graduated with BFA degrees from Mount Allison University. During this time, Pratt began to experiment with silkscreen, a medium that suited the methodical nature of his work. Instead of using cut or transfer stencils, Pratt made stencils directly on the screen using a sable brush and dilute glue, producing perfect alignment in his prints. The result was a clean and simple composition, demonstrating his controlled style.
The Pratts settled in St. John's where he took a job managing the Memorial University Art Gallery and teaching evening classes at the University. In 1963, Pratt left this position to paint full-time, moving his family to St. Mary's Bay. One of Pratt's main themes is of the sea – informed by the flat barren landscapes of Newfoundland and his love of sailing, with images ranging from sleek boats to views of the water through windows. Another enduring theme is of young women – the models chosen from his community - depicted both nude and clothed. Depictions of industrial subjects, house exteriors and interiors are also part of his oeuvre.
In all his images, Pratt's visual language takes objects and simplifies them. By discarding extraneous details, Pratt creates refined, idealized and still compositions. His tranquil works convey a sense of timelessness. Pratt's style is associated with American Precisionism, a movement interested in abstract design and focused on measurement, factuality and scientific values. Pratt's treatment of surface, clarification of forms, emphasis on light and space as well as silence, embodies the Precisionist movement. Pratt has also been compared to realist Alex Colville. Although not entirely a realist artist – Pratt's works have been said to inhabit a world between realism and fiction - he was influenced by Colville. However, whereas Colville asks viewers to experience his images from his perspective, Pratt removes his presence from his artwork, leaving viewers to experience his images directly.
Pratt has exhibited internationally in cities such as London, Paris, Brussels, and Dublin. A major retrospective of his work toured across Canada from the Vancouver Art Gallery to the Art Gallery of Ontario, the Memorial University Art Gallery and the Dalhousie Art Gallery. Solo traveling exhibitions originated at the National Gallery of Canada in 2003 and 2005. Some of his other achievements include serving on the federal government's Stamp Design Advisory Committee and the Board of the Canada Council for the Arts, as well as the design for the provincial flag of Newfoundland and Labrador. He is the recipient of several honorary doctorates and the Order of Canada.