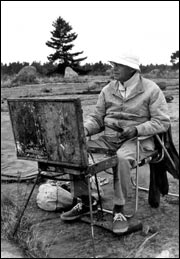 Frank Shirley Panabaker

1904 - 1992
ARCA

Frank Shirley Panabaker was known for his colourful landscapes that explored the many regions of Canada, including Beaver Valley, Georgian Bay, Haliburton and rural Ontario as well as Nassau in the Bahamas.

Panabaker was born in Hespeler, Ontario, where he was encouraged from a young age to attend art classes by his father, who had always held an interest in painting. At the age of 12, Panabaker received his first gun and began to develop his love of hunting, which was a hobby he maintained throughout his life, featured in numerous duck hunting paintings that he produced over the years. Panabaker studied at the Ontario College of Art for two years before continuing his studies at the Valparaiso University, Indiana. Around 1926, he then continued his education in painting and drawing studies at the Grand Central School of Art.

The same year he held his first solo show at the Preston Springs Hotel in Kitchener, which featured paintings of the Kawartha Lakes, northern Ontario, and around his hometown of Hespeler. In 1929, Panabaker's technically difficult canvas of Moraine Lake in Banff National Park was chosen for the National Academy of Design in New York. In 1930, the artist was awarded the Jessie Dow Prize for landscape painting at spring exhibition of the Montreal Art Association. In 1932, Panabaker was praised by A.H. Robson in the book Canadian Landscape Painters as "brilliant and colourful." During a 1934 exhibition in the Birks Building, Hamilton, a seascape by Panabaker was acquired by the mother of the President of the United States, Mrs. Delano Roosevelt, as a gift for her son Franklin D. Roosevelt. The painting was displayed in the White House.

By 1942, Panabaker had been elected an Associate of the Royal Canadian Academy. The artist became a published author in 1957 when his book Reflected Lights was published by Ryerson Press. It went on to be awarded the Literary Award of the Toronto Women's Canadian Club in 1958. The following year he was elected a Trustee of the National Gallery of Canada, and in 1964, he was appointed to the Board of Governors of the Art Gallery of Hamilton.