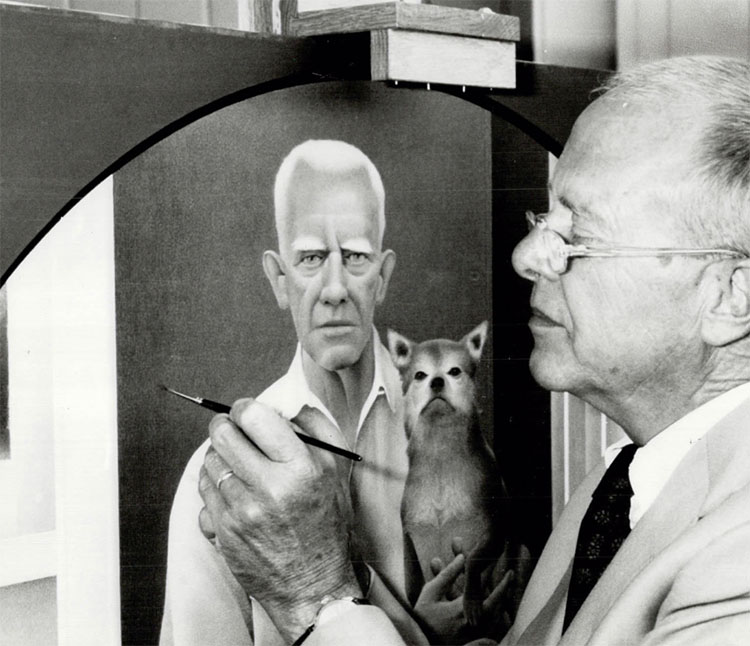 Alexander Colville

1920 - 2013
PC CC

Alex Colville is Canada's finest realist painter. Born in Toronto in 1920, the Colville family moved to St. Catharines when he was seven, and, in 1929, to Nova Scotia. From 1938 to 1942, Colville attended Mount Allison University in Sackville, New Brunswick and graduated with a Bachelor of Fine Arts. Immediately after completing university in 1942, Colville entered the Canadian army. He was appointed an official war artist, travelling overseas in 1944. Of the group of works he produced during this period, 126 are in the collection of Canadian War Museum Art Collection.

After the end of the war in 1945, Colville joined Mount Allison University as a member of the faculty. His academic career consumed the majority of his time until about 1950, and it was not until 1951 that he held his first exhibition, at the New Brunswick Museum in Saint John. In 1952 he held his first exhibition outside of Canada in a group show at the Hewitt Gallery in New York, followed by solo shows in 1953 and 1955. In the years to follow, he would exhibit at the Hart House Gallery, Laing Galleries in Toronto and the Banfer Gallery in New York. In 1963, Colville resigned from his teaching position at Mount Allison to devote himself entirely to his artistic career. His successes as an artist continued - in 1965 he was commissioned to design Canada's centennial coins and in 1966 he was chosen along with Yves Gaucher and Sorel Etrog to represent Canada at the prestigious Venice Biennale. From 1967 to 1968, Colville returned to academia as a visiting professor at the University of California at Santa Cruz before spending six months in West Berlin as a visiting artist in 1971. In 1978, he designed a medal for the Governor General. During the 1970s he showed with Marlborough Fine Art and Fischer Fine Art in London. The only other Canadian artist that could claim international recognition at that time was Jean Paul Riopelle.

Colville was the recipient of numerous prestigious honours including an appointment as Chancellor of Acadia University in Wolfville in 1981 and the Companion of the Order of Canada in 1982. Throughout his illustrious career, Colville received many honorary degrees from numerous universities such as Mount Allison University, Sackville, Dalhousie University, Halifax, Simon Fraser University, Burnaby, University of Windsor and Memorial University, St. John's. In 1983, the National Gallery of Ontario held a retrospective of his work and the exhibition traveled throughout Canada and internationally to Germany and the Far East. Eleven years later, the Musée des beaux-arts de Montréal held a major exhibition of his work in 1994. Colville had a strong relationship with the National Gallery of Canada, having served as a board member from 1990 to 1993, and in 2000, the National Gallery celebrated Colville's eightieth birthday by mounting an exhibition of his work. An exhibition originating at the Art Gallery of Nova Scotia in 2003 toured from 2004 to 2005.

Colville changed his painting medium various times, using oil, tempera, synthetic resin and acrylic polymer emulsion. He spent extensive amounts of time on each work, calculating and executing the precise measurements and proportions of each element in his images, tightening the composition to the point of its greatest dynamic tension. Colville, while representing the world he experienced in his daily life, always addressed philosophical questions. He examined the unanswerable nature of what it is to be human and live in this world, and in doing so, brought the mystery at the basis of all existence into his work. The universality of Colville's work, his unique style and vision, combined with the meticulous perfection of his images, made him an artist of international stature.

Colville died in 2013 in Wolfville, Nova Scotia. In 2014, the Art Gallery of Ontario held a retrospective of his work that traveled to the National Gallery of Canada in 2015.