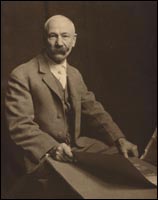 Horatio Walker

1858 - 1938
AWCS CAC NAD RCA RI RSC SAA

Horatio Walker is best known for his paintings of rural Canadian life, particularly his images of Île d'Orléans, Quebec. He first visited the region in 1870 while accompanying his father on a business trip. Walker's painting changed very little over the years and the artist almost always worked under the same conditions using the same principles, and his paintings displayed nostalgia for the countryside.
Walker was born in Listowel, Ontario and showed a proficiency for drawing from a young age. At the age of 15, Walker moved to Toronto and began to work at Notman-Fraser photographic studios, where he met Homer Watson, who became a lifelong friend. In 1876, Walker settled in Rochester, New York, where he worked as a photographer and hand-tinted photographs until 1885. Walker first visited Europe in 1882, where he was greatly influenced by the Barbizon painter Jean-François Millet and the Dutch artists of The Hague School. Walker emulated the peasant subject matter of The Hague School paintings in his scenes of habitants in the Quebec countryside. In 1883, Walker rented a studio in Quebec City and engaged the Montross Gallery in New York as his dealer. He moved to New York in 1885, but continued to spend his summers in Quebec. In 1900, Walker's work was included in an exhibition at the Art Association of Montreal alongside the paintings of the famed Maris brothers of The Hague School.
That same year, Walker moved to London to expand his market. He lived there until 1905, but continued to return to the Île d'Orléans, which eventually became his primary residence. By 1907, Walker held prominence as Canada's most famous artist, having found success both nationally and internationally. The Canadian Art Club in Toronto championed Walker's work, and in 1915, Walker replaced his friend Watson as the club's president. The following year he received an honorary degree from the University of Toronto.

Beginning in the 1920s, collectors such as Louis-Athanase David and C.J. Simard began to collect Walker's paintings, as they felt that his work was an authentic cultural statement and part of the national heritage. Walker's oil Oxen Drinking, 1899, was one of the first major purchases of the National Gallery of Canada, and it was acquired for $10,000, an enormous sum at that time.