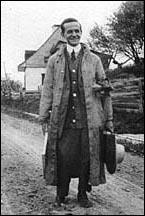 Edwin Headley Holgate

1892 - 1977
AAM BHG CGP CSGA G7 RCA

Edwin Holgate was born in Ontario in 1892, and his family moved to Montreal in 1894. Holgate studied under William Brymner at the Art Association of Montreal, then traveled to Paris in 1912 for further studies at the Académie de la Grande Chaumière. He went on to travel through France, Switzerland, Italy, the Ukraine and Japan, returning to Montreal in 1914. Holgate enlisted in the army in World War I, and after three years returned to the art world of Montreal, becoming a founding member of the Beaver Hall Group in 1920.

From 1920 to 1922 Holgate returned to France, studying in Paris and traveling and painting. He shared a studio with Robert Pilot in Concarneau, Brittany, before returning to Montreal in 1922.

Holgate's love of rural Quebec landscape struck a chord with A.Y. Jackson, whom he met through their professional association with the Beaver Hall Group, and they traveled together on sketching trips beginning in 1923 to such areas as Charlevoix and Baie-Saint-Paul. Holgate's friendship with Jackson led to his becoming the eighth member of the Group of Seven. In 1925 Holgate constructed a cabin at Lake Tremblant, beginning a long relationship with the landscape of the Laurentians. He taught wood engraving at the École des beaux-arts in Montreal from 1926 to 1935, as well as teaching drawing at his studio. He also taught at the Art Association of Montreal from 1934 to 1936 and from 1938 to 1940.

Holgate illustrated Georges Bouchard's book Other Days, Other Ways in 1926, and his illustrations were included in Marius Barbeau's book Downfall of Temlaham in 1929.

In 1926 Holgate traveled to the territory of the Gitxsan First Nation on the upper Skeena River in British Columbia in the company of A.Y. Jackson and anthropologist Marius Barbeau, producing a fine body of work from this trip.

After the Group of Seven was disbanded, Holgate became a founding member of the Canadian Group of Painters in 1933, and in 1935 was elected to the Royal Canadian Academy. He was appointed an official war artist with the Royal Canadian Air Force in 1943, and was posted to England.

In 1946 Holgate moved to Morin Heights, northwest of Montreal, where he lived until 1973, immersing himself in his painting of the beautiful Laurentian countryside.

Holgate was honoured with a retrospective exhibition at the National Gallery of Canada in 1975, which traveled across Canada.