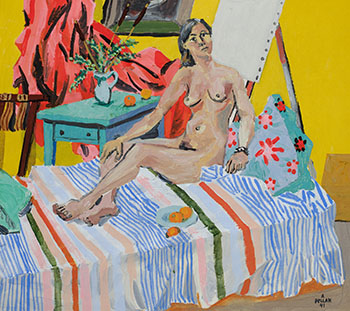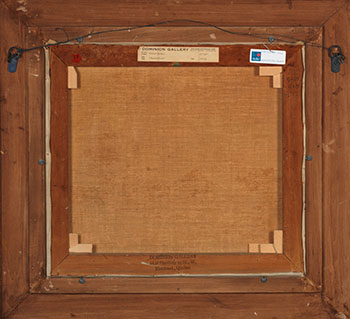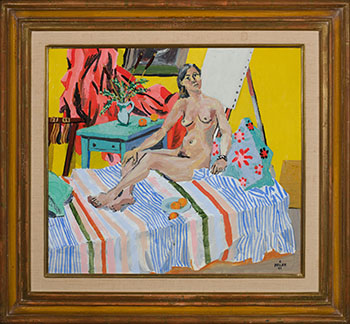 Inventory # A19F-E18187-002

Alfred Pellan
CAS OC PY QMG RCA 1906 - 1988 Canadian

Nu à la Catalogne
oil on canvas
signed and dated 1941 and on verso titled Seated Nude on the Dominion Gallery label
17 x 19 in 43.2 x 48.3cm

Provenance:
Jean-Louis Gagnon, Montreal
Dominion Gallery, Montreal, 1977
Private Collection, Montreal

Literature:
Guy Robert, Pellan, Sa vie et son oeuvre / His Life and His Art, 1963, reproduced page 89
Michel Martin and Sandra Grant Marchand, Alfred Pellan, Musée du Québec and the Musée d'art contemporain de Montréal, 1993, titled as Nu à la Catalogne, reproduced page 89 and listed page 261

Exhibited:
Pellan Studio, Montreal, December 14 - 22, 1941
Musée d'art contemporain de Montréal, Alfred Pellan, une rétrospective, June 17 – September 26, 1993 and Musée du Québec, October 13, 1993 – January 30, 1994, traveling in 1994 – 1995 to the London Regional Art Gallery and Winnipeg Art Gallery, catalogue #39

In 1926, Alfred Pellan went to Paris to study, and he remained in this exciting milieu for 14 years. An enchanted Pellan absorbed the works of artists such as Pierre Bonnard, Pablo Picasso, Georges Braque, Paul Klee and Joan Miró in Paris galleries, which he claimed to be his "real school." He exhibited in that city to critical acclaim - in a review of Pellan's 1935 solo show at the Académie Ranson, Jacques Lassaigne praised him, stating, "The still lifes…are the work of such a rich temperament that he can borrow from everyone and owe nothing to anyone." While Pellan was in Paris his work was collected by the Musée du Jeu de Paume and Musée de Grenoble. However, in 1940 the war was on, and German troops were approaching the French border, so Pellan returned to Quebec, bringing his modernist view back to the Canadian scene. Nu à la Catalogne showcases Pellan's sophisticated synthesis of European influences, particularly that of Pierre Matisse, in its use of saturated colour, bold patterning and a Cubist awareness of space. In this vivid studio scene, Pellan intriguingly includes a blank canvas on the easel, awaiting his depiction of the self-possessed nude model.


| | | |
| --- | --- | --- |
| Price: | $0 CAD | |
All prices are in Canadian Dollars.
Although great care has been taken to ensure the accuracy of the information posted, errors and omissions may occur. All bids are subject to our Terms and Conditions of Business.