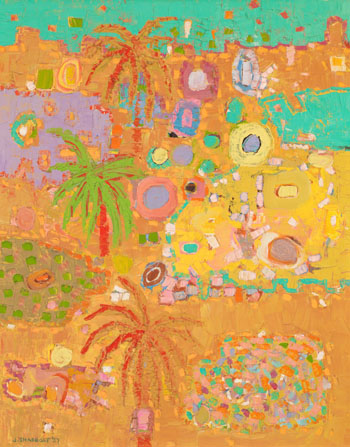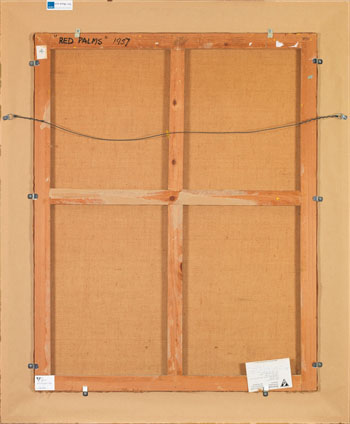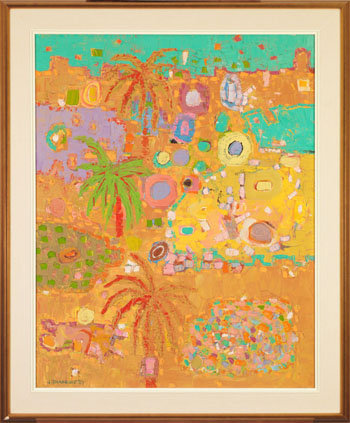 Lot # 054
L'automne 2017 - 1ère séance Live auction

Jack Leonard Shadbolt
BCSFA CGP CSPWC OC RCA 1909 - 1998 Canadian

Red Palms (Landscape with Turquoise Sea and Red Palms)
oil on canvas
signed and dated 1957 and on verso signed, titled twice, dated, inscribed "30 F" and "4" on a label and stamped J.L. Shadbolt, North Glynde Avenue, North Burnaby, Vancouver, BC and Fournitures pour artistes Papeterie des écoles
36 1/2 x 28 3/4 pouces 92.7 x 73cm

Provenance:
Private Collection, Vancouver
Sold sale of Canadian Post-War & Contemporary Art, Heffel Fine Art Auction House, November 25, 2010, lot 8
The Art Emporium, Vancouver
Private Collection, Vancouver

Référence:
Scott Watson, Jack Shadbolt, 1990, pages 77 and 78

In September of 1956, Jack Shadbolt went to France on a year's leave of absence, funded by the Canada Council. After a sojourn in Paris, Shadbolt traveled south, staying at Menton in the French Riviera and at Collioure, a small fishing village near the Spanish border. Shadbolt's time in France was liberating, both in terms of his psyche and the effect of the light and colour of the South of France on his work. As Scott Watson writes, "It was as if something that had been long pent up was suddenly freed, as his senses opened up to new tastes, textures and sensations, especially colours. The cumulative effect was a narcotic intimation of paradise." He immersed himself in the sensory, experiencing the joy of living a slow, leisurely life of freedom under the Mediterranean sun – and let his hedonistic side bloom.
Shadbolt's palette shifted from his previous earth tones to brilliant light-filled hues. He expressed his passionate reaction to the southern French colours, stating, "I nearly went mad just out of Toulon. My first Mediterranean colour – cool melon, heliotrope, clear pale mineral blue." Up until the mid-1950s, Shadbolt had been working in water-based media on paper, but now he was painting in oil, the ideal medium for rich colour.
A committed modernist, in 1948 Shadbolt had spent time in New York, absorbing the theories of abstraction emerging there, and through the theories of Hans Hofmann and the work of American Abstract Expressionist painters, developing his awareness of space and the flattening of the picture plane. Shadbolt was also examining European work in museums there - scrutinizing the art of Pablo Picasso and delving into symbolic abstraction. In fact, Shadbolt's interest in European art stretched back to 1933, to the enthusiasm he felt for the work of Paul Cézanne seen at the Chicago World's Fair; at that time, as Scott Watson writes, "He had seen himself as belonging to the tradition of French modernism." Therefore, in 1956, seeing "Cézanne country" was important to him. After his first stop in Paris, he headed for the South of France and the Côte d'Azur, which had provided inspiration for Cézanne, Pierre Bonnard and Henri Matisse. Shadbolt admired Matisse, whose views of the Mediterranean from hotel rooms on the Riviera struck him with their lyricism and sensuality. In Collioure, he even rented a room in which Matisse once worked.
Red Palms (Landscape with Turquoise Sea and Red Palms) shows Shadbolt in possession of a well-developed command of modernist vocabulary. The canvas surface shows much push-pull action between abstract shapes at the front of the picture plane and areas that recede into abstracted landscape and vegetation, such as the palm trees. The paint is textured, and small mosaic squares applied with a palette knife recall the kind of mosaic pattern work produced by Jean Paul Riopelle at the same time as this canvas. Red Palms is a joyous dance of patterning of abstract form and line, playing between two- and three-dimensionality, but still rooted in landscape. Confirmation that this work was painted in France, rather than on his return to Canada, is seen in the stamp on verso, which reads "Fournitures pour artistes Papeterie des écoles."
In the early 1950s, Shadbolt had been working with abstract forms based on plants and insects, often sombrely reflecting on the cycle of growth and death. But in France, his use of abstracted form was utterly joyous. Red Palms is a tapestry of colour and shape, with luscious, saturated deep pastels and abstracted suggestions of ocean, land, docks and lush vegetation. On the wheel of existence, Shadbolt had found himself in the exuberant here and now of the light, heat and chromatic extravagance of the Mediterranean, and Red Palms is an outstanding example of the creative explosion he experienced there.


Estimation:
25,000 $ ~ 35,000 $ CAN
Vendu pour:
55,250 $ CAN (prime d'achat incluse)

Tous les prix sont en dollars canadiens.
Nous avons fait en sorte d'assurer l'exactitude de l'information affichée, mais des erreurs ou oublis peuvent se produire. Toute acquisition est soumise à nos modalités et conditions.