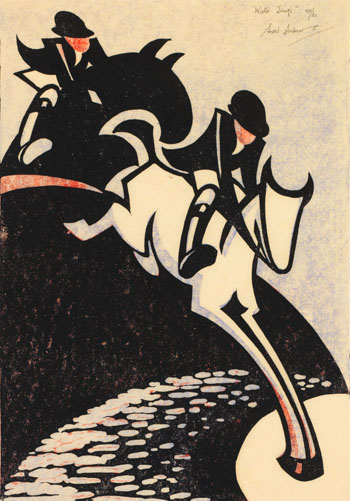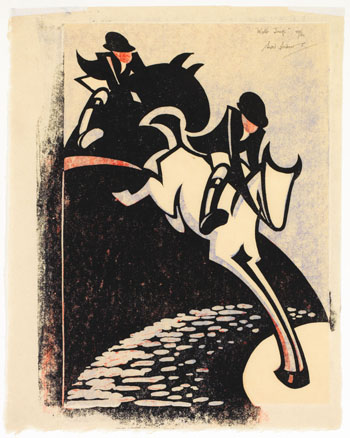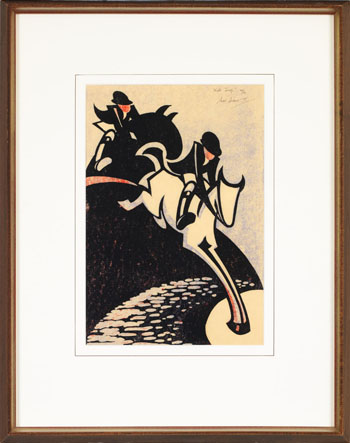 Lot # 109
L'automne 2017 - 2e séance Live auction

Sybil Andrews
CPE 1898 - 1992 Canadian

Water Jump
linocut in 3 colours 1931
signed, titled and editioned 47/60
12 1/4 x 8 3/8 pouces 31.1 x 21.3cm

Provenance:
DeVooght Gallery, Vancouver, 1980
Private Collection, Vancouver

Référence:
Peter White, Sybil Andrews, Glenbow Museum, 1982, reproduced page 53
Stephen Coppel, Linocuts of the Machine Age, 1995, page 110, reproduced page 110, catalogue #SA 14
Gordon Samuel and Nicola Penny, The Cutting Edge of Modernity: Linocuts of the Grosvenor School, 2002, reproduced page 43
Hana Leaper, Sybil Andrews Linocuts: A Complete Catalogue, 2015, page 26, reproduced page 61

Exposition:
Glenbow Museum, Calgary, Sybil Andrews, 1982, same image, catalogue #14

Sybil Andrews was part of the Grosvenor School in England, a group of artists working in linocut who were influenced by the cutting-edge modernist movements of Futurism, Vorticism and Cubism. The Grosvenor School artists considered linocut to be the perfect medium for their work. As Hana Leaper wrote, "Linocutting…demanded directness and dynamism. It limited the number of colours that could be used and the amount of detail that could be included, forcing the artists to translate the world around them into abstracted shapes and to use colour cleverly to express rather than depict detail."
Sport was a subject that fascinated Andrews and the other Grosvenor School artists, for it provided them with the opportunity to convey speed, fluidity and the expression of physical exertion. The movement and sheer exhilaration of sport was an ideal subject for Andrews to convey her modernist aesthetic. During the 1920s, the public appeal of sports, both participatory and spectator, rose. The idea of physical culture and fitness became an ideal in society, even to the point of considering the human body to be an organic machine that could be perfected. A number of Andrews's most famous linocuts concern sport, including Steeplechasing (1930), In Full Cry (1931), Racing (1934), Speedway (1934), Football (1937), Skaters (1953) and this superb early work.
Water Jump makes a strong impression with its emphatic contrasts between bold, simple planes of black, grey and white, which are enlivened by orange-red highlights. The legs of the white horse are elongated, heightening the impression of motion, and the black horse clearing the barrier directly behind pushes the sense of competitive action further. Typical of Andrews's work, the faces of both riders and horses are undefined and their bodies are abstracted into simplified forms, which emphasizes her bold, muscular use of line and form. In this powerful linocut, Andrews adeptly captured both pairs of competitors moving in tandem, each poised to perfectly execute their jump.
This print is a fine impression on thin cream oriental laid paper. This work is recorded in the Sybil Andrews print notebook, in the collection of the Glenbow Museum.


Estimation:
30,000 $ ~ 40,000 $ CAN
Vendu pour:
46,250 $ CAN (prime d'achat incluse)

Tous les prix sont en dollars canadiens.
Nous avons fait en sorte d'assurer l'exactitude de l'information affichée, mais des erreurs ou oublis peuvent se produire. Toute acquisition est soumise à nos modalités et conditions.