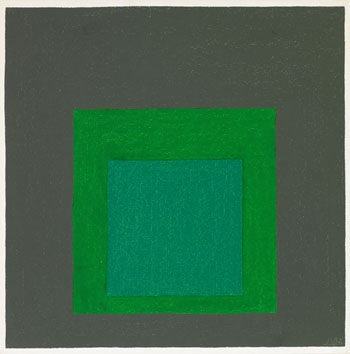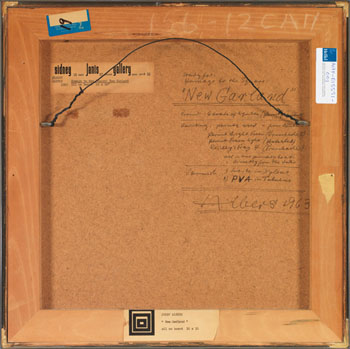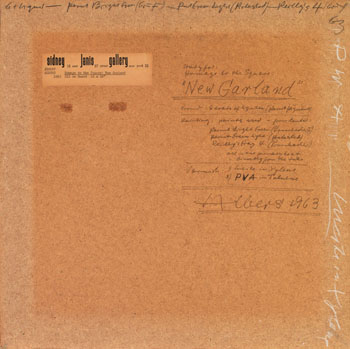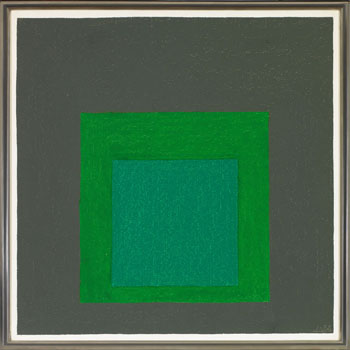 Lot # 045
L'automne 2017 - 1ère séance Live auction

Josef Albers
1888 - 1976 German

Study for Homage to the Square: New Garland
oil on board
dated 1963 and monogrammed and on verso signed, titled, dated and inscribed variously
16 x 16 pouces 40.6 x 40.6cm

Provenance:
Sidney Janis Gallery, New York
Galerie Agnès Lefort, Montreal
Private Collection, USA, 1966

Référence:
Frederick A. Horowitz, "Squares: Form, Color, and Meaning in Josef Albers's Homages," unpublished essay, page 49
George Heard Hamilton, Josef Albers: Paintings, Prints, Projects, Yale University Art Gallery, 1956, catalogue essay, page 30
Josef Albers, Interaction of Colour, 1963
Interviews with Irving Finkelstein, taped in support of his PhD thesis, 1965, unpaginated
John Coplans, Serial Imagery, Pasadena Art Museum, 1968, pages 48 and 49

Exposition:
John Daniels Gallery, New York, 1964
Contemporary Arts Center, Cincinnati, Paintings by Josef Albers, May 6 - June 17, 1965, traveling in 1965 - 1966 to the Boise Art Association; Contemporary Art Association, Houston; Newcomb College, New Orleans; Forth Worth Art Center; Laguna Gloria Art Museum, Austin; Colorado Springs Fine Art Center; and the Cleveland Museum of Art
Galerie Agnès Lefort, Montreal, 1966

In 1963, the German-American artist Josef Albers turned 75, and he had quite a year. Where many men his age might have thought of slowing down, Albers set to work with renewed vigour. In March, his huge Formica mural, Manhattan – now alas destroyed – was unveiled in the lobby of Walter Gropius's new Pan Am Building in New York. In June, on the birthday of his wife, Anni, Albers's great work of scholarship, Interaction of Colour, was published. In that year, too, he painted this work, Study for Homage to the Square: New Garland.
Albers had begun the Homage series in 1950, and he was still at work on it when he died in 1976. New Garland thus sits precisely at the halfway point of the project, in a year that was to be as productive for Homages as it was for Albers in general. Around 200 works from the series are known to survive from 1963. As Albers frequently destroyed paintings he found unsatisfactory, there will certainly have been many more. It is not impossible that, in the year New Garland was painted, he was making a picture a day.
Like all Homages to the Square, this one is on Masonite, a kind of industrial fibreboard. Albers claimed to dislike canvas because it "ran away from the brush." At least as important, though, was that Masonite was ordinary – not an art material but a workaday one, used in construction. His father, Lorenz, had been a Dekorationmaler—a house-painter. Albers always insisted that it was from him that he had learned to make art and not from Wassily Kandinsky or Paul Klee, his seniors at the Bauhaus. The paint of New Garland, like that of all the Homages, will have been squeezed onto the panel straight from the tube and spread, unmixed, with a palette knife. All this, in 1963, would have been done in Albers's studio—a cramped basement room, low-ceilinged and strip-lit, under the small clapboard house where he and Anni lived in a modest suburb of New Haven, Connecticut. "There is no extraordinary without the ordinary," Albers would say. The point was to get much out of little, to make the everyday miraculous.
As with all the Homages, too, the back of New Garland is as intriguing as the front. Here, Albers tells us exactly how the picture was made – the paints he used (Bright Green, Green Light and Reilly's Grey), their manufacturer (Grumbacher), and what he did with them ("All in one primary coat directly from the tube"). This is an extraordinary thing for a painter to do, like a magician explaining to his audience how to pull rabbits out of hats. But, as much as he was an artist, Albers was also a teacher. The two were inseparable in his mind. With the Homages he worked like a scientist, experimenting again and again, day after day, with the way colours interact with each other—here, how the eye sees a green differently when juxtaposed with another green, and differently again when both are put next to a grey. "In visual formulation there is no final solution," Albers said. "Therefore, I work in series." His findings were laid out for everyone to see, on the back of Homages as in Interaction of Colour.
If all this makes a painting like New Garland sound clinical, the work itself shows otherwise. Albers may have thought like a scientist, but he saw like a poet. In this picture's three colours and squares is a world of emotion and meaning, all the more vivid for being unknown.
We thank Charles Darwent for contributing the above essay. Darwent is a London-based art historian and critic. His biography of Josef Albers will be published by Thames & Hudson in 2018.
This work will be included in the Catalogue Raisonné of Paintings by Josef Albers currently being prepared by the Josef and Anni Albers Foundation, registration #JAAF 1963.1.16.


Estimation:
80,000 $ ~ 100,000 $ CAN
Vendu pour:
337,250 $ CAN (prime d'achat incluse)

Tous les prix sont en dollars canadiens.
Nous avons fait en sorte d'assurer l'exactitude de l'information affichée, mais des erreurs ou oublis peuvent se produire. Toute acquisition est soumise à nos modalités et conditions.