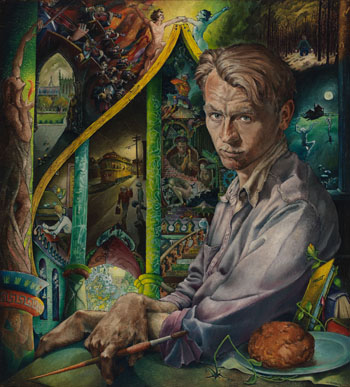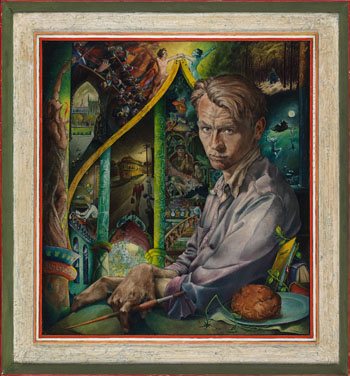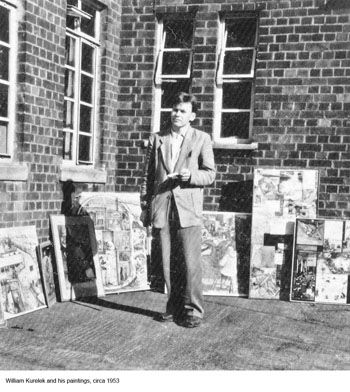 Lot # 015
L'automne 2016 - 1ère session Live auction

William Kurelek
ARCA OC OSA 1927 - 1977 Canadian

Portrait of the Artist as a Young Man
oil on board
signed and on verso signed twice, titled Self Portrait, dated 1950 on the museum labels and inscribed "Vinemount, Ontario, Canada" and "#4"
26 x 23 1/2 pouces 66 x 59.7cm

Provenance:
The Isaacs Gallery Ltd., Toronto
Collection of Mr. H. Eckler, Toronto
Private Collection, Ontario

Référence:
William Kurelek: A Retrospective, Edmonton Art Gallery, 1970, reproduced and listed, unpaginated
William Kurelek, Someone With Me: An Autobiography, 1980, pages 115 - 117
Patricia Morley, Kurelek: A Biography, 1986, reproduced on the cover
Ramsay Cook and Avrom Isaacs, Kurelek Country: The Art of William Kurelek, 1999, page 10
Tobi Bruce et al., William Kurelek: The Messenger, Winnipeg Art Gallery, 2011, reproduced page 23

Exposition:
Edmonton Art Gallery, William Kurelek: A Retrospective, September 20 - October 20, 1970, catalogue #4
Winnipeg Art Gallery, William Kurelek: The Messenger, September 29 - December 31, 2011, traveling to the Art Gallery of Hamilton and the Art Gallery of Greater Victoria, 2012, catalogue #1

"I was working as a labourer in Edmonton…," William Kurelek writes in his autobiography. "I was just then preparing for what I hoped would be my first masterpiece, a self-portrait. The psychology underlying such conscious, deliberate preparation was very complicated...I had to prove I was an artist or all my rebellion had been in vain." Originally titled The Romantic—in order to represent himself as a dreamer—Kurelek's self-portrait was painted at a time when he was heavily under the influence of James Joyce. "I was going to be Stephen Daedalus," he would later recall, likening himself to Joyce's literary alter ego.
The painting is set in the interior of an imaginary, almost surreal temple, with arches, staircases, and windows that open on and lead to a variety of scenes, some based on his childhood experiences, others quite fantastical. Kurelek spent weeks, after work and on weekends, toiling on elements of the scene, such as struggling to paint a realistic loaf of bread that would symbolize "the need to earn one's bread without crushing the spirit." He had determined that the self-portrait would also be a self-test and made a list of four things he needed to prove to himself that he could do. The list was simple, but the task daunting: "(1) render the appearance of bread, (2) depict living hands, (3) paint the material of a shirt, and (4) do the likeness of my face."
When he managed to take four days off from his job as a labourer, he says he worked "sixteen hours non-stop and I was getting red-eyed from lack of sleep. I dared not stop, however, or I'd lose the creative momentum I'd built up. So I painted yet another five hours, till four in the morning. And it worked! I'd made the breakthrough. I could sense that the painting had taken over from me and had directed my brush." The effort took quite a toll, leaving Kurelek completely exhausted. He ended up in the care of a doctor the next day, unable to sleep and suffering from hallucinations. Within two years, he would check himself into psychiatric care in England, where painting became an important component of his therapy. While there, he painted some of his most important and self-exploratory works and was able to put many of his demons to rest.
Kurelek's imaginary temple is as complex in design and rich in imagery as any work by Hieronymus Bosch, the Flemish painter to whom Kurelek is often, and justifiably, compared. Under the central, wooden ogee arch, we find fantastical columns, one of which has an hourglass at its base. Kurelek's pressing desire to prove himself is one obvious interpretation of this object, and the passage and equally pressing nature of time is further symbolized by the vines entwining the books and plate. In the wood-framed window we see a scene from his childhood—himself dancing naked in the rain (a memory that would be explored again in the painting Midsummer Night Pixie Dance from 1974)—and a scene of a figure deep in the woods, rapt and transfixed by the sky at night. Between the columns we see a scene depicting two travelers—one a musician—evocative of his struggle to make his way as an artist at a distance from his family. Symbols of creativity abound: those of music, architecture, sculpture and prose are juxtaposed against those of labour, such as the neatly laid brickwork and the figures posed like workers in the railing of the lowest staircase.
It is a complex and fascinating work, and the most compelling element is the self-portrait. Kurelek described his misgivings about this challenge—"Could I paint a likeness of my face? I didn't even dare hope for the penetration of character that the great portrait artists are praised for. No, a good likeness, one that would impress an ordinary lay person, was quite enough for the time being." His success is apparent, in that the frank, honest and measured gaze he captures seems to sum up all that he was attempting to convey in this painting. We see a fiercely determined artist at work, bringing with him his life's experience, his considerable talent and his depth of personal insight.
This work is in the original frame made by Kurelek.


Estimation:
300,000 $ ~ 350,000 $ CAN
Vendu pour:
531,000 $ CAN (prime d'achat incluse)

Tous les prix sont en dollars canadiens.
Nous avons fait en sorte d'assurer l'exactitude de l'information affichée, mais des erreurs ou oublis peuvent se produire. Toute acquisition est soumise à nos modalités et conditions.