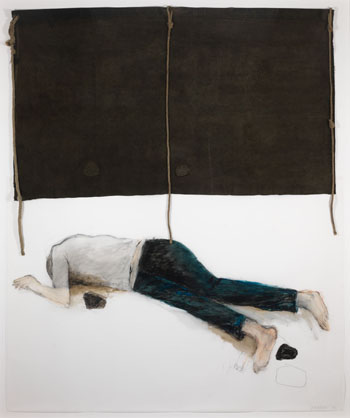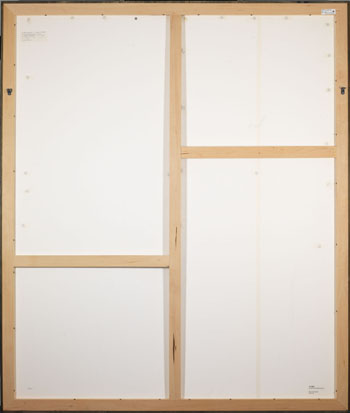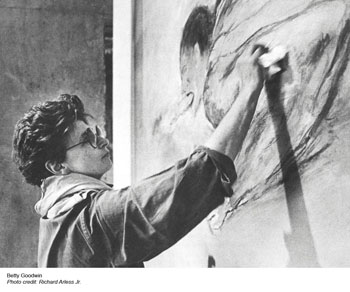 Lot # 039
L'automne 2016 - 1ère session Live auction

Betty Roodish Goodwin
CPE 1923 - 2008 Canadian

To Erase Great Chunks of Reality
oil stick, graphite and rope on geofilm, tarpaulin
signed and dated 1997 and on verso titled and dated on the gallery label
71 x 60 pouces 180.3 x 152.4cm

Provenance:
Sable-Castelli Gallery, Toronto
Private Collection, Toronto

Référence:
Gabrielle Moser, "Betty Goodwin and the Afterlife of Images," in Betty Goodwin: From the Collection of Salah J. Bachir, Oakville Galleries, 2010, pages 2 and 7

Betty Goodwin was one of the most acclaimed and widely recognized Canadian artists of her generation. She was a recipient of the Prix Paul-Émile-Borduas in 1986, a Guggenheim Fellowship in 1988, the Gershon Iskowitz Prize in 1995, the first Harold Town Prize in drawing in 1998, and both the Order of Canada and the Governor General's Award in Visual and Media Arts in 2003, among other honours. Few artists have been as decorated. Though she began her professional career relatively late, she was nonetheless productive for 50 years, and her numerous exhibitions yielded a large bibliography of writing about her work.
Several descriptive terms come to mind when thinking about Goodwin's immediately recognizable images in general and especially about To Erase Great Chunks of Reality, which is a prime exemplar of her tarpaulin sculptures and installations series from 1974 to 2000, and central to her oeuvre as a whole. We might think of her work as intense, emotional, human, vulnerable, relentless and honest. Although it is always tempting to read work of this sort through the artist's biography—and Goodwin certainly experienced more than her share of life's traumas—it is finally more respectful to the power of her paintings to recognize that their meaning goes beyond her personal experience to become a paradigm for the human condition.
The abject human form splayed across the bottom half of To Erase Great Chunks of Reality projects his or her physical and psychological state anonymously; we are, in fact, discouraged from providing a narrative too quickly, of rushing to label the sort of crisis we see or indeed this person, whose gender, social group and age we do not know. Goodwin was an inveterate sketcher, a keeper of remarkable notebooks that chronicled her ideas as they developed. We can see this working method in action in To Erase Great Chunks of Reality. The "chunks of reality" of the title are both literalized around the body and (characteristic of Goodwin's emphasis on drawing) still in flux: the bottom-most element is not as completely drawn as the other two. Both shadows and pentimenti of the figure's feet are visible too, suggesting movement in the body and in the artist's ongoing conception of the scene.
The translucent geofilm on which the body is depicted contrasts in colour and texture with the tarpaulin above. This form's three knotted ropes hang dolefully, inertly, though the central line tellingly touches the person's hip, making a connection. Gabrielle Moser has aptly suggested that the tarpaulins are "allegories for the human skin: both bear traces of the movement and life of their contents." We can readily see scars on the brown expanse above the figure. Delicately connected by the central rope, the textures, patches and blemishes on the tarp correlate with those on the human skin and clothing. Here we register another liaison, that between human and non-human existence.
In a video titled Betty Goodwin: Heart and Soul, directed by Claude Laflamme, Goodwin states, "It sometimes takes time to understand the completeness of what has been said." Goodwin's honesty is to show that just as the figure is dynamic, our thoughts about the scene also continue to evolve. To Erase Great Chunks of Reality is, in a powerful sense, unresolved.
We thank Mark Cheetham, Professor of Art History at the University of Toronto and author of Postmodernism: Trends in Canadian Art, 1970 – 1990, for contributing the above essay.



Tous les prix sont en dollars canadiens.

Nous avons fait en sorte d'assurer l'exactitude de l'information affichée, mais des erreurs ou oublis peuvent se produire. Toute acquisition est soumise à nos modalités et conditions.