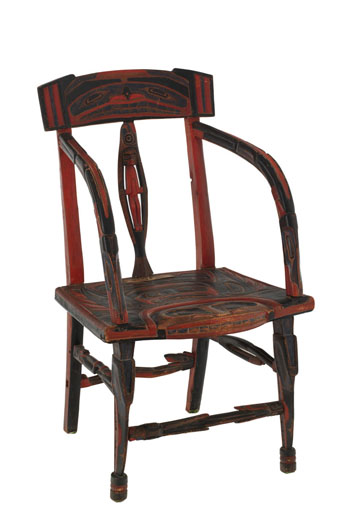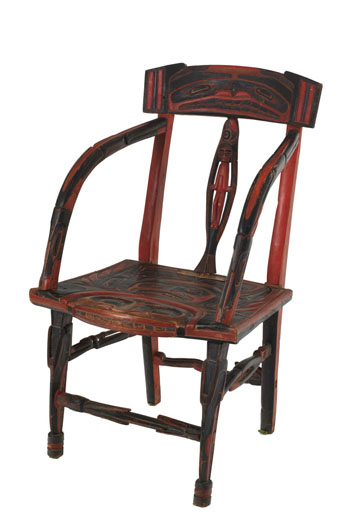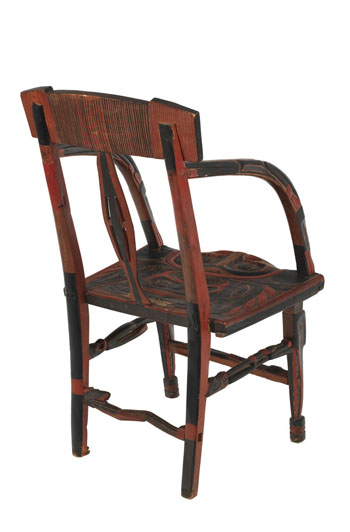 Lot # 219
L'automne 2016 - 4e séance Live auction

Unknown Heiltsuk Artist
Late 19th Century Canadian

Heiltsuk Chair
carved and painted cedar wood sculpture circa 1880 ~ 1890
inscribed on a plaque "Chair, Hyda [sic] Indians NW Coast of America" and inscribed on the underside of the chair "E4269"
37 3/4 x 23 1/4 x 18 pouces 95.9 x 59 x 45.7cm

Provenance:
Pitt-Rivers Collection, England, circa 1860
Roy G. Cole Collection, Rosseau, Ontario
Sold sale of Sotheby's, New York, May 18 - 19, 2000, lot 717
Private Collection, Tucson, Arizona
Donald Ellis Gallery, Ontario
Equinox Gallery, Vancouver
Peter and Joanne Brown Collection, Vancouver

Uniquely and fully carved with animal motifs on most of its components, this chair is made in a style imitating, or influenced by, the overall form of early-nineteenth-century English Regency furniture. Its carved motifs, however, reveal this chair to be the work of a Heiltsuk (Bella Bella) artist of the latter decades of the nineteenth century. The style of the carved seat, back, arms, legs and stretchers have features comparable to a number of Heiltsuk carved figures now located in museum and private collections, most of which have yet to be specifically attributed to one or more named Heiltsuk carvers.
The chair is especially distinguished by its deeply carved seat. The seat represents what is likely a sculpin, characterized by a broad, toothed mouth, a horn-like spine on either side of the head, a series of spines along each fin, and the body with tail fin. Its mouth is centred on the bowed front edge of the seat, the facial features are carved on the seat's upper front surface, and the fins and body (portrayed as a face) are arranged over the remaining seat in a split, bilateral fashion.
The chair is painted in black and red, with some blue-pigmented areas and diagonal parallel hatching; other areas within the compositions are left unpainted. The carved upper panel on the chair's back depicts a face with black eyebrows and broad, toothed mouth. Connecting the panel to the seat is a vertical splat carved in the form of a fish and enclosing a human figure. The chair's curved arms represent wolves, their heads facing downward and limbs folded. Also distinctive are the front two chair legs, which are carved in the form of downward-facing, supernatural raven heads; these feature blue-pigmented eye sockets and teeth, black beaks and eyes, and red lip-line and nostrils. The rear legs and stiles are painted but not carved.
The four carved stretchers between the chair legs are stylistically significant, resembling in their form the work of now-unnamed Heiltsuk artists of the nineteenth century whose carved figures often feature elongated bodies and red feet and hands. The stretchers are made to represent different creatures: a killer whale with dorsal and pectoral fins folded back along its body and tail flukes folded up; a bear-like figure holding a long fish with ridged body; a wolf-like figure with extremely long "fingers"; and a figure with a beaver-like head, characterized by prominent incisors.
A brass plaque mounted on the seat reads "Chair, Hyda Indians, NW Coast of America"; this was likely applied by the chair's earliest non-native collectors, and may only indicate that the chair was acquired among the Haida, or that it was assumed by the collectors to be Haida in origin. However, the chair's Heiltsuk characteristics are clear and comparable to other examples. For instance, a western-style chair in the collection of the Nelson-Atkins Museum of Art in Kansas City, Missouri, is attributed to the Heiltsuk, circa 1865; with fewer carved components, it nevertheless features a similarly carved back panel, fish-shaped splat, and seat with beaver motif.
Two well-known chiefs' settees, dating to the early 1880s, are now in the collections of the Royal British Columbia Museum and the Ethnological Museum of Berlin. Both are attributed to the masterful Heiltsuk artist Captain Richard Carpenter (1841–1931). These settees are not, however, designed in the form of western chairs, but have wide, flat, bench-like seats, vertical sides and backs, and no legs; both are elaborately carved and painted. These and other major works by Carpenter, including painted canoes, have certain features reminiscent of this chair, but leave enough stylistic differences to make a Carpenter attribution unlikely.
This chair, like the comparable examples, was made by an artist knowledgeable and highly skilled in Heiltsuk art, and who was living through a time of profound social and economic change. Old ways coexisted with the new for artists of this period, who continued to practise their culture inventively in the face of colonization, Christianization and the impact of federal laws banning the potlatch. The chair exemplifies the characteristics of late-nineteenth-century Heiltsuk carving and painting, shaped by an individualistic and creative vision.
We thank Karen Duffek, Curator, Contemporary Visual Arts & Pacific Northwest, UBC Museum of Anthropology, for contributing the above essay.


Estimation:
80,000 $ ~ 100,000 $ CAN
Vendu pour:
247,800 $ CAN (prime d'achat incluse)

Tous les prix sont en dollars canadiens.
Nous avons fait en sorte d'assurer l'exactitude de l'information affichée, mais des erreurs ou oublis peuvent se produire. Toute acquisition est soumise à nos modalités et conditions.