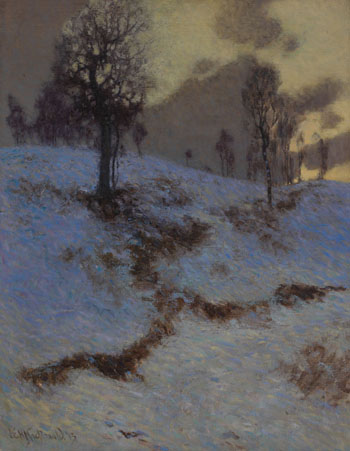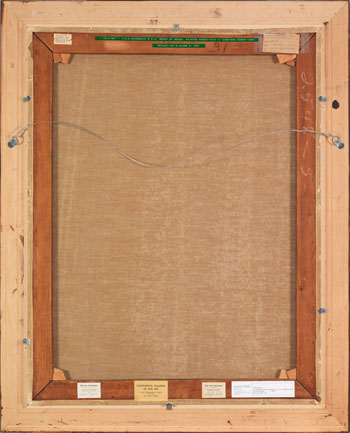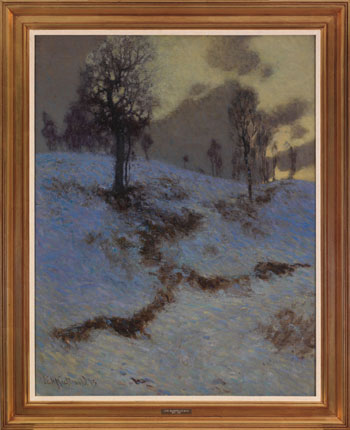 Lot # 208
L'automne 2016 - 4e séance Live auction

James Edward Hervey (J.E.H.) MacDonald
ALC CGP G7 OSA RCA 1873 - 1932 Canadian

Twilight
oil on canvas
signed and dated 1913 and on verso titled on various labels
36 1/4 x 28 1/4 pouces 92.1 x 71.8cm

Provenance:
Continental Galleries of Fine Art, Montreal
Richard E. Udd, acquired March 1965
The Art Emporium, Vancouver
Fannin Hall Collection, Vancouver
Kenneth G. Heffel Fine Art Inc., Vancouver
Peter and Joanne Brown Collection, Vancouver, acquired from the above in 1983

Référence:
Rosalyn Porter, The Group of Seven and Their Contemporaries, Kenneth G. Heffel Fine Art Inc., 1980, listed, unpaginated
Roger Boulet, The Canadian Earth: Landscape Paintings by the Group of Seven, 1982, reproduced page 173

Exposition:
Vancouver Art Gallery, Impressionism in Canada, January 16 - February 24, 1974
Kenneth G. Heffel Fine Art Inc., Vancouver, The Group of Seven and Their Contemporaries, February 29 - March 22, 1980

By 1913, J.E.H. MacDonald's career was gaining momentum. He had been working as an illustrator for Grip Ltd. since 1907 and was not only successful there, but was also painting outside in the field with other young Canadian artists, exploring the landscape in and around Toronto. This was somewhat uncommon in Canada at the time, where the studio still held sway as the place for the creation of serious paintings. It was at Grip where MacDonald met Tom Thomson in 1907 or 1908, and in early 1911, Franklin Carmichael and Arthur Lismer also joined the firm. These up-and-comers of Canadian art shared an interest in sketching trips to the wilderness, and their easy camaraderie and outdoor enthusiasm buoyed MacDonald's interest in leaving the city to explore wilder lands.
By the fall of 1911, MacDonald met Lawren Harris, who twice invited him to join organized trips to the Albright Art Gallery in Buffalo, New York, notably to see the exhibition of Scandinavian art that affirmed their shared interest in creating art that depicted their own country, with Canadian themes and cast in Canadian weather. By 1912, Tracks and Traffic—one of MacDonald's most iconic early works (in the collection of the Art Gallery of Ontario)—had been shown at several important exhibitions. In that same year, the National Gallery of Canada purchased In the Pine Shadows, Winter Moonlight for its collection. This work, as well as Early Evening, Winter, also from 1912 and in the collection of the Art Gallery of Ontario, are both closely related to Twilight and mark an important passage in MacDonald's career. In all three works, the theme of a snow-laden hillside set with pines or the leafless trees of winter is shown cast in moonlight, with subtle dark colour playing across the snow. The snowbanks show signs of melting, or perhaps it is pathways that we see, running through the drifts like ribbons. MacDonald would return to this type of imagery repeatedly during these years, depicting with sensitivity and finesse both the early light of morning and the late light of evening in the winter.
In his work as a commercial artist, where assignments such as illustrating an article titled "The Spirit of Travel" for The Canadian Magazine focused his interest on the landscape, and in his own travels to places such as Mattawa and Algonquin Park with Harris that drew his attention to the forest, MacDonald honed his observational skills. He was an especially keen observer of nuanced light, and Twilight is a superb example of this. Delicate and tranquil, Twilight showcases MacDonald's ability to capture the mood, subtlety and atmosphere of the blue light of winter. It is a simple work, relying largely on three main colours to convey its message, but the dappled application and varying intensity of these colours conveys a myriad of detail. The contrast of the shadowed blues of the snow against the golden light in the sky is especially fine, and the perspective of looking up and outwards to the distant light adds drama to the scene. Handled in an impressionistic manner, Twilight is filled with a sense of solitude and quiet. MacDonald's respectful attention to the detail of this peaceful hillside presents the fading sunset of a Canadian winter's day with reverence.


Estimation:
125,000 $ ~ 175,000 $ CAN
Vendu pour:
188,800 $ CAN (prime d'achat incluse)

Tous les prix sont en dollars canadiens.
Nous avons fait en sorte d'assurer l'exactitude de l'information affichée, mais des erreurs ou oublis peuvent se produire. Toute acquisition est soumise à nos modalités et conditions.