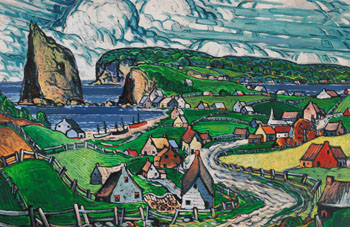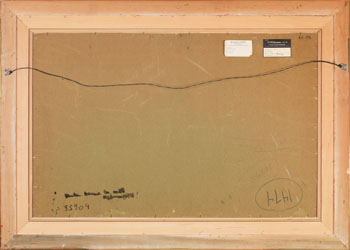 Lot # 227
L'automne 2016 - 4e séance Live auction

Marc-Aurèle Fortin
ARCA 1888 - 1970 Canadian

Gaspésie
oil on board
signed and on verso signed, titled, dated circa 1941 on labels, inscribed "A.F. JPV" / "35909" / "1474" and certified by A.M. Valentin on a gallery label
31 x 47 1/2 pouces 78.7 x 120.6cm

Provenance:
Galerie L'Art Français Ltée., Montreal
Private Collection, Ontario
Kenneth G. Heffel Fine Art Inc., Vancouver
Peter and Joanne Brown Collection, Vancouver, acquired from the above in 1985

Référence:
William Rubin, "Arshile Gorky, Surrealism, and the New American Painting," in Henry Geldzahler, New York Painting and Sculpture: 1940 – 1970, 1969, page 396
Émile Zola, "Mes haines, causeries littéraires et artistiques: Proudhon et Courbet," Écrits sur l'art, Paris, 1991, page 44
David Karel, "Fortin," Dictionnaire des artistes de langue française en Amérique du Nord, Musée du Québec, 1992, page 305

In this breathtaking view seen from the Pic de l'Aurore, which shows the village of Percé and the famous rock of the same name, Marc-Aurèle Fortin gives us one of his best views of the Gaspé Peninsula. For five years, between 1940 and 1945, Fortin was in the habit of visiting this region of the province of Quebec each summer, taking his inspiration from the landscape. In this same period Montreal's Galerie L'Art Français began to represent him—the gallery gave him a solo show in 1942 and every two years thereafter.
Fortin wanted to express the national character of "Canada" (he meant Quebec), conceived as an entity in its own right, purged of all influences from Europe. The solution, according to Fortin, was "to give priority to light, and to take inspiration from rural subjects." It was the only way "to produce an art profoundly national, reflecting the temperament of the race...It is in the landscape that we should excel." This wording does not reflect very well what Fortin was doing. He was much more than a regionalist, and was trying to escape from the influence of Europe and to reflect "the temperament of the race." He was a modernist painter who found his own vocabulary of strong lighting, pure colour, expanding movement and contrasting shadows.
If Gaspésie was just a depiction of Percé and its environment, the painting would not have any more interest than a view on a postcard. What Fortin was able to do was to transform what was simply a picturesque view into an extraordinary painting. Speaking of his own painting, Henri Matisse once said: "I always start with something—a chair, a table—but as the work proceeds, I become less conscious of it. By the end I am hardly aware of the subject with which I started." In the process of painting, it was colour, line, proportion, space, movement and correspondence that Matisse became more and more conscious of. In other words, he started with a chair and a table, but finished with a "Matisse." Fortin could have said the same thing. He started with a landscape view and finished with a "Fortin," in his unique style and as beautiful as this one.
Some members of the Group of Seven—Lawren Harris, among others—were also claiming to escape the influence of Europe by depicting the Canadian landscape, especially the North. They were more influenced than they thought by Fauvism, through their interest in Scandinavian painting. Painting from nature is a lure. Defending Realist painter Gustave Courbet against the socialist Pierre-Joseph Proudhon, who wanted an art that exclusively served ideas, the great French novelist Émile Zola stated, "A work of art is a corner of Nature as seen through a temperament." And he added, "I am an artist, and I gave you my flesh and blood, my heart and my thought." One could say the same of our Fortin.
We thank François-Marc Gagnon of the Gail and Stephen A. Jarislowsky Institute for Studies in Canadian Art, Concordia University, for contributing the above essay.
This work will be included in the forthcoming catalogue raisonné on the artist's work, #H-1050.


Estimation:
700,000 $ ~ 900,000 $ CAN
Vendu pour:
500,000 $ CAN (prime d'achat incluse)

Tous les prix sont en dollars canadiens.
Nous avons fait en sorte d'assurer l'exactitude de l'information affichée, mais des erreurs ou oublis peuvent se produire. Toute acquisition est soumise à nos modalités et conditions.