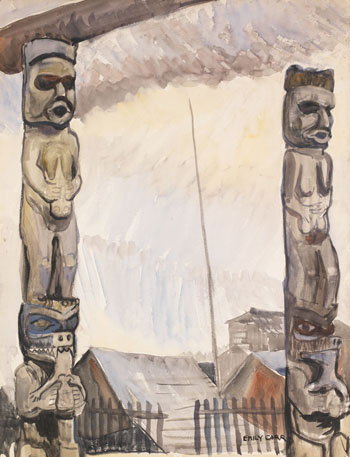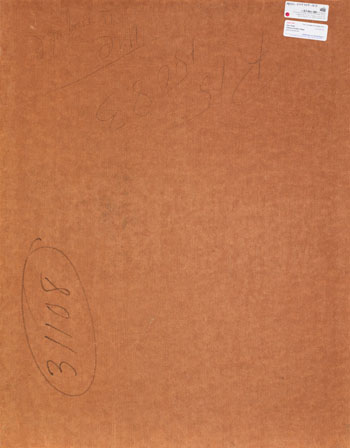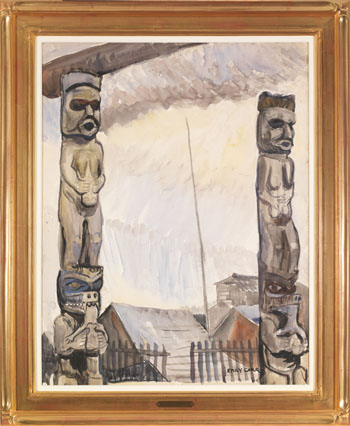 Lot # 213
L'automne 2016 - 4e séance Live auction

Emily Carr
BCSFA CGP 1871 - 1945 Canadian

Totems at Indian Village
watercolour on paper on board
signed and on verso titled and dated circa 1930 on the gallery label
26 1/2 x 20 1/2 pouces 67.3 x 52.1cm

Provenance:
Galerie Walter Klinkhoff Inc., Montreal
By descent to a Private Estate, Montreal
Sold sale of Fine Canadian Art, Heffel Fine Art Auction House, May 23, 2007, lot 161
Peter and Joanne Brown Collection, Vancouver

Référence:
Gerta Moray, Unsettling Encounters: First Nations Imagery in the Art of Emily Carr, 2006, pages 314 and 328, similar totem figures in a 1930 watercolour entitled Totem D'Sonoqua (sale of Heffel Fine Art Auction House, May 27, 1999, lot 48), a 1930 watercolour entitled Study of a Totem Figure and an archival photograph from the Royal BC Museum, figure 12.30, of a housepost at Fort Rupert on which the left-hand totem is based reproduced page 313, and related works entitled Zunoqua, Quatsino and Zunoqua reproduced pages 252 and 253

In this powerful watercolour the top figure on both totems is the mythical wild woman of the woods, Dzunukwa or D'Sonoqua. Emily Carr first encountered this figure at Gwa'yasdams in 1912, and it had a profound effect on her, for she wrote in her book Klee Wyck, "The fierce wooden image often came to me, both in my waking and in my sleeping." She found Dzunukwa again in totems she saw in her August 1930 trip to native sites on northern Vancouver Island such as Fort Rupert/Tsaxis, and also 'Yalis and Xwatis at Quatsino Sound. Klee Wyck details, as Gerta Moray writes, Carr's "1930 journey through Kwakwaka'wakw territory as a tryst with the strange, terrifying, ambiguous mythical creature Dzunukwa..." This sketching trip would be Carr's last to the North Coast.
In Totems at Indian Village, the left pole is based on a fierce housepost from Fort Rupert, documented in a photograph from the Royal BC Museum (PN10652), in which the figure of Dzunukwa, grasping a human skull, surmounts the figure of a grizzly bear with a half-eaten human figure hanging out of its mouth. On top of this pole is a single beam of wood, but no house is visible. In Fort Rupert, Carr found that some of the big community houses had been stripped for their lumber, leaving only the great corner posts and massive roof beams behind. She clearly shows this in her 1930 watercolour entitled Fort Rupert, in which four totem houseposts support all that is left of a structure – the roof beams and poles. In Totems at Indian Village, Carr places these two powerful totems at either side of the watercolour, leaving the open sky between, creating a dynamic contrast between the commanding protective presence of the totems and the open sky. This extraordinary watercolour shows Carr at the height of her ability to express the power and mystery of native imagery.
In native mythology, Dzunukwa had a dual nature, sometimes bad, sometimes good. She was said to steal children, whom she took to her cave, but was also venerated as a bringer of wealth. She gave a distinctive call with her round open mouth, which was said to be like the wind in the cedars. This female figure had great importance for Carr, who rebelled against the limitations of her gender, crossing the boundaries of femininity as defined by Victorian mores in her role as an artist. In Dzunukwa she found an image of a female exuding a raw, uncontrollable power, bursting out of the very unconscious of the forest. Her encounters with Dzunukwa had the nature of a vision quest, and she portrayed her both as a powerful, terrifying entity and as a benevolent spirit. This dichotomy is exemplified by two Carr watercolours - a frightening 1928 image entitled Zunoqua and a soft and benign 1930 image entitled Zunoqua, Quatsino. Carr's relationship with Dzunukwa transformed over time from frightening to cathartic, and in the end Dzunukwa, rather than embodying her fears, became a guardian spirit protecting her from them.


Estimation:
200,000 $ ~ 250,000 $ CAN
Vendu pour:
177,000 $ CAN (prime d'achat incluse)

Tous les prix sont en dollars canadiens.
Nous avons fait en sorte d'assurer l'exactitude de l'information affichée, mais des erreurs ou oublis peuvent se produire. Toute acquisition est soumise à nos modalités et conditions.