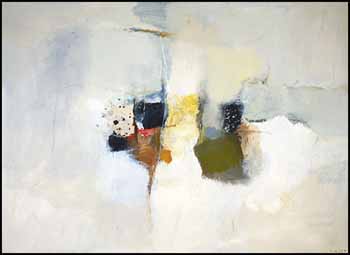 Lot # 011
Printemps 2012 - 1ère session Live auction

Gordon Appelbe Smith
BCSFA CGP CPE OC RCA 1919 - 2020 Canadian

White Painting #2
oil on canvas
signed and on verso titled and dated 1960
35 x 48 pouces 88.9 x 121.9cm

Provenance:
Estate of Dr. John Parnell, Vancouver
Private Collection, Toronto

Référence:
Ian M. Thom and Andrew Hunter, Gordon Smith: The Act of Painting, Vancouver Art Gallery, 1997, page 30, reproduced page 78
Vancouver: Art and Artists 1931 - 1983, Vancouver Art Gallery, 1983, reproduced page 93

Exposition:
National Gallery of Canada, catalogue #2
Museu de Arte Moderna de São Paulo, Brazil, VI Bienal de São Paulo, 1961
Vancouver Art Gallery, Vancouver: Art and Artists 1931 - 1983, October 15 - December 31, 1983
Vancouver Art Gallery, Gordon Smith: The Act of Painting, 1997

Gordon Smith had, by 1960, been working as an educator at the University of British Columbia for four years, and he was also active on the broader artistic scene. He had served as the President of the Canadian Group of Painters in 1957 and was invited to become an Associate of the Royal Canadian Academy in 1959. The year 1960 saw two important events; firstly, his work was selected to represent Canada at the VI Bienal de São Paulo, 1961. Secondly, he was awarded a Canada Council fellowship that allowed him to take a year away from teaching and have a period of time to study in Europe and develop his art. Smith and his wife Marion set out to explore much of Europe including France, Italy, the Netherlands and Switzerland. Using Ernst Gombrich's Story of Art as their guide, they saw an enormous range of art from Giovanni Bellini to Matthias Grünewald.
They then settled for a period of time in Cornwall, where Smith was able to set up a studio and paint; he was drawn to the Cornish countryside and the ancient forms of the stone circles and dolmens in the area. The time in England also allowed him to re-examine the work of the great British landscapist J.W.M. Turner. Turner was a remarkably bold innovator. His use of paint and colour and his willingness to virtually dissolve form in dramatically atmospheric compositions resonated strongly with Smith. Always interested in the intersection between form and colour, realism and abstraction, Smith began to produce work that was influenced by some of these ideas. The similarities with Turner's loose watercolours are striking, but Smith, although retaining references to the natural world, was making a painting, not a landscape. Therefore the shapes are deliberately loosely defined and there is a strong play between the forms and ground which is wonderfully ambiguous. Perhaps to emphasize his own focus on the paint itself, Smith chose the neutral title White Painting #2. We react to the way the paint is applied – the colour, the play between tangible and intangible forms – rather than creating a narrative based on an allusive title.
Formerly in the collection of the late Dr. John Parnell, a close friend of the Smiths who had a distinguished collection of Canadian art, White Painting #2 is a wonderful example of Smith's art, demonstrating his skills as a colourist and his enormous inventiveness in handling paint. The inclusion of this painting in several important exhibitions suggests that its great quality has long been recognized.


Estimation:
60,000 $ ~ 80,000 $ CAN
Vendu pour:
70,200 $ CAN (prime d'achat incluse)

Tous les prix sont en dollars canadiens.
Nous avons fait en sorte d'assurer l'exactitude de l'information affichée, mais des erreurs ou oublis peuvent se produire. Toute acquisition est soumise à nos modalités et conditions.