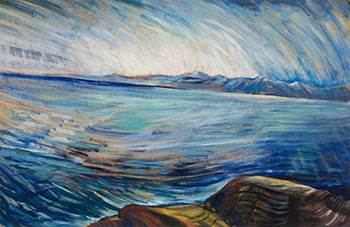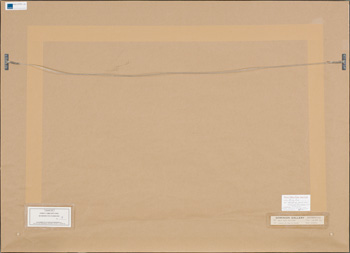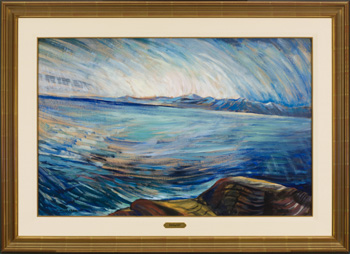 Lot # 122
Art canadien, impressionniste et moderne Live auction

Emily Carr
BCSFA CGP 1871 - 1945 Canadian

Strait of Juan de Fuca
oil on paper on paperboard
signed and on verso titled Straight of Juan de Fuca [sic] on the gallery labels, dated circa 1935 on the Peter Ohler Fine Arts label and inscribed with the Dominion Gallery inventory #F2644 on the Dominion Gallery label
22 x 34 pouces 55.9 x 86.4cm

Provenance:
Dominion Gallery, Montreal
Private Collection, Montreal
Sold sale of Canadian Art, Joyner Waddington's, June 3, 2003, lot 77
Peter Ohler Fine Arts Ltd., Vancouver
Private Collection, Vancouver

Référence:
Doris Shadbolt, The Art of Emily Carr, 1979, a similar circa 1936 oil on paper entitled Strait of Juan de Fuca, in the collection of the Edmonton Art Gallery, reproduced page 176
Emily Carr, Hundreds and Thousands: The Journals of Emily Carr, 2006, pages 55 and 165

Exposition:
Galerie Walter Klinkhoff Inc., Montreal, Emily Carr Retrospective Exhibition, September 14 - 28, 2002, catalogue #9

In her journal on November 3, 1932, after walking her dogs and taking tea on the beach in Victoria and contemplating the sunset, Emily Carr recorded a thought that opened up a new subject for her. She wrote, "Why don't I have a try at painting the rocks and cliffs and sea? Wouldn't it be good to rest the woods?" From this idea emerged a series of transcendent views of sky and water executed in and around Victoria during the 1930s, including this stunning oil on paper work.

The discovery of her new medium of oil on paper thinned with turpentine or gasoline opened the way for an expression of the elements of light and air in the landscape that was deeply liberating for her. At the turn of the century, Carr had worked with watercolour in the English tradition, but after her trip to France in 1911, Post-Impressionist colour transformed her treatment of this medium. Her watercolour depictions of First Nations sites saw her continue to evolve, as she demonstrated a much greater facility for three-dimensional form. But when she abandoned this medium at the beginning of the 1930s for oil on paper, it was a revolutionary step. She found that oil on paper possessed the fluidity of watercolour, but could be more colourful and flexible, with a range of effects. In this work, Carr lays down both denser areas of paint, such as the foreground rocks, and lighter, more transparent and ethereal applications in water and sky.

From Dallas Road and the east-facing slopes of Beacon Hill Park near her home, she could see stunning views like this over the sea to mountain ranges on the mainland. Foreground rocks and the distant strip of mountains act as anchors, a contrast to what is really the subject of this painting - sea and sky. In her journal entry of April 24, 1934, Carr revealed the sensitivity of her perceptions of landscapes such as this and her fervent desire to capture the immaterial:

"It seems as if those shimmering seas can scarcely bear a hand's touch. That which moves across the water is scarcely a happening, hardly even as solid a thing as a thought, for you can follow a thought. It's more like a breath, involuntary and alive, coming, going, always there but impossible to hang on to. Oh! I want to get that thing. It can't be done with hands of flesh and pigments. Only spirit can touch this."

Through sweeping movements of her brush, Carr captures the swing of the tides and the heave of the sea, then moves up into the firmament, which curves up and to the left, creating a dome-like effect. Movement to the left in both the sky and the sea give the impression of a circular motion continuing off the edge of the image. In the centre of the sky is a brilliant glow that comes up from behind the mountains. Light scatters across the sea, glinting in the waves, and Carr suggests sunrays with short vertical strokes in both sky and water. In Strait of Juan de Fuca, Carr is ultimately successful in capturing the gloriously intangible: not just the aliveness of water and air, but the manifestation of her yearning for an experience of the spiritual in nature.

Other similar oil on paper works circa 1935 - 1936 are in museums, such as Sky, in the collection of the National Gallery of Canada; Strait of Juan de Fuca, in the McMichael Canadian Art Collection; and Strait of Juan de Fuca, in the collection of the Art Gallery of Alberta.


Estimation:
250,000 $ ~ 350,000 $ CAN
Vendu pour:
169,250 $ CAN (prime d'achat incluse)

Tous les prix sont en dollars canadiens.
Nous avons fait en sorte d'assurer l'exactitude de l'information affichée, mais des erreurs ou oublis peuvent se produire. Toute acquisition est soumise à nos modalités et conditions.