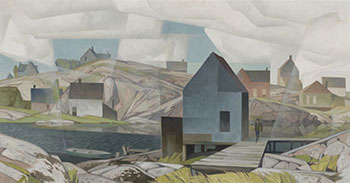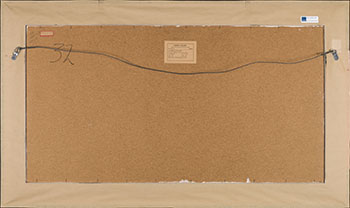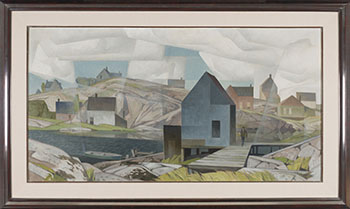 Lot # 112
Art canadien, impressionniste et moderne Live auction

Alfred Joseph (A.J.) Casson
CGP CSPWC G7 OC POSA PRCA 1898 - 1992 Canadian

Morning on the Inlet
oil on board circa 1959
signed and on verso titled on the artist's label and inscribed "Byng Inlet looking towards Britt" on the gallery label and "32"
24 x 45 pouces 61 x 114.3cm

Provenance:
Roberts Gallery, Toronto
Private Collection, Toronto

Référence:
Margaret Gray, Margaret Rand and Lois Steen, A.J. Casson, 1976, pages 14, 28 and 50
"Buyers Clamour for New A.J. Casson Paintings," This Is Robert Fulford, CBC Radio Canada, November 19, 1968, https://www.cbc.ca/archives/entry/buyers-clamour-for-new-aj-casson-paintings, accessed August 29, 2019

Exposition:
Roberts Gallery, Toronto, A.J. Casson, 1959

In the 1930s, A.J. Casson often spent his weekends sketching small Ontario towns. His full-time employment as a commercial artist limited the range of his excursions, but he made excellent use of the time he had available. Casson's engagement with the architecture and way of life of these towns continued through most of his career, as is evident in Morning on the Inlet from circa 1959. As noted on verso, this painting depicts the town of Britt, Ontario, as seen from across Byng Inlet, located on the eastern shore of Georgian Bay. A subject of interest for Casson at the time, this is also the likely subject matter of his Old Lumber Village from the same period, sold by Heffel in November of 2017. At its height, Byng Inlet was home to the second-largest sawmill operation in Ontario, open until 1927. It was the main source of employment for the surrounding area, and when it closed, many communities such as Britt shrank or disappeared altogether. Casson's depictions of these towns are lyrical, but also carry a note of nostalgia for a time vanishing into the past.

This work springs from a key period of Casson's career he teasingly referred to as his "Box Period." It is a decidedly unique chapter, with a heightened and theatrical tone. Its striking style exists somewhere between Edward Hopper and Georges Braque - while being gentler in experiment than Braque and more romantic than Hopper. The strength of the forms helps lend a sense of the monumental to these compositions, which blends with an overall tone of tranquility, possibly engendered in Casson by his father's Quaker heritage. Thought by many to be the period in which Casson's voice as an artist can be heard most clearly, it was in part fueled by his decision to retire from his full-time role as vice-president and art director of Sampson-Matthews Limited, then one of Canada's leading commercial design firms. Then, with a handshake agreement, he chose Jack Wildridge of Toronto's Roberts Gallery to be his exclusive representation. Their long relationship began with a solo exhibition in 1959, in which this work was shown. Casson, for the first time in his life, was able to commit all of his time and effort to painting, and the public was eager to acquire his work.

Much can be said about Casson's more than 30-year career as a commercial artist and how it informed his style. The geometric elements of this particular composition are a clear result, but his career informed him even more fundamentally as an artist. He explained: "In commercial work there are restrictions – a job is given to you. It's a certain size, 8 x 10 maybe. It's a certain subject matter, depending on the product. Then whoever's in charge has figured you can use maybe four colours. Damned good training. It's a discipline." Like a poet learning to excel within the form of a sonnet or haiku, Casson learned to thrive within restriction. This restriction extended to his palette as well, and he stated, "One day I saw the Velasquez painting of Phillip IV of Spain. The only discernible colours were black, brown, silver and rose. That started me on simple, restricted colour schemes." This painting, for example, appears to have no more than six colours in it, each perfectly balanced. Notable, too, are the figure and the boat – both in harmony with their environment, an environment that often dwarfed the human circumstance with a terrible beauty when rendered by his peers. Here, the mood is a placid one, and while no clear narrative is suggested, the moment is instinctually understood to be peaceful.

Behind Casson's strongly executed and highly refined style, there is also an element of pleasure to his paintings. During the Depression, many people did not have the money to spend on paintings, and even if they did, venues in which an artist could exhibit were very limited. Since he had steady employment, this cultivated a practice of painting for pleasure rather than based on what might or might not sell. Talking about what this time instilled in him, Casson said, "When you painted something, you didn't think, 'This one will go.' You painted because you enjoyed and loved painting." It is something Casson also felt was true of how he hoped his work would be received. In a CBC Radio interview at one of his Roberts Gallery openings in 1968, Casson said plainly, "If you're painting, you feel that if someone has a painting at home, and likes it, and loves it…that's the main thing." Fortunately, while engaging in his own lifelong exploration of art, Casson was able to provide us all with a legacy of beauty that is unlimited.


Estimation:
250,000 $ ~ 350,000 $ CAN
Vendu pour:
301,250 $ CAN (prime d'achat incluse)

Tous les prix sont en dollars canadiens.
Nous avons fait en sorte d'assurer l'exactitude de l'information affichée, mais des erreurs ou oublis peuvent se produire. Toute acquisition est soumise à nos modalités et conditions.