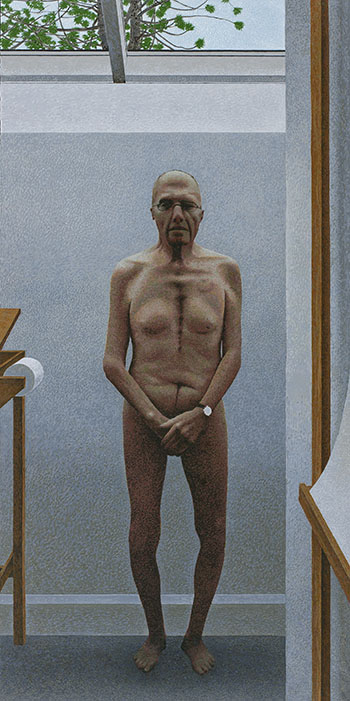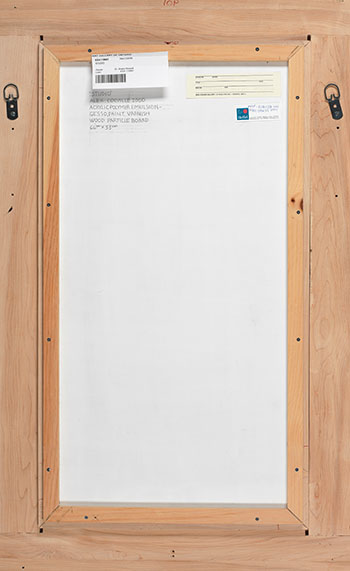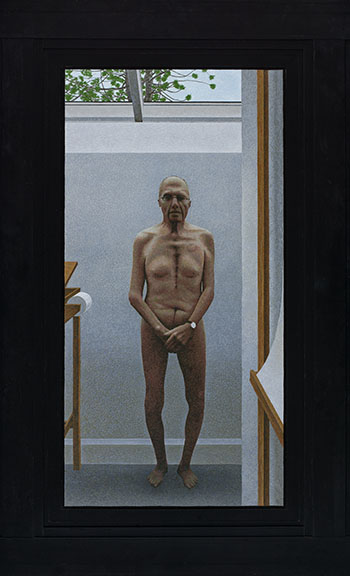 Lot # 042
Art d'après-guerre et contemporain Live auction

Alexander Colville
PC CC 1920 - 2013 Canadian

Studio
acrylic polymer emulsion on board
on verso signed, titled and dated 2000
26 x 13 pouces 66 x 33cm

Provenance:
Mira Godard Gallery, Toronto
Private Collection, Toronto

Référence:
Tom Smart, Alex Colville: Return, Art Gallery of Nova Scotia, 2003, reproduced page 125
Andrew Hunter, editor, Colville, Art Gallery of Ontario, 2014, reproduced page 140, listed page 146; Target Pistol and Man reproduced page 41

Exposition:
Art Gallery of Nova Scotia, Halifax, Alex Colville: Return, Prints and Drawings 1994 – 2002, September 27 – November 30, 2003, traveling in 2003 – 2005 to the Beaverbrook Art Gallery, Fredericton; Museum London, Ontario; University of Toronto Art Centre; Edmonton Art Gallery; and Mendel Art Gallery, Saskatoon
Art Gallery of Ontario, Toronto, Colville, August 23, 2014 - January 4, 2015, traveling to the National Gallery of Canada, Ottawa, April 24 - September 7, 2015
Art Gallery of Nova Scotia, extended loan

It is natural to think that we understand the work of Alex Colville, one of the most successful and venerated of Canadian artists. His hallmark domestic and regional images are immediately recognizable because of their transparent, realist style and their familiar subject matter. He famously depicted what he knew best: his wife Rhoda, their pets and other animals, and his beloved adopted home landscape around Wolfville, Nova Scotia. Not only is his art laudably accessible, but Colville also enjoyed an increasingly high public profile from the 1950s until his death in 2013. His work has been widely collected by public institutions. It was frequently seen in major exhibitions across Canada, including a full survey initiated by the Art Gallery of Ontario in 1983 that traveled in Canada and to Germany, a celebratory exhibition at the National Gallery of Canada in 2000 to mark his eightieth birthday, and a posthumous retrospective at the Art Gallery of Ontario in 2014, which included over 100 works, including this important painting. Much more than most artists in Canada, Colville's work has been discussed in monographs, catalogues and exhibition reviews.

Colville's powerful Studio is an arresting, courageous and complex self-portrait in its own right; it should also make us look anew at Colville's oeuvre as a whole and perhaps recast what we think we know about his art. The laconic title of this full-length painting should alert us to the complexity of the image. Clearly this is a self-portrait of an aging Colville, observed with an unflinching honesty characteristic of those "old masters" whose ability to work into later life he so admired, especially Titian. We can see that Colville confronts himself, by including the prominent scar from recent heart surgery. But his work is often more enigmatic than its ready readings have suggested.

How do we square the fact that this image is called Studio? Colville was not falsely modest in his life, but not one to draw attention to his own psyche either, and true self-portraits are rare in his long career. He often used himself as a model in paintings without masking his identity, but the explicit concentration of a self-portrait was unusual. The only precedent for the intensity of Studio is Target Pistol and Man, 1980, his famously direct and potentially disturbing self-portrait in which the weapon mentioned in the title is close to hand. Again, Colville did not call this a self-portrait, and again, it was set in his studio. Like Studio, it marks a milestone, since it was painted when he was 60.

For the ever-exact Colville, Target Pistol and Man saw him frankly assess himself as an artist compelled by precision in and beyond the studio. This is why he took up target shooting. Partially deflecting attention from himself with the title Studio, Colville characteristically constructs an existential situation to ponder - his relationship to his studio and to art at 80, when his body is compromised. The studio is a consoling place for Colville even in this stark painting. He once told me that he became anxious after finishing each of his many paintings because he wondered if he would ever have another good idea again, or ever be able to repeat the performance. In Studio, that anxiety has been transferred to his body. The familiar space and routines are a support - there is creativity and control here.

Colville's nakedness in this work is accentuated by his wristwatch, which is, of course, also an allusion to passing time. The precise, geometrical confines of the studio may regulate the daily routines of creativity, which Colville knows construes a temporary fix for us all. Yet regeneration is included in Studio in a way we might at first not notice, focused as we inevitably are on Colville's self-image. Through the studio skylight at the top, we see the intricate knot of a conifer's branches and needles. The random patterns and vibrant green of this tree stand in sharp – but optimistic – contrast to the sombre colouration of the man and his rectilinear architectural surroundings. Studio can be read as an allegory of the lasting potency of artistic creation.

We thank Mark Cheetham, Professor of Art History at the University of Toronto and author of Alex Colville: The Observer Observed, for contributing the above essay.

This work is in the original frame made by Colville.



Tous les prix sont en dollars canadiens.

Nous avons fait en sorte d'assurer l'exactitude de l'information affichée, mais des erreurs ou oublis peuvent se produire. Toute acquisition est soumise à nos modalités et conditions.