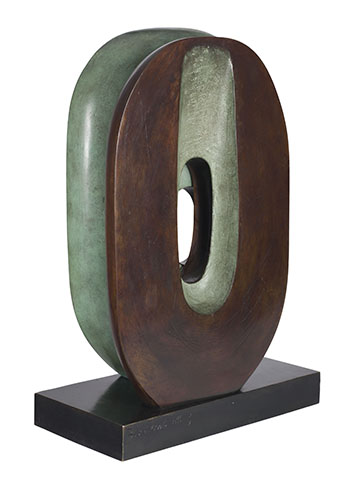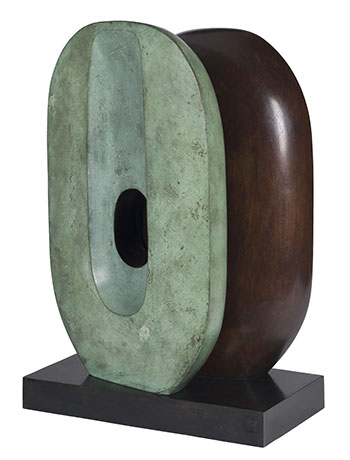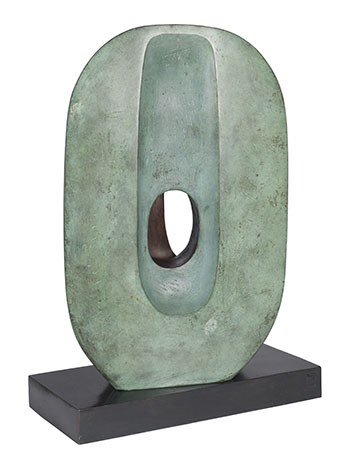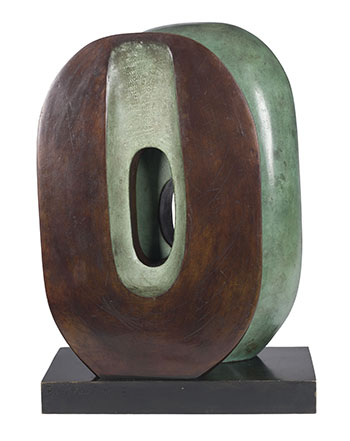 Lot # 039
Art d'après-guerre et contemporain Live auction

Barbara Hepworth
1903 - 1975 British

Maquette for Dual Form
bronze sculpture with brown and green patina
signed, editioned 7/9, dated 1966 and stamped with the foundry mark Morris Singer FOUNDERS LONDON
20 1/4 x 14 1/2 x 7 pouces 51.4 x 36.8 x 17.8cm

Provenance:
Laing Galleries, Toronto, July 1966
John MacAulay, Winnipeg, December 1966
Sold sale of Sotheby's London, December 3, 1986, lot 342
Marlborough Fine Art Ltd, London
Private Collection, Toronto, acquired from the above on November 28, 1989

Référence:
Alan Bowness, editor, The Complete Sculpture of Barbara Hepworth, 1960 - 69, 1971, page 40, no. 397, another cast illustrated page 41
Sophie Bowness, Barbara Hepworth: The Plasters, The Gift to Wakefield, Farnham, 2011, reproduction of the plaster for this work, pages 142 and 143, catalogue #24
Barbara Hepworth, [Hepworth Estate], "Quotations from Barbara Hepworth's Writings," http://barbarahepworth.org.uk/texts, accessed August 23, 2019

Barbara Hepworth was a masterful, internationally acclaimed sculptor when she began to make bronzes in the late 1950s. Maquette for Dual Form - and the seven large, public iterations of Dual Form that it both anticipates and echoes - are exemplary of her sensitivity and accomplishment in this definitive three-dimensional medium. Maquette for Dual Form is not a study or preparatory work. Always articulate about her working methods, Hepworth stated in 1963: "I rarely make a maquette. They are essential when working for an architect or a commission; but I always find that a good maquette, in the sense of being accurate, is an unpleasing object; whereas an exciting small sculpture is necessarily very different from the ultimate large one – but more stimulating." As she emphasizes, the difference here is one of scale, not of medium, process or priority: she purposefully made commanding public versions of Dual Form and the intimate, even domestic analogue that we see here.

Maquette for Dual Form is indeed an "exciting small sculpture," one with a connection to Canada: one of its nine castings was shown in the British pavilion at Expo 67 in Montreal. Tactile in its organic brown and green patina, its appeal also stems from the variety of imbricated oval forms that we see. "I have always been interested in oval or ovoid shapes," Hepworth said in 1944.

"Gradually my interest grew in more abstract values - the weight, poise, and curvature of the ovoid as a basic form. The carving and piercing of such a form seems to open up an infinite variety of continuous curves in the third dimension, changing in accordance with the contours of the original ovoid and with the degree of penetration of the material. Here is sufficient field for exploration to last a lifetime."

While her reference to this passion lasting for a lifetime is likely about the inspiration of the oval to her creative work, it also applies to our ongoing engagement with this piece. We are encouraged to perceive multiple ovals in a dynamic relationship by Hepworth's placement of the sculpture on a slight diagonal on its base, and by the subtle changes in these forms, not only in the size and depth of incisions, but in their degree of geometrical regularity. For example, the overall ovoid form is squared on the bottom, whereas the next oval opening as we move towards the centre is squared on the top. This variation on a theme is underscored by the always visible comparison between brown and green surfaces.

Formal relationships of this sort were important to Hepworth and are important to our pleasure in her work, but they were not her ultimate goal. "There must be a perfect unity between the idea, the substance and the dimension: this unity gives scale.....," she wrote in the 1930s. "Vitality is not a physical, organic attribute of sculpture - it is a spiritual inner life."

We thank Mark Cheetham, Professor of Art History at the University of Toronto and author of Abstract Art Against Autonomy: Infection, Resistance, and Cure since the 60s, for contributing the above essay.

A cast of the large bronze Dual Form is situated outside of Guildhall in St. Ives. It was given to the town as a gift from the artist to mark the conferment of the Honorary Freedom of the Borough of St. Ives. The plaster for this work is in The Hepworth Wakefield in Yorkshire, England.

We thank Sophie Bowness, PhD, for providing information in preparing this catalogue entry. Bowness is preparing the revised catalogue raisonné of Hepworth's sculpture, in which this work is included as BH 397 cast 7.


Estimation:
500,000 $ ~ 700,000 $ CAN
Vendu pour:
601,250 $ CAN (prime d'achat incluse)

Tous les prix sont en dollars canadiens.
Nous avons fait en sorte d'assurer l'exactitude de l'information affichée, mais des erreurs ou oublis peuvent se produire. Toute acquisition est soumise à nos modalités et conditions.