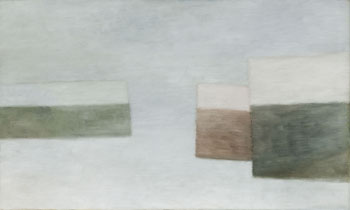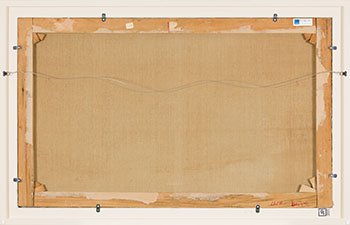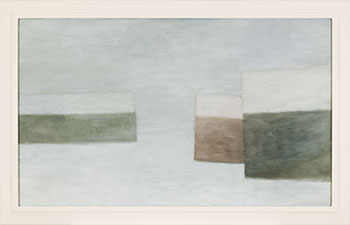 Lot # 027
Art d'après-guerre et contemporain Live auction

Jean Paul Lemieux
CC QMG RCA 1904 - 1990 Canadian

Les vieilles granges en hiver
oil on canvas
signed and dated 1962 and on verso titled on a gallery label
26 x 43 pouces 66 x 109.2cm

Provenance:
Estate of Geraldine Biely, Vancouver
By descent to the present Private Collection, Seattle

Référence:
Guy Robert, Jean Paul Lemieux, 1968, a similar 1958 canvas entitled Soleil sur la ville reproduced page 129
Guy Robert, Lemieux, 1975, page 119, and a similar 1960 canvas entitled Métropole reproduced page 249
Marie Carani, Jean Paul Lemieux, 1992, two similar 1957 and 1959 canvases entitled Hiver à Port-au-Persil and L'été à Montréal reproduced pages 171 and 188
Anne-Marie Bouchard, editor, Passion privée: L'art moderne du Québec de la collection Pierre Lassonde, Musée nationale des beaux-arts du Québec, 2015, a similar 1964 canvas entitled Une nuit à Québec-Ouest reproduced page 248

Though not abstract in the strictest sense, certain paintings by Jean Paul Lemieux make reference to the abstract school that was driving the world of visual art in Quebec as of the late 1930s. At the start of Lemieux's classical period, between 1956 and 1964, the painter explored the artistic form's symbolic power by reducing it to its simplest expression, at times reaching the borders of the non-figurative. Thus it is with this remarkable landscape, Les vieilles granges en hiver, preserved for a very long time in the shadows of a private collection, which explains why it is not publicly known.
Its recent discovery helps us to better understand the painter's research in that decisive year, 1962, which kicked off a cycle of autobiographical reminiscences with the splendid and renowned 1910 Remembered (private collection, Heffel sale November 24, 2011). Lemieux's reflections on the passage of time also took shape that year with Les parques (collection of the Winnipeg Art Gallery), where the figure is sovereign; this is also the case for Les mi-carêmes (private collection). At the same time, the painter was pushing the boundaries of his research on the suggestive character of form: he was fed by geometric order and schematic forms that yet kept something of the figurative. If doubt persists as to the naturalist subject of a work that presents itself to us simply with beauty of form, it can be dispelled by consulting the title; so it is with Les vieilles granges en hiver. Ultimately, Lemieux never gave up figurative pictorial representation.
For this reason, one could believe that Lemieux's painting was out of step with developments in post-war Québécois and Canadian contemporary art. And yet, was this not the same Lemieux who, according to art historian François-Marc Gagnon, was the first to define the term "abstract" in the French-Canadian print media, in 1938? Around this time, in 1937, the artist was beginning his career as a professor at the École des beaux-arts de Québec, which he added to his role as art critic for over 10 years. The major turning point that occurred in his work when he returned from a European sojourn (1954 to 1955) had much to do with the prevailing artistic atmosphere.
In France, the striking contrast between Mediterranean light and that of our country admittedly shocked Lemieux. To gauge the difference, we may simply compare Les Abricotines (lot 61 in this sale) and Les vieilles granges en hiver with such paintings as Le visiteur du soir (The Evening Visitor) and Le train de midi (The Noon Train, 1956, collection of the National Gallery of Canada). The first painting is dominated by the warm colours of the fruit that forms the base of the delicious pastry, so popular on the French Riviera, the abricotine, while those from 1956 are key representations of the classical period of the artist now known as the painter "of vast white spaces." Surely this first shock experienced in France changed Lemieux's trajectory - but not only this.
Soon after his return, as the art historian Marie Carani aptly demonstrated in her work on the painter in 1992, Lemieux was sensitive to the bubbling geometric abstract tendencies in Montreal (1955 to 1960). This is clearly evident in the farm motif in Hiver à Port-au-Persil from 1957 (collection of the Vancouver Art Gallery), interpreted as pure artistic pretext summed up in two coloured planes. If the urban setting inspired several of his most minimalist works - L'été à Montréal (Summer in Montreal), 1959 (collection of the Musée d'art contemporain, Montreal / MACM) and La ville enneigée (Snow-Covered City), 1963 (MNBAQ) – his memories of the winter landscapes in the Charlevoix region and the Gaspé Peninsula provided the painter with good opportunities to test the limits of non-figurative art.
The starkness of Les vieilles granges en hiver is consistent with the stunning effect of L'été à Montréal, completed several years earlier. The painter suggests the fragility of the three old farm buildings by placing them in an unstable position on the white surface, which he enlivens with bright tones, not distinguishing between earth and sky. Here, only the barns' colours and textures disrupt the "immutable silence" that Lemieux attributes to winter, a concept he recorded in English in his notebook as early as 1939, well before his art had attained the renown it would 20 years later: "Snow. Snow and cold. Snow everywhere in the fields, in the forest…The river is frozen and so are the streams…All things seemed to have died and a stuck silence accompanies always the flake."
We thank Michèle Grandbois, author of Jean Paul Lemieux: Life & Work, a digital book available online through the Art Canada Institute, Toronto, for contributing the above essay.


Estimation:
35,000 $ ~ 45,000 $ CAN
Vendu pour:
67,250 $ CAN (prime d'achat incluse)

Tous les prix sont en dollars canadiens.
Nous avons fait en sorte d'assurer l'exactitude de l'information affichée, mais des erreurs ou oublis peuvent se produire. Toute acquisition est soumise à nos modalités et conditions.