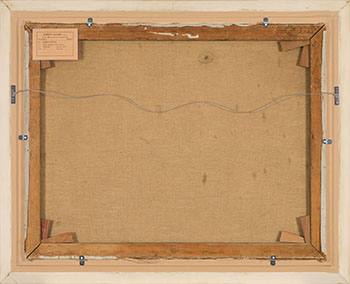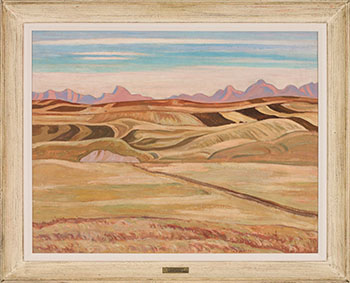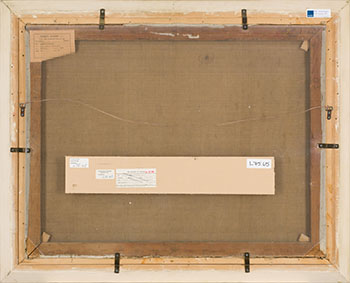 Lot # 132
Art canadien, impressionniste et moderne Live auction

Alexander Young (A.Y.) Jackson
ALC CGP G7 OSA RCA RSA 1882 - 1974 Canadian

Alberta Foothills
oil on canvas 1943
signed and on verso titled, dated 1942 [sic], inscribed "4" (circled), numbered with the Art Gallery of Ontario accession #L75.65 on the AGO inventory labels and stamped twice with the Jules Loeb Collection #88
25 x 32 pouces 63.5 x 81.3cm

Provenance:
Dominion Gallery, Montreal, 1946
Roberts Gallery, Toronto, 1959
Jules Loeb, Ottawa and Toronto
Gift from the Jules Loeb Collection to the Ontario Heritage Foundation, 1976
Donated by the Ontario Heritage Foundation to the Art Gallery of Ontario, Toronto, 1988, AGO accession #L75.65

Référence:
A.Y. Jackson: Thirty Years of Painting, Dominion Gallery, 1946, titled as Alberta Foot-hills, unpaginated
Pierre Théberge, The Mr. and Mrs. Jules Loeb Collection / La collection M. et Mme Jules Loeb, National Gallery of Canada, 1970, unpaginated
Contemporary Canadian Art from the Collection of the Art Gallery of Ontario, Fort Lauderdale Museum of Art, 1979, listed, unpaginated

Exposition:
Dominion Gallery, Montreal, A.Y. Jackson: Thirty Years of Painting, May 4 – 18, 1946, titled as Alberta Foot-hills, catalogue #9
Dominion Gallery, Montreal, Exhibition of Paintings and Sketches by A.Y. Jackson, April 24 – May 8, 1948, catalogue #15
National Gallery of Canada, Ottawa, The Mr. and Mrs. Jules Loeb Collection / La collection M. et Mme Jules Loeb, October 15 – November 15, 1970, traveling in 1970 to 1971 to Sir George Williams University, Montreal; Winnipeg Art Gallery; University of British Columbia, Vancouver; Mendel Art Gallery, Saskatoon; Art Gallery of Windsor; Université de Sherbrooke, Quebec; and Beaverbrook Art Gallery, Fredericton, catalogue #23
Fort Lauderdale Museum of Art, Florida, Contemporary Canadian Art from the Collection of the Art Gallery of Ontario, March 6 - 25, 1979, catalogue #13

Jules and Fay Loeb's distinguished collection of Canadian art from the middle of the nineteenth century to the 1980s was formed in a halcyon period of broad and deep interest in historic Canadian art. A.Y. Jackson's Alberta Foothills entered their collection, its only documented private collection, when they were most actively acquiring historical Canadian art in the later 1950s and the 1960s. In 1970 and 1971, Alberta Foothills was included in an exhibition of the collection organized for a national tour by Pierre Théberge, then curator of contemporary Canadian art and later director at the National Gallery of Canada.

Alberta Foothills' motif of land rolling into mountains at sunrise relates to many of Jackson's paintings of the Laurentian Mountains from more than a decade earlier. A crest of grass and stubble running across the bottom fifth of the painting establishes the viewer's point of view. Then, rising and receding horizontal zones bisected by a diagonal road, ploughed fields, the distant pink and blue mountains, and the light morning sky activate the composition. Its sparse and formal concision is an important extension of Jackson's formal developments from the early 1930s. Alberta Foothills is one of Jackson's most sophisticated canvases from the 1940s, one that demands and rewards mindful viewing.

Alberta, and southern Alberta in particular, gave Jackson the opportunity to invest a new landscape with the wisdom of his experience. After decades of painting in and around Georgian Bay and Algoma in Ontario, and the Laurentians in Quebec, he perceived the Alberta landscape as different. Its flats were flatter, its distances more distant, and the peaks of its mountains loftier. How could he engage with this new landscape?

The approach he took was neither arbitrary nor determined. Through successive painting trips from 1937 to 1943, when he painted Alberta Foothills, Jackson renewed the scale of his painting and caught up with the landscape. The most accomplished works, like Alberta Foothills, eliminated any depiction of people or animals, as well as the artificial and natural points of reference that give his earlier paintings their resonance. After 30 years and intimate knowledge of his preferred landscapes, Jackson met the southwestern Alberta landscape with knowledge gleaned elsewhere to paint it as it had never been painted before.

The preparatory graphite study and oil sketch for Alberta Foothills give invaluable insight into its development and Jackson's thoughts. They also show how two key deviations made Alberta Foothills a great work of art. Near Pincher Creek (1943, graphite on paper, McMichael Canadian Art Collection, #1974.7.116.RV) is Jackson's initial view, with a couple of horses on the prairie in centre left and a bisecting road, bordered by a fence on both sides. A composition on the drawing's verso, dated September 23, 1943, conclusively supports the painting's 1943 date as published in the Dominion Gallery's 1946 catalogue. When Jackson worked up the graphite study into his oil sketch, Pincher Creek, Alberta (sold by Heffel on November 19, 2008, lot 203), he brought the horses closer to the viewer, almost parallel with the picture plane, and eliminated the fence on the far side of the road.

Between his brother Ernest's home in Lethbridge that he used as a base, and where he likely made the oil sketch, and the Studio Building in Toronto where he painted the canvas, the horses and fence vanished, the picture brightened, and the distant mountains and sky were enlivened by a concert of pink and blue, infused with white.

Jackson painted with the wisdom of his experience. As he learned to make great paintings in the Laurentians, he had to learn to make great paintings in Alberta. Paring his composition and tightening his palette, Jackson advanced the pictorial subject from graphite sketch to oil study to finished canvas. The breakthrough he made with Alberta Foothills would culminate in his marvellous circa 1948 canvas Alberta Rhythm (private collection).

We thank Gregory Humeniuk, art historian, writer and curator, for contributing the above essay.


Estimation:
100,000 $ ~ 150,000 $ CAN
Vendu pour:
103,250 $ CAN (prime d'achat incluse)

Tous les prix sont en dollars canadiens.
Nous avons fait en sorte d'assurer l'exactitude de l'information affichée, mais des erreurs ou oublis peuvent se produire. Toute acquisition est soumise à nos modalités et conditions.