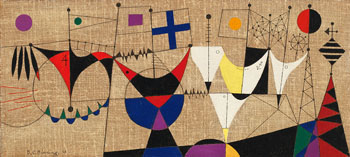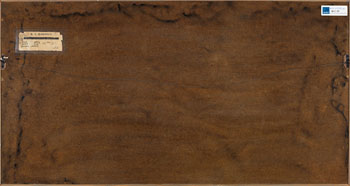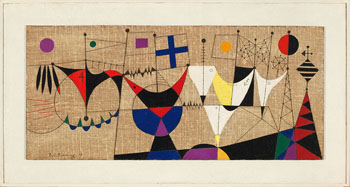 Lot # 009
Fall 2017 - 1st Session Live auction

Bertram Charles (B.C.) Binning
BCSFA CGP CSGA OC RAIC RCA 1909 - 1976 Canadian

Gay Regatta with Purple Sun (Second Version)
oil on burlap on board
signed and dated 1954 and on verso titled on the artist's label
13 1/2 x 30 in 34.3 x 76.2cm

Provenance:
Private Collection, Toronto

Literature:
Nicholas Tuele, B.C. Binning, A Classical Spirit, Art Gallery of Greater Victoria, 1986, unpaginated

B.C. Binning was a central figure in the West Coast modernist scene. As well as being an important artist who exhibited internationally, he was an influential educator who encouraged an open-minded approach to learning. He contributed much to the University of British Columbia, first teaching at the School of Architecture and later founding the Department of Fine Arts. He promoted the growth of a student-led art collection, developed the UBC Fine Arts Gallery, organized the multimedia Festival of Contemporary Arts, and invited prominent figures in the arts such as modernist architect Frank Neutra to speak to his students.
While doing all this, he produced a remarkable body of work that included drawings, paintings and public mural installations. Binning's expansive viewpoint formed early in his life - he studied in England with sculptor Henry Moore, then traveled through Europe, visiting museums and viewing both art and architecture. His work shows the influence of such European artists as Joan Miró and Paul Klee. He traveled in 1939 to New York, where he saw the modernist exhibition Art in Our Time, which showcased the work of European artists such as Pablo Picasso, Georges Braque and Paul Cézanne, along with prominent modernist architects.
Binning's vision was international, but he drew his inspiration and imagery from his own experience of West Coast life. His home was close to the ocean in West Vancouver, and he spent his summers exploring the coast in his sailboat the Skookumchuck. He stated: "The life around these little coves and inlets, that I love so much were the scenes of all kinds of little comedies and things that made one smile…In the summer time, these little boats look[ed] so spry and joyful." He continued, "It would seem to me that it had to be interpreted with some sort of 'joie de vivre.' " Regattas would have been particularly appealing to the artist, with their variety of craft with unique detailing in jaunty array across the water. Binning took the nautical motifs he observed, such as flags, buoys, signals and rigging, and placed them on abstracted backgrounds. Gay Regatta with Purple Sun (Second Version) is an outstanding work from this sought-after part of his oeuvre. Binning's interest in Fauvist colour is reflected in the vibrant, saturated palette in this work; as well as coastal blues and greens, he included colours not derived from the landscape - hot red, vibrant yellow and rich purple. The burlap background provides an interesting textural surface, contrasting to the smoothly painted forms.
This striking work reflects the two sides of Binning's artistic nature. He stated, "I once said that the business of serious joy should be one of the main occupations of the artist. I do like joy…I do like order. I think my work plays between two sides of me: there is a certain joy and fun - perhaps even wit - but this seems to vacillate every now and then between another extreme of plain coolness which I call a classic sense." In Gay Regatta with Purple Sun, his forms bob and dance buoyantly, but he has carefully balanced his composition, with a keen awareness of how the forms interact across the flat surface. Binning's unique and graceful sense of line delights the eye, as does his masterful balance between the playful and the formal.
This work is in the original frame made by Binning.


Estimate:
$60,000 ~ $80,000 CAD
Sold for:
$169,250 CAD (including Buyer's Premium)

All prices are in Canadian Dollars.
Although great care has been taken to ensure the accuracy of the information posted, errors and omissions may occur. All bids are subject to our Terms and Conditions of Business.