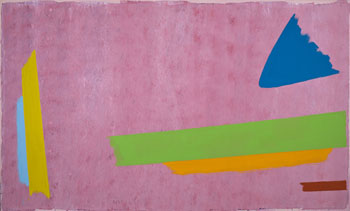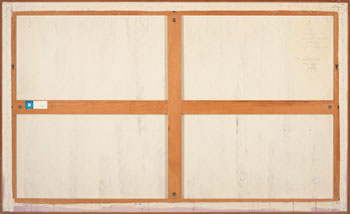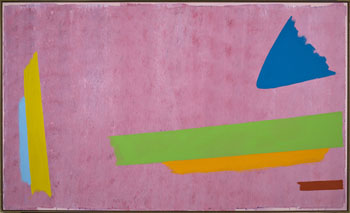 Lot # 021
Fall 2017 - 1st Session Live auction

Jack Hamilton Bush
ARCA CGP CSGA CSPWC OSA P11 1909 - 1977 Canadian

Still
acrylic on canvas
on verso signed, titled, dated May 1971 and inscribed "Acrylic Polymer" and "To Martha with Love, Jack"
47 1/4 x 78 in 123.2 x 198.8cm

Provenance:
A gift from the Artist to Martha Baer, 1972
André Emmerich Gallery, New York, 1979
Acquired from the above by the present Private Collection, Toronto, December 20, 1979

Literature:
Karen Wilkin, editor, Jack Bush, 1964, essay by Barry Hale, interview by Wendy Brunelle, pages 57 and 198

Exhibited:
Montreal Museum of Fine Arts, 2016 - 2017

Like the forms in this painting, Jack Bush's career was soaring in the 1970s. He was part of an international elite of colour-field painters at a time when that style was broadly seen as the most advanced type of painting. His first solo show in New York City, the acknowledged centre of the art world after World War II, had been in 1962, a decade in the past. He had been working with the André Emmerich Gallery since 1966, when art critic Clement Greenberg had recommended Bush to the urbane and influential New York art dealer.
Still exudes a playful confidence. Anything but "still" in the sense of stationary, the unexpected pairings of colours and the movement of the forms that they describe against a pinkish, rolled-on ground suggest the perpetual dynamism of the painting's elements. The mottled ground itself is not uniform; it contains both intensities and diminutions of saturation. Characteristic of Bush's work at this time, too, there is significant energy around the edges of the pink form as it attaches to but floats free of the physical canvas we see around the perimeter. The rivulets of paint along the bottom edge, for example, seem like a nod in the direction of Bush's counterparts in post-painterly abstraction, especially Morris Louis and Helen Frankenthaler.
Bush was a formal experimenter who used coherent series of works to investigate what he saw as his current issues and aspirations in painting. These series have one-word titles such as Thrusts, Totems and Flags. As Barry Hale has pointed out with respect to the paintings of the early 1970s in relation to Bush's earlier affinity for stripes, "The most viable solution was that suggested by the large compositions of detached colour bars – to cut the stripes loose from the edges of the picture and from one another, permitting them to interact as discrete shapes." Working in this direction from 1969 to 1970, Bush evolved Series D, whose title refers to David Mirvish and his Toronto gallery, where Bush was also showing at this time. Still's most kinetic form – the blue, shuttlecock-like element in the top right – finds a precedent in one of these works, Down Flutter of 1970. The title and action of this earlier painting, with five of the shapes that we see echoed in the solo blue form in Still, suggest that this blue element is descending towards the more rectilinear forms that dominate the surface. We anticipate a benevolent "collision" of colour and of the curvilinear and rectilinear.
On the occasion of his 1976 retrospective – the year before his death – Bush was asked about famous artists and the influence of their art on his work. For Bush his favourites were the old master artists Goya, Velázquez and Rembrandt. While they weren't necessarily "popular at the time," Bush said, "the reason they're so great right now is that their painting has held up." We can say the same about Still and about Bush.
We thank Mark Cheetham, Professor of Art History at the University of Toronto and author of Abstract Art Against Autonomy: Infection, Resistance, and Cure Since the 60s, for contributing the above essay.
The original owner of this work, Martha Baer, was formerly vice-president of the André Emmerich Gallery and is currently the International Director, Post-War & Contemporary Art, at Christie's in New York.
This work will be included in Sarah Stanner's forthcoming Jack Bush Paintings: A Catalogue Raisonné.


Estimate:
$275,000 ~ $375,000 CAD
Sold for:
$361,250 CAD (including Buyer's Premium)

All prices are in Canadian Dollars.
Although great care has been taken to ensure the accuracy of the information posted, errors and omissions may occur. All bids are subject to our Terms and Conditions of Business.