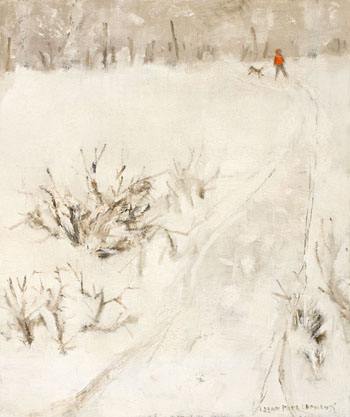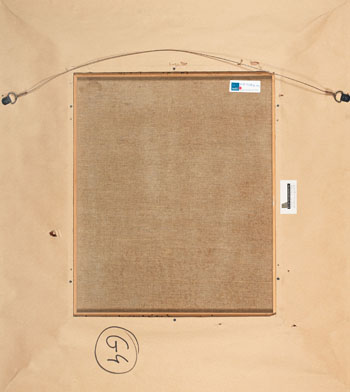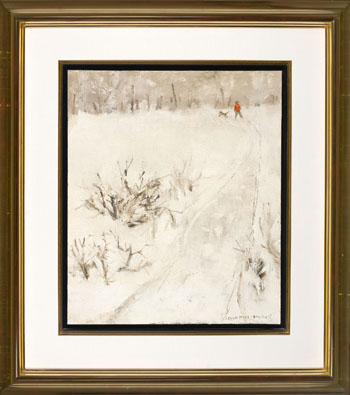 Lot # 058
Fall 2017 - 1st Session Live auction

Jean Paul Lemieux
CC QMG RCA 1904 - 1990 Canadian

Chemin de bois
oil on canvas
signed and on verso signed, titled and inscribed "Expo: Les quatre saisons, cat. No. 6 (1976)"
21 3/4 x 18 1/4 in 55.2 x 46.4cm

Provenance:
Galerie Gilles Corbeil, Montreal
Private Collection, Montreal

Literature:
Gilles Corbeil, Jean Paul Lemieux: Les quatre saisons, Galerie Gilles Corbeil, 1976, reproduced page 9, listed page 16

Exhibited:
Galerie Gilles Corbeil, Montreal, Jean Paul Lemieux: Les quatre saisons, April 9 - May 1, 1976, catalogue #6

Chemin de bois is from Jean Paul Lemieux's theme of the four seasons – their march through the year marks the passage of time, which Lemieux was acutely aware of. Lemieux's paintings of winter are particularly eloquent, and in this image, there is a certain poignancy to the figure and dog, as they appear small within the snowy expanse. Lemieux's depictions of an isolated human figure in a landscape arose from his consideration of the existential relationship between human beings and the world they inhabit. Although his unique vision developed in his environment of Quebec, the scope of his work is universal.
In Chemin de bois, the snow is softly modulated; in this atmospheric and tactile work, Lemieux makes the viewer feel its soft fluffiness and depth, as it accumulates at the base of the bushes. Typical of Lemieux, his landscape is monochromatic – except for the red jacket of the figure, which adds a lively spark to the muted atmosphere. His brushwork is particularly in evidence here, with his malleable paint-strokes almost abstractly defining footprints on the path and the snow-laden woods in the background.


Estimate:
$30,000 ~ $50,000 CAD
Sold for:
$49,250 CAD (including Buyer's Premium)

All prices are in Canadian Dollars.
Although great care has been taken to ensure the accuracy of the information posted, errors and omissions may occur. All bids are subject to our Terms and Conditions of Business.