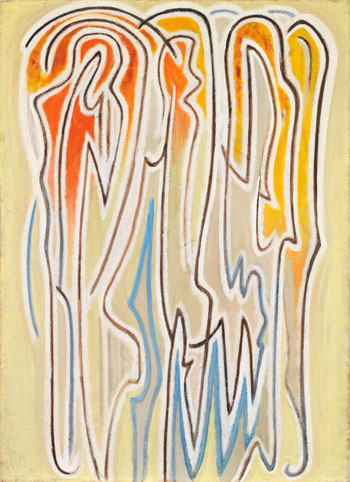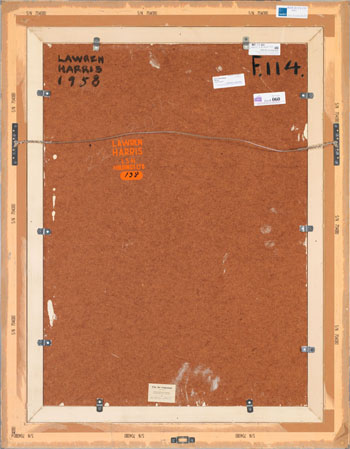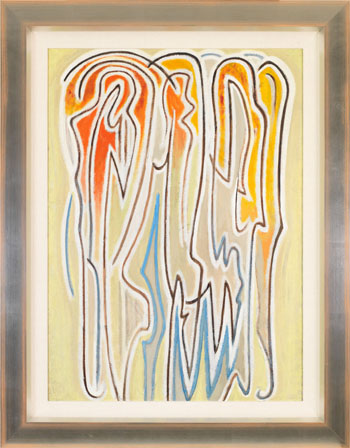 Lot # 048
Fall 2017 - 1st Session Live auction

Lawren Stewart Harris
ALC BCSFA CGP FCA G7 OSA RPS TPG 1885 - 1970 Canadian

LSH 138
oil on board
on verso signed, dated 1958, inscribed "F. 114" and stamped Lawren Harris LSH Holdings Ltd. 138
30 1/8 x 22 in 76.5 x 55.9cm

Provenance:
The Art Emporium, Vancouver, 1976
Private Collection, Vancouver
Sold sale of Canadian Post-War & Contemporary Art, Heffel Fine Art Auction House, May 15, 2013, lot 60
Private Collection, Vancouver

Exhibited:
Vancouver Art Gallery, Lawren Harris: Canadian Visionary, March 1 - May 4, 2014

Lawren Harris's transformative journey to abstraction began after he left Toronto in 1934 for Hanover, New Hampshire, and later Santa Fe, New Mexico, where he became involved with the Transcendental Group of Painters. Before he left Canada, his landscapes, reduced to their essentials and radiant with light, reflected his deep interest in spirituality through his involvement with Theosophy, and showed the beginnings of his revolutionary leap to abstraction.
In 1940 he returned to Canada, settling in Vancouver late that year. He was soon established as a prominent figure in its art scene, and in 1958 was appointed honorary vice-president and guarantor of the Vancouver Art Gallery. Harris's abstract work continued to evolve through successive stages, and his work was influenced in the mid-1950s by the symbolism in Tantric Buddhist images from Tibet. Around this time, he was using calligraphic lines, often in a vertical format, as in this elegant work. Lines dance in a harmonious rhythm, contained within the painting's edges, yet free within that containment. The colour palette is light and radiant, a manifestation of Harris's creation of transcendent spiritual states through his paintings.


Estimate:
$25,000 ~ $35,000 CAD
Sold for:
$43,250 CAD (including Buyer's Premium)

All prices are in Canadian Dollars.
Although great care has been taken to ensure the accuracy of the information posted, errors and omissions may occur. All bids are subject to our Terms and Conditions of Business.