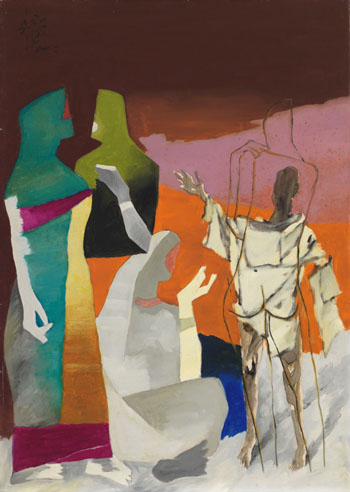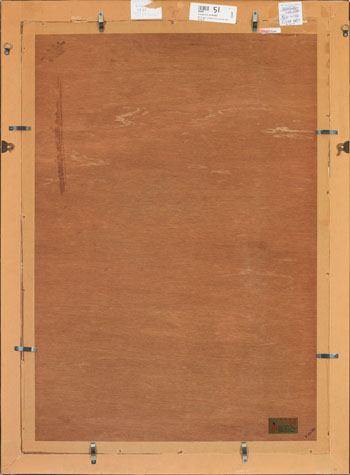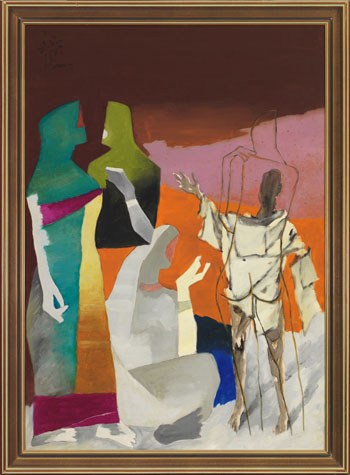 Lot # 046
Fall 2017 - 1st Session Live auction

Maqbool Fida Husain
1915 - 2011 Indian

The Other Self
oil on canvas on board circa 1970
signed in English and Devnagari
36 3/4 x 26 1/4 in 93.3 x 66.7cm

Provenance:
Pundole Art Gallery, Mumbai, circa 1979
Private Collection, United Kingdom
Modern and Contemporary South Asian Art including Indian Miniature Paintings, Sotheby's London, June 8, 2012, lot 51
Summer Art Auction, SaffronArt, June 20, 2013, lot 48
Private Collection, Vancouver

Literature:
Henry Corbin, History of Islamic Philosophy, 1993, page 307
"Overview of Indian Art: Contemporary Indian Painting," SaffronArt, para. 2, http://www.saffronart.com/sitepages/ArticleDetails.aspx?Articleid=9&pageno=1, accessed August 16, 2017

M.F. Husain, as he is often called, was one of the most prominent Indian artists of the twentieth century. To specify his nationality is important, because he was both celebrated and controversial for his depictions of distinctly Indian themes. On the other hand, as a founding member of the Progressive Artists Group (1947 - 1956), he sought distance from overtly nationalistic subject matter and is a truly international artist. According to Henry Corbin, at the time of India's independence in 1947 and the partition of Pakistan, "one may discern three emphases common to artistic practice in most countries with a colonial past: an interrogation of Western influences on artistic expression, the overpowering need to establish a distinct identity and idiom for Indian art, and an engagement with the role and function of the artist in a country like India." Husain successfully combined domestic and international artistic ideas to become a leader in both transnational and Indian modernism.
The Other Self is an intriguing painting on many levels. With a characteristically vibrant palette, sharply defined linearity, and his signature deployment of negative space, Husain describes what seems to be an animated conversation among four figures. In their different ways, the three female characters to the left respond to the smaller male figure to the right. He gestures boldly; they confer between themselves, or in the case of the seated woman in the centre, seem to react to his declarations. How are we to understand this dynamic image?
There is a contrast between the beautifully dressed women and the more humbly clad man. Their incommensurate sizes may suggest a difference in social status. Two elements in the painting also recommend a further, spiritual interpretation. The animated right-hand figure is shadowed by a much larger schematic form, a mysterious and more pensive bodily armature that greatly increases his size. Is this form an evocation of "the other self" of the title? Husain was Muslim. We can speculate that what the women witness is both the appearance of an unremarkable man and of a deity, a "theophany." One authority notes that in Sufi metaphysics, "the world of phenomena is the theophanic world; in no way is it an illusion - its existence is real, since it is actually the theophany, the other self of the absolute. From this point of view, there is no real difference between Essence and Attributes: being is identical with thought."
Two other details in the painting suggest a contrast between - but ultimately, the indivisibility of - of the observed and the spiritual worlds. Three of the foreground figures have prominent feet. By contrast, the outlined "other self" is transparent and has no feet with which to stand on the earth. Also, the woman in the centre of the composition sits securely on the ground, but again by contrast, we come to notice that she responds to Husain's lightly drawn other self rather than to the man in white's more overt gestures, which are directed to the standing women on the left. In this complex painting, Husain has portrayed the interactions of quotidian reality and the absolute.
We thank Mark Cheetham, Professor of Art History at the University of Toronto and author of The Rhetoric of Purity: Essentialist Theory and the Advent of Abstract Painting, for contributing the above essay.


Estimate:
$200,000 ~ $300,000 CAD
Sold for:
$241,250 CAD (including Buyer's Premium)

All prices are in Canadian Dollars.
Although great care has been taken to ensure the accuracy of the information posted, errors and omissions may occur. All bids are subject to our Terms and Conditions of Business.