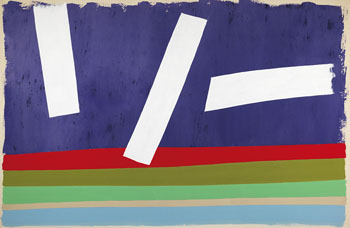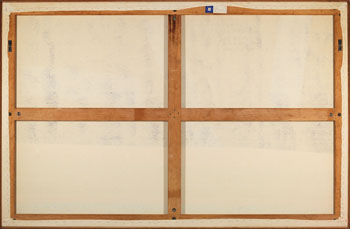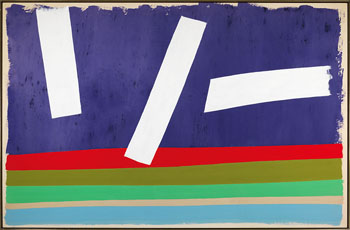 Lot # 040
Fall 2017 - 1st Session Live auction

Jack Hamilton Bush
ARCA CGP CSGA CSPWC OSA P11 1909 - 1977 Canadian

3 on Purple
acrylic on canvas
on verso signed, titled, dated October 1969 and inscribed "Acrylic Polymer W.B."
53 x 81 in 134.6 x 205.7cm

Provenance:
Collection of the Artist
André Emmerich Gallery, New York, 1969
Mrs. J.B. Taylor, Toronto, 1971
By descent from the above to a Private Collection, Boston, 1983
Miriam Shiell Fine Art, Toronto
Private Collection, Toronto

Jack Bush was tremendously accomplished as a painter and made a large contribution to the storied history of abstract painting in Canada and worldwide. The 1960s was his breakthrough decade. The group he co-founded and that exemplified abstract painting in Ontario so successfully, Painters Eleven, disbanded in 1960. In 1962, he had his first solo show in New York (at the Robert Elkon Gallery) and he received a Canada Council senior fellowship that took him to the United Kingdom and to Europe, where he consolidated his passion for the work of Henri Matisse and Joan Miró especially. He was in Clement Greenberg's Post Painterly Abstraction show in 1964. This influential exhibit of 31 painters included Helen Frankenthaler, Ellsworth Kelly, Morris Louis, Kenneth Noland, Jules Olitski and Frank Stella, as well as fellow Canadians Kenneth Lochhead and A.F. McKay, and definitively marked abstraction's move away from Abstract Expressionism. In 1967 and 1968, Bush represented Canada at the Bienal de São Paulo and ceased work as a commercial artist to apply himself full time to painting. The list of accolades and accomplishments notwithstanding, it also has to be said that his paintings are just plain fun. 3 on Purple is at once dramatic, dynamic and intriguingly subtle. It is a delight for the eye and for the mind.
Bush's deadpan title does not say it all. Three hard white forms do indeed dance vivaciously on a purple ground, but that is only an opening chord for an artist so enthralled by jazz. The purple expanse sits atop five thinner and multiply hued colour bands. Typically for Bush, these colours seem intuitively chosen for their individuality and their unforced collaboration. He is the last person to follow the rigid dictates of some abstract art, using only primary colours, for example, or painting in monochrome. The narrower bands might seem to be compressed by the much larger and dark-coloured purple field, or perhaps this dominant colour shape is launched upwards by those below - or both. All we know for sure is that Bush is at his playful best here.
Bush's masterly deployment of the three white forms commands our attention. First, they are startlingly white, in contrast with the flesh-coloured supporting canvas that he lets us see around the perimeter. The pigment used for these three forms is flat and saturated, again in distinction from the soft and porous ground. Commensurate though they are on first glance, each form is unique. The longest, in the centre, has hard edges all around. The other two are fraternal twins with one ragged edge, but one sits (almost) horizontally versus vertically. The centre slash is contained by the overall painted surface of the picture, though it traverses the purple and red bands in a jaunty way, as if on the move. The right-hand form lies completely, almost contentedly, inside the purple field, while its sibling nudges out of this compartment to flirt with the painting's support. As if to keep these variations on a theme playing, Bush extends the top of the purple area past the ground at two points, over the edge of the canvas and into the frame. Looking at 3 on Purple, it is easy to imagine that these forms will change again in the blink of an eye.
We thank Mark Cheetham, Professor of Art History at the University of Toronto and author of Abstract Art Against Autonomy: Infection, Resistance, and Cure Since the 60s, for contributing the above essay.
This work will be included in Sarah Stanners's forthcoming Jack Bush Paintings: A Catalogue Raisonné.


Estimate:
$250,000 ~ $350,000 CAD
Sold for:
$391,250 CAD (including Buyer's Premium)

Preview at: PacArt Toronto
All prices are in Canadian Dollars.
Although great care has been taken to ensure the accuracy of the information posted, errors and omissions may occur. All bids are subject to our Terms and Conditions of Business.