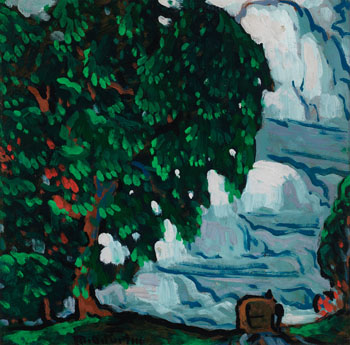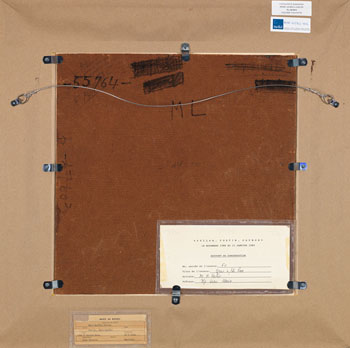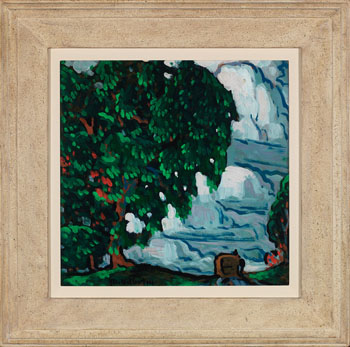 Lot # 114
Fall 2017 - 2nd Session Live auction

Marc-Aurèle Fortin
ARCA 1888 - 1970 Canadian

Orme à Sainte-Rose
oil on board circa 1940
signed and on verso titled on the exhibition labels and inscribed "55764" / "ML" / "B-47603"
15 3/4 x 15 1/2 in 40 x 39.4cm

Provenance:
Jean Allaire, Montreal
Private Collection

Literature:
Hughes de Jouvancourt, Marc-Aurèle Fortin, 1980, titled as Elm at St. Rose, reproduced page 172
François-Marc Gagnon and Madeleine Therrien, Fortin: les enfants et Marc-Aurèle Fortin, 2006, reproduced page 13
Michèle Grandbois, editor, Marc-Aurèle Fortin: The Experience of Colour, Musée national des beaux-arts du Québec, 2011, essay by Richard Foisy, page 56

Exhibited:
Maison des arts de Laval, Exposition Pellan, Fortin, Gagnon, 1988 - 1989, November 18, 1988 - January 15, 1989, catalogue #23

The Quebec village of Sainte-Rose was Marc-Aurèle Fortin's birthplace, and it was a beloved subject for his paintings throughout his life. His early life in that "green paradise" instilled in Fortin a love of nature. The towering elms of Sainte-Rose were iconic motifs in Fortin's work, and one dominates this painting. Richly painted in tones ranging from emerald to olive, the stately tree glows vibrantly against towers of cumulus clouds that fill the horizon. The effect is dreamy and captures the feeling of summer, when every day seems long and mesmerizing in its pleasures. Regarding Fortin's landscapes such as this, Richard Foisy wrote that their "almost supernatural and magical atmosphere caused an invisible note to vibrate in the real world, a note that Fortin revealed both in the dazzling stillness of mid-day and in the changing phases of the lunar spectrum, in the glory of morning and in the chiaroscuros of evening, where he captured the passing of time."
This work will be included in the forthcoming catalogue raisonné on the artist's work, #H-0414.


Estimate:
$40,000 ~ $50,000 CAD
Sold for:
$18,750 CAD (including Buyer's Premium)

All prices are in Canadian Dollars.
Although great care has been taken to ensure the accuracy of the information posted, errors and omissions may occur. All bids are subject to our Terms and Conditions of Business.