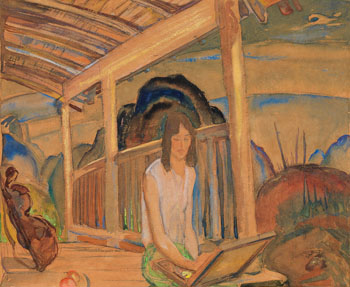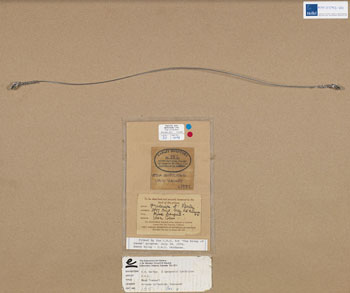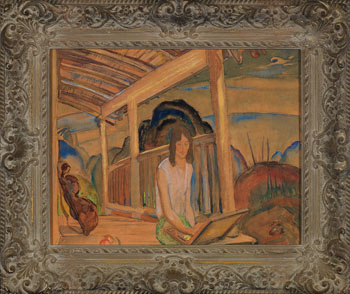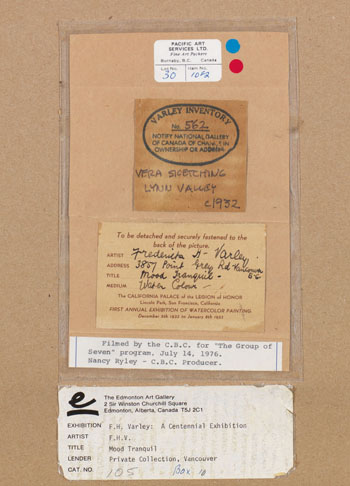 Lot # 116
Fall 2017 - 2nd Session Live auction

Frederick Horsman Varley
ARCA G7 OSA 1881 - 1969 Canadian

Mood Tranquil / Vera Sketching, Lynn Valley
graphite and watercolour on paper
signed and with the artist's thumbprint and on verso titled on the Varley Inventory label as Vera Sketching, Lynn Valley and on the Edmonton Art Gallery label as Mood Tranquil, dated circa 1932 and stamped and inscribed on a label with the Varley Inventory #562
12 x 15 in 30.5 x 38.1cm

Provenance:
Private Collection, Vancouver
Private Collection

Literature:
Christopher Varley, F.H. Varley: A Centennial Exhibition, Edmonton Art Gallery, 1981, reproduced page 104 and the 1932 canvas entitled Dhârâna, in the collection of the Art Gallery of Ontario, reproduced page 103
Peter Varley, Frederick H. Varley, 1983, page 22
National Gallery of Canada, "Canadian Painting in the 30s," para. 20, http://cybermuse.gallery.ca/cybermuse/enthusiast/thirties/html_chapters/catalogue_3_en.html, accessed July 25, 2017

Exhibited:
California Palace of the Legion of Honor, San Francisco, First Annual Exhibition of Watercolour Painting, December 5, 1932 - January 8, 1933
Edmonton Art Gallery, F.H. Varley: A Centennial Exhibition, February 12 - April 4, 1982, catalogue #105

This remarkable painting reminds us of several important dimensions of F.H. Varley's high standing in the history of art in Canada. A celebrated member of the Group of Seven, he painted memorable landscapes such as Stormy Weather, Georgian Bay (1921). The public was eager for more of this type of work, but as fellow members of the Group remarked, Varley was notably independent and he was more interested in portraiture. More important today, however, is not to ask whether Mood Tranquil / Vera Sketching, Lynn Valley is a portrait or a landscape, but to recognize the ways in which it is both.
Looking for work and seeking new stimulation for his painting, Varley left Toronto in 1926 to take up a post at the Vancouver School of Decorative and Applied Arts. As head of the Department of Drawing and Painting from 1926 to 1933, he was a legendary teacher who inspired many. He was also smitten by the landscape of British Columbia. "The country is full of variety…," he wrote, "island forms as romantic as Wagner's music or a Roerich canvas...then chunks of mountains, freakish stuff some of it that makes me realize why Indians are superstitious. Forests that are tropical…and…marvellous canyons." Especially important to him was Lynn Valley on Vancouver's north shore, which we see in this painting. As his son Peter Varley wrote, "Around 1932, Dad and Vera [Varley's beguiling muse] had fallen in love with Lynn Valley's mysteries and moods. They found an abandoned fire ranger's hut with a roofed porch, high on the bank along the pipeline road that ran from the trolley terminus up the valley to the watershed intake. The little cabin overlooked the whole of the valley, affording both shelter and marvelous romantic views to paint." It is here that Mood Tranquil is set and works its magic.
Vera Olivia Weatherbie (1909 – 1977) was a talented second-year art student when Varley arrived at the Vancouver School of Decorative and Applied Arts. They had a long-term relationship, one that was by all accounts mutually inspirational. Varley featured Vera in many of his best-known paintings, including the mystical Dhârâna (also circa 1932). In Mood Tranquil, Vera is shown sketching, a process that for her, as for Varley, was one of intimate communion with Nature. For both artists, empirical observation was important mostly as a way to perceive and then convey higher and more lasting spiritual understanding. Crucial to this process of transcendence was an understanding of the intense colours one sees here as symbolic and spiritually significant, a knowledge that Varley credited to Weatherbie and that both learned from the many European and American artists of the early twentieth century who studied landscape for this reason, including Wassily Kandinsky and Amédée Ozenfant.
Green was the most spiritual colour for Varley. He employed an almost electric shade of this colour for Vera's trousers here and for elements of the landscape that enfold her. Especially significant is the green of a tree at the far left, an outline that doubles as a visual reverberation from the object leaning prominently on the porch of their studio hideaway.
We know that Vera is sketching. Varley even includes a patch of vibrant yellow-green in her open paint box, intimating that she creates this landscape as much as he does, and that all parts of the scene are linked. A prominent element in Mood Tranquil is the mountain with which Vera's form merges. This blue and brown soft-edged mass rises in sculpted semicircles to both frame and embrace her as she works. Its form and presentation are distinctly Chinese; Varley actively employed and taught Buddhist art traditions. While Vera would of course look down to the surface she works on, it is important to think, too, that her eyes might be closed in aesthetic reverie. Nature was to be seen, but it was also in the most profound way to be dreamt in its essence by the artist. Symbolist artists such as Paul Gauguin and abstractionists such as Kandinsky had proclaimed this creed. Varley shows us Vision with a capital V.
We thank Mark Cheetham, Professor of Art History at the University of Toronto and author of The Rhetoric of Purity: Essentialist Theory and the Advent of Abstract Painting, for contributing the above essay.
This work is #562 in the Varley Inventory listing, titled as Vera Sketching - Lynn Valley.


Estimate:
$150,000 ~ $250,000 CAD
Sold for:
$73,250 CAD (including Buyer's Premium)

All prices are in Canadian Dollars.
Although great care has been taken to ensure the accuracy of the information posted, errors and omissions may occur. All bids are subject to our Terms and Conditions of Business.