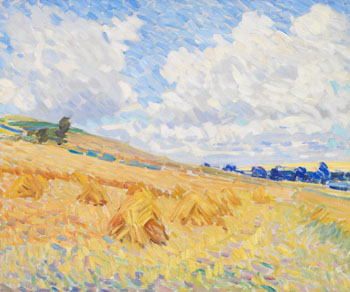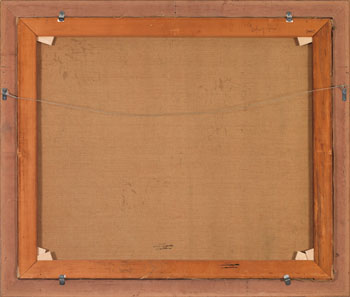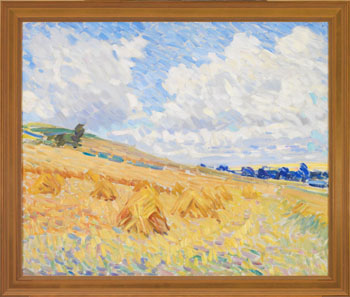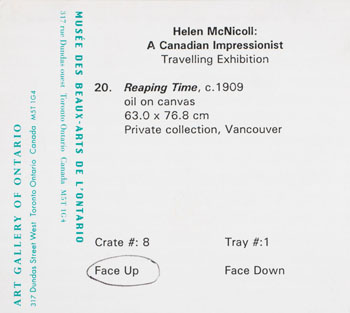 Lot # 113
Fall 2017 - 2nd Session Live auction

Helen Galloway McNicoll
ARCA RBA 1879 - 1915 Canadian

Reaping Time
oil on canvas
on verso titled, dated circa 1909 on the Art Gallery of Ontario label and stamped twice with the Studio Helen McNicoll estate stamp and inscribed "cat. 60"
25 x 30 1/4 in 63.5 x 76.8cm

Provenance:
Estate of the Artist
By descent to the Artist's nephew, Vancouver
Sold sale of Fine Canadian Art, Heffel Fine Art Auction House, November 24, 2005, lot 156
Private Collection, Vancouver

Literature:
"Award Art Prizes," Montreal Gazette, March 31, 1908
"Pictures That Are Being Talked About," Montreal Witness, April 15, 1909
"A Loss to Canadian Art," Saturday Night, no. 28, July 10, 1915, page 3
Memorial Exhibition of Paintings by the Late Helen G. McNicoll, RBA, ARCA, Art Association of Montreal, 1925, listed page 6
Natalie Luckyj, Helen McNicoll: A Canadian Impressionist, Art Gallery of Ontario, 1999, reproduced full page colour page 43

Exhibited:
Art Association of Montreal, Memorial Exhibition of Paintings by the Late Helen G. McNicoll, RBA, ARCA, November 7 - December 6, 1925, catalogue #60
Art Gallery of Ontario, Toronto, Helen McNicoll: A Canadian Impressionist, September 10, 1999 - January 2, 2000, traveling in 2000 - 2001 to the Appleton Museum of Art, Ocala, Florida; Leonard & Bina Ellen Art Gallery, Montreal; Carleton University Art Gallery, Ottawa; Art Gallery of Nova Scotia, Halifax; and Agnes Etherington Art Centre, Kingston, catalogue #20

Reaping Time is a superb example of Helen McNicoll's ability to capture the dynamic, radiant spirit of the natural world. In 1908, a year prior to its creation, McNicoll was the recipient of the Art Association of Montreal's first Jessie Dow Prize for a work entitled September Evening. Public recognition would quickly follow, and McNicoll was soon lauded as a young luminary in the local print media of the day. Art reviewers were generally consistent in their accolades, noting that her paintings, which, according to the Montreal Gazette, "aroused discussion and recognition from the first," were deemed worthy by virtue of their "simplicity of composition and breadth of treatment" (Montreal Witness).
Certainly McNicoll, who came from a prominent Montreal family (her father David McNicoll was vice-president of the Canadian Pacific Railway), was an individualist among Canadian women artists, not only choosing to travel abroad to further her art studies - in keeping with the contemporaneous view that worldly education was the true measure of an artist - but also choosing to live for part of each year in England, an exciting environment which clearly nourished her artistic interests. In addition, her work was widely collected in her lifetime, and while McNicoll made England her home for most of her adult life, her visibility in her native Canada was assured through her prominent presence in annual exhibitions at the Art Association of Montreal, the Royal Canadian Academy and the Ontario Society of Artists.
McNicoll enrolled in the Slade School of Art in London soon after her studies at the Art Association of Montreal. Around 1905 she entered the School of Landscape and Sea Painting at St. Ives in Cornwall, a pivotal decision with respect to her artistic development. There, inspired by the teachings of Algernon Talmage, her passion for plein air painting was kindled, resulting in a body of work that consistently adheres to Talmage's adage that "there is sunshine in the shadows," as Natalie Luckyj relates. At a time marked by extensive experimentation in the arts, when international Impressionism had captured the attention of an entire generation, McNicoll's work stands apart for its espousal of a pure Impressionist idiom: the aesthetic principles put forward first by the French Impressionists and later by the British Impressionists, with whom she shared a penchant for fresh, clear chromatics and anecdotal themes.
Reaping Time depicts the quintessential Impressionist subject: a sun-drenched field dotted by a series of haystacks set beneath an expansive blue sky. Save for the implied presence of farm labourers, the rustic scene is uninhabited, devoid of pictorial specificity or narrative content. Here, McNicoll's focus is on describing the sensory dimension of the natural world: the changing light, the moving clouds, the loosely piled haystacks. An energy of expression and execution animates the observed landscape, echoing the dynamism and transience of nature. Reaping Time stands as a meaningful example of the aims articulated by the French Impressionist school, in contrast to the more narrative concerns espoused by British Impressionists such as Laura Knight and Dorothea Sharp. McNicoll's use of dappled light effects, broad brush marks and a vivid palette in Reaping Time, coupled with her focus on uncontained space, serves to produce a striking composition of pure painterly expression.
McNicoll is recognized as being among the foremost Canadian female practitioners of Impressionism of her day. Her untimely death at 36 only serves to increase the significance of her artistic legacy. As Saturday Night observed in her obituary in July 1915, "None who saw her recent works can doubt that had she been spared she would have added materially to her own laurels and the reputation abroad of Canadian art." More than a century later, the wide regard for her production ensures that McNicoll's reputation in Canadian art history is most safely secured.


Estimate:
$150,000 ~ $250,000 CAD
Sold for:
$181,250 CAD (including Buyer's Premium)

All prices are in Canadian Dollars.
Although great care has been taken to ensure the accuracy of the information posted, errors and omissions may occur. All bids are subject to our Terms and Conditions of Business.