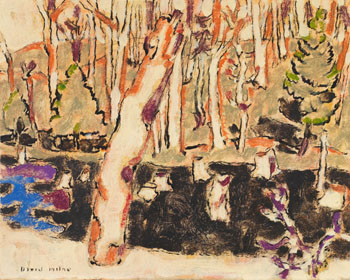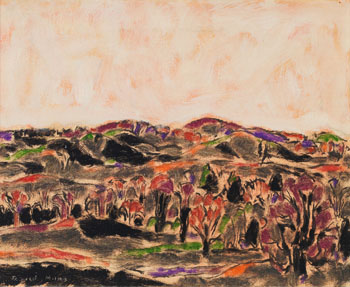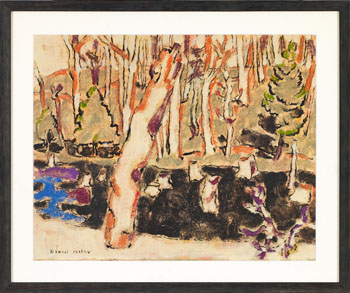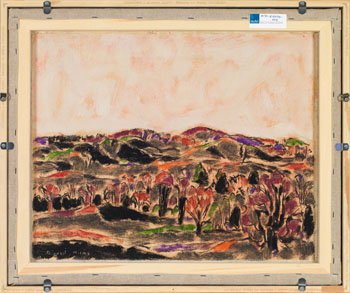 Lot # 117
Fall 2017 - 2nd Session Live auction

David Brown Milne
CGP CSGA CSPWC 1882 - 1953 Canadian

Stumps in the Swamp / Hillside Near Palgrave (verso)
double-sided oil on canvas circa 1932
signed and on verso signed
16 x 20 in 40.6 x 50.8cm

Provenance:
Sale of the Artist to Vincent Massey, 1934
Laing Galleries, Toronto, 1958
Acquired from the above by a Private Collector, Florida, December 24, 1963
By descent to the present Private Collection, England

Literature:
Clive Bell, Art, 1914, page 43
Ian M. Thom, editor, David Milne, Vancouver Art Gallery and McMichael Canadian Art Collection, 1991, essay by Megan Bice, page 113
David Milne Jr. and David P. Silcox, David B. Milne: Catalogue Raisonné of the Paintings, Volume 2: 1929 - 1953, 1998, reproduced page 552, catalogue #302.175, and the verso reproduced page 561, catalogue #302.197

David Milne is unusual as an acclaimed Canadian artist of his generation in that he spent much of his career in the United States and was first appreciated there. Born in Bruce County in rural southwestern Ontario, Milne enrolled at age 21 at the Art Students League of New York City, where he became familiar with American and European Impressionism, Post-Impressionism and Fauvism, movements that would inform his own unique painting style. By 1910, Milne's work was exhibited regularly in New York.
David and Patsy Milne moved back to Canada in 1929 and in 1930 settled in the town of Palgrave, in the Caledon Hills near Toronto. It was a peaceful place that gave David easy access to Toronto by train. Unlike the Group of Seven or Emily Carr, Milne preferred undramatic, domestic, agrarian landscapes. He had lived and painted in a long-cultivated environment in New York State and sought a cognate landscape in southern Ontario. The Palgrave area stimulated Milne; despite the Great Depression that left him even more impecunious than he habitually was and very careful with his materials—as this double-sided work proclaims—he completed over 200 paintings in his three years in the village.
Remarkably, Vincent and Alice Massey bought this large group of Palgrave paintings (and, controversially, then sold the lot to an art dealer). This was a boon to Milne not only financially, but also because he wanted viewers to be able to compare these works, to appreciate their variety of motifs and their characteristically close observation. Milne wrote in a letter from this time that there was enough subject matter in Palgrave to last him a lifetime. He wrote to the Masseys explaining his method and aesthetic: "The painter gets an impression from some phase of nature. He doesn't try to reproduce the thing before him: he simplifies and eliminates until he knows exactly what stirred him, sets this down in colour and line as simply, and so as powerfully as possible, and so translates his impression into an aesthetic emotion."
Here Milne aligns himself with the art theory of the British writer Clive Bell, who in Art (1914) explained the importance of his coinage "aesthetic emotion." "The recognition of a correspondence between the forms of a work of art and the familiar forms of life cannot possibly provoke aesthetic emotion," Bell wrote. "Only significant form can do that. Of course realistic forms may be aesthetically significant, and out of them an artist may create a superb work of art, but it is with their aesthetic and not with their cognitive value that we shall then be concerned. We shall treat them as though they were not representative of anything."
Bell was inclined to think of fully abstract art in emphasizing aesthetic emotion over the depiction of an identifiable scene, but we can see how Milne adapted his ideas to landscape. Stumps in the Swamp is indeed radically simplified from what we might observe on site. Milne's line is spare and his colours vibrant, giving off a powerful charge that he referred to in the 1934 sale list for the Palgrave paintings as "the dark glow." Hillside Near Palgrave (verso) at first glance seems to provide a contrast with its sibling: where we are up close, almost in the swamp with the stumps subject, the hillside painting offers a middle-distance perspective, the deep shadows made by the rolling hills depicted by quick applications of black against the vibrant hues of the trees. Half of Hillside Near Palgrave is sky, whereas in Stumps in the Swamp we have to search out the horizon line. The genius of putting these two works literally together is that we feel not only the artist's response to these two very different scenes individually, but in the works' inevitable comparison, we also sense a fuller range for the evanescent aesthetic emotions that Milne sought to capture. The two paintings are linked in their affective intensity.
We thank Mark Cheetham, Professor of Art History at the University of Toronto and author of Remembering Postmodernism: Trends in Canadian Art, 1970–1990, for contributing the above essay.


Estimate:
$100,000 ~ $150,000 CAD
Sold for:
$121,250 CAD (including Buyer's Premium)

All prices are in Canadian Dollars.
Although great care has been taken to ensure the accuracy of the information posted, errors and omissions may occur. All bids are subject to our Terms and Conditions of Business.