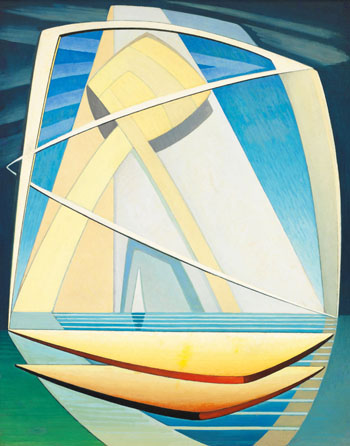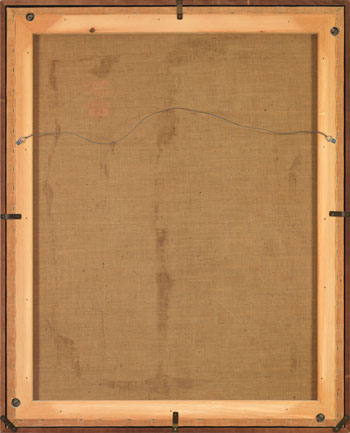 Lot # 042
Spring 2017 - 1st Session Live auction

Lawren Stewart Harris
ALC BCSFA CGP FCA G7 OSA RPS TPG 1885 - 1970 Canadian

LSH 89B
oil on canvas circa 1937
on verso stamped Lawren Harris, LSH Holdings Ltd. #89
39 7/8 x 32 in 101.3 x 81.3cm

Provenance:
Acquired from the Estate of the Artist, Vancouver by the present Private Collection, Ontario

Literature:
Dennis Reid, Atma Buddhi Manas: The Later Work of Lawren S. Harris, Art Gallery of Ontario, 1985, pages 26 and 27

In 1934 Lawren Harris left Toronto and moved to New Hampshire, where he became artist-in-residence at Dartmouth College in Hanover (his uncle was the head of the German department there). Harris's marriage had collapsed and he was now involved with Bess Housser, and he needed to break from the past in his painting. In his Lake Superior, Rocky Mountain and Arctic landscape works of the 1920s and early 1930s, Harris had already stripped his scenes of unessential details to focus on the primary forms and infused his work with states of transcendence based on his spiritual experiences in nature, but he wanted to take this further. At Dartmouth, where the spirit of modernist inquiry prevailed, he could make a new start. Harris had already formed connections in the United States—he had exhibited there, traveled there to take in exhibitions, and he was paying close attention to modernist trends in architecture, design and art. In 1927 he had played an instrumental role in bringing the abstract International Exhibition of Modern Art, organized by New York's Société Anonyme, to the Art Gallery of Toronto.
Although initially in Hanover, Harris still worked in a landscape format, he soon embarked on the abstract period of his oeuvre. In 1937 Harris explained his evolution to Emily Carr, writing, "I became more and more convinced that non-representational painting contains the possibility of expressing everything. It takes the expression away from the specific, the incidental, and can lift it into another place, where the experience is enhanced."
In 1935 Harris received his visa for permanent residence in the United States, and by 1938 he had moved to Sante Fe, New Mexico, where he found a sophisticated and congenial artistic community. He became involved with the Transcendental Painting Group, which included such artists as Emil Bisttram. Harris was not unknown to artists there—Transcendental Group painter Raymond Jonson related that he was delighted to meet Harris "as I had seen an exhibition of his work at the Roerich Museum in New York in late 1931 or 1932." This vital group was interested in the higher levels of intellectual and spiritual experience, and in working with new concepts of light, space and design. This was a mandate that Harris, with his interest in Theosophy, was entirely in tune with.
This majestic abstract work from Harris's American period is dominated by a powerful central image of interlocking geometrical forms and lines, and it shows his mastery of balance, depth and harmony. Although the primary form is anchored at the bottom of the canvas, it pops forward from its background, hovering in space. With its central triangular shape and impression of a sky-like background, this work could have lingering connections to abstracted landscape. It could also reflect Harris's interest in modernist architecture and industrial design, as it echoes a shape found in his circa 1937 work Abstract LSH 62 (March Bridge). Its rich, glowing golden and blue tones reflect Harris's belief that colours such as this were indications of higher states of being. In LSH 89B, Harris has infused his forms with a penetrating clarity and an ethereal spirituality, creating a work of commanding presence, and fulfilled his intention of elevating the viewer to a higher plane of awareness.
In 1940 the Harrises decided to return to Canada as Canadian funds could not be sent to the United States because of the war. They settled in Vancouver, where Harris continued to pursue abstraction and became a key figure in the developing modernist art scene there.


Estimate:
$200,000 ~ $300,000 CAD
Sold for:
$451,250 CAD (including Buyer's Premium)

All prices are in Canadian Dollars.
Although great care has been taken to ensure the accuracy of the information posted, errors and omissions may occur. All bids are subject to our Terms and Conditions of Business.