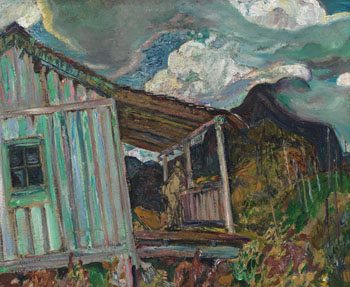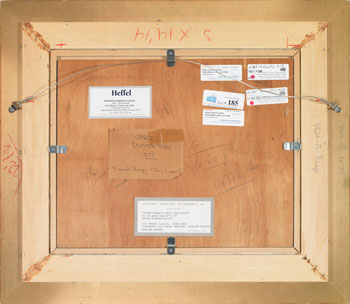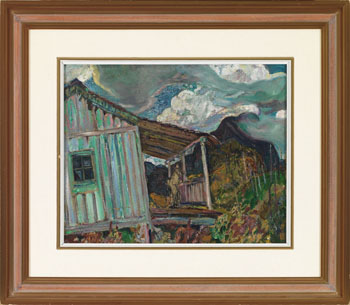 Lot # 134
Fall 2017 - 2nd Session Live auction

Frederick Horsman Varley
ARCA G7 OSA 1881 - 1969 Canadian

Forest Ranger's Cabin, Lynn Valley
oil on board circa 1932
signed and on verso titled on the gallery label and inscribed on a label with the Varley Inventory #877
12 x 15 in 30.5 x 38.1cm

Provenance:
Acquired directly from the Artist by H.E. Torrey, Vancouver
Galerie Walter Klinkhoff Inc., Montreal
Private Collection, Montreal
Sold sale of Fine Canadian Art, Heffel Fine Art Auction House, November 19, 2008, lot 185
Corporate Collection, Ontario
Sold sale of Fine Canadian Art, Heffel Fine Art Auction House, November 24, 2011, lot 212
Private Collection, Switzerland

Literature:
Christopher Varley, F.H. Varley: A Centennial Exhibition, Edmonton Art Gallery, 1981, pages 96 and 100, a circa 1932 oil sketch by Vera Weatherbie entitled Solitude of the same view of the cabin, in the collection of the Art Gallery of Greater Victoria, reproduced page 96; the 1932 canvas entitled Dhârâna, in the collection of the Art Gallery of Ontario, reproduced page 103; and a 1932 graphite and watercolour work entitled Mood Tranquil, lot 116 in this sale, reproduced page 104

In 1926, Frederick Varley moved to Vancouver to take up a teaching post with the Vancouver School of Decorative and Applied Arts, and while there, he often explored and painted the nearby North Shore mountains. On a hike above Lynn Valley with Vera Weatherbie, his student and muse, they found an abandoned fire ranger's hut with a stunning view of the valley and mountaintops. It was a romantic time, and in a letter to Vera from the 1940s, Varley reminisced, "Both of us worked better together because we knew the countryside – we felt its character and its moods belonged to us…They were magnificent full days...This harmony, quickened into activity, permeated everything we saw…God, we lived splendidly with no limitations to dreams."
Varley produced a number of sketches at the ranger's cabin, and this setting inspired one of his masterworks, the 1932 canvas Dhârâna, which depicts Vera on the porch of the cabin, gazing reverently upward. Our work also includes a figure, and although it is loosely defined, what is important is the figure's stance—that of contemplation of this sublime scene. This was a place where Varley felt a meditative union with the landscape, which can be felt acutely here in the extraordinary sky. Dark streamers of clouds float before luminous cumulus towers and entwine around the mountain peak, and the heightened colouration of the brilliant blue sky and the delicate pastel notes in the clouds are exquisite. The sky has a crystalline quality that is heightened to the point of having an almost supernatural quality.
Varley's progression as an artist in Vancouver was prodigious, and he produced a powerful body of work while there. His brushwork was bold and textural, which can be seen in the vigorous paint work here, particularly in the rough wood structure of the cabin and in the sky. His palette was rich and complex, ranging from cool blues and greens to warm pink and mauve. Through his work as an art teacher, he was very aware of colour theory, such as that of Albert H. Munsell, and his use of colour added immensely to the vitality of his work. Varley often used prismatic hues, such as iridescent blue-greens and violet. He believed that objects generated colour vibrations and that each colour had a symbolic meaning, such as blue-green, which represented the spirit. The push and pull between the warm and cool hues in his palette added further dynamism to his work.
As well as the lofty peaks and dramatic weather, Varley also gave his attention to the forest floor, covered with bracken, saplings and other small indigenous plants, and this low growth is depicted with delicacy in this painting. In Forest Ranger's Cabin, Lynn Valley, Varley has struck a fine balance between the elements of earth and air.
This area of Lynn Valley in North Vancouver so appealed to Varley that by 1934 he had moved to a house there. Close to the mountaintops and the woods of the Seymour Watershed, it was a wild and stimulating environment to which he forged a strong link. For a time, it was a happy and productive painting place that became an important part of Varley's oeuvre. In works such as this, one understands why Varley wrote, "British Columbia is heaven…It trembles within me and pains me with its wonder as when a child I first awakened to the song of earth."
This work is #877 in the Varley Inventory listing.


Estimate:
$150,000 ~ $200,000 CAD
Sold for:
$169,250 CAD (including Buyer's Premium)

All prices are in Canadian Dollars.
Although great care has been taken to ensure the accuracy of the information posted, errors and omissions may occur. All bids are subject to our Terms and Conditions of Business.